Golden State Warriors Coach Tells Teens to 'Scare the Hell out of' NRA and Trump by Registering to Vote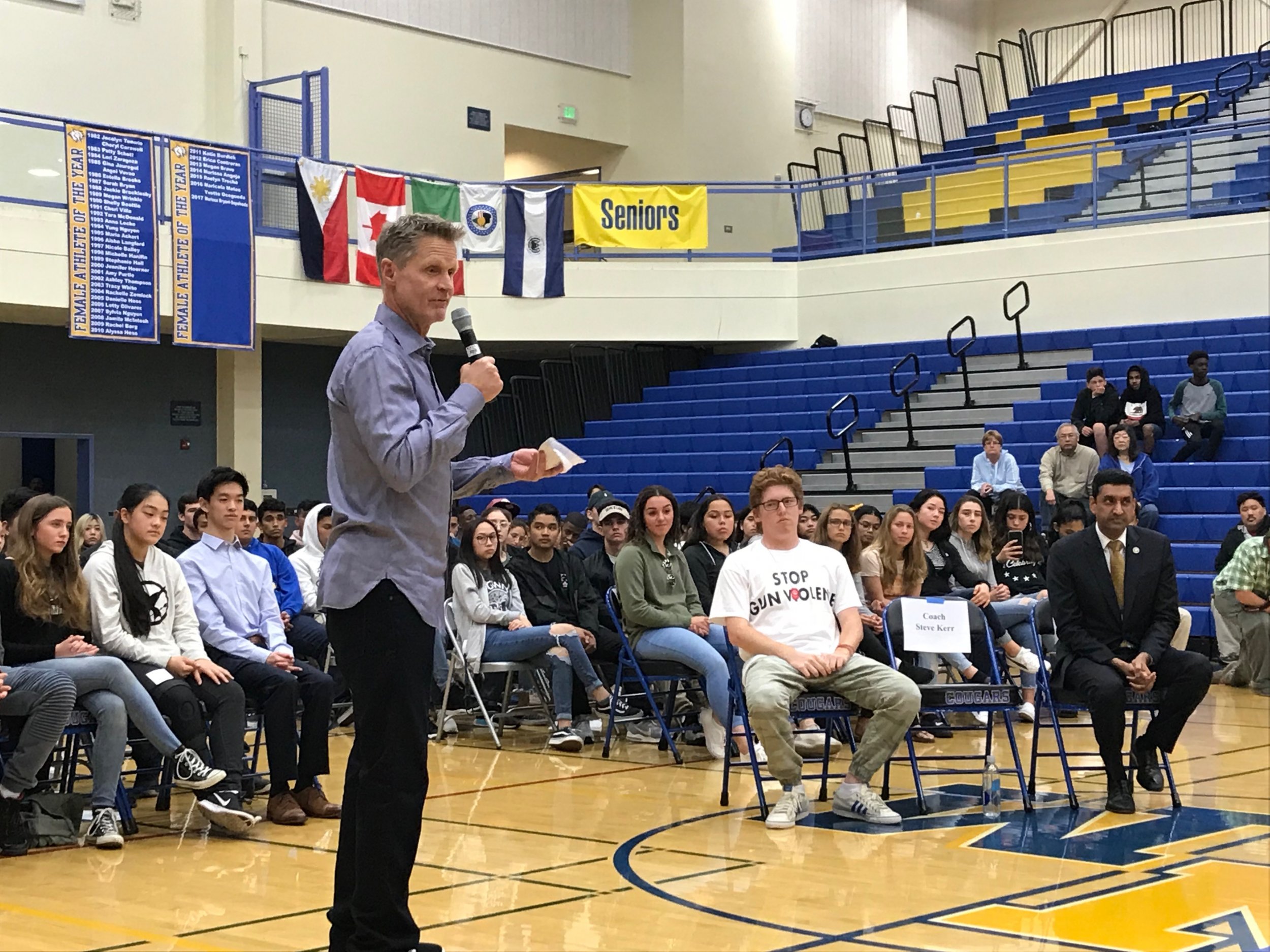 The Golden State Warriors have not been playing especially good basketball lately, losing a rare two games in a row, but coach Steve Kerr did not show up in the gymnasium of the Newark Memorial High School in Newark, California, on Monday afternoon to discuss his team's lackadaisical defense, his star player Steph Curry's oft-injured ankle or the looming playoff threat that is the Houston Rockets. He'd come, rather, to discuss an altogether bigger threat: guns, and the use thereof by Americans to kill other Americans, at a rate of about 96 per day, according to the Centers for Disease Control and Prevention.
Students, parents and activists—some wearing t-shirts with the logo of the Brady Campaign to Prevent Gun Violence—gathered in the gymnasium as, outside, a winter rain began to fall. Police officers ringed the space, which was adorned with the Warriors' yellow and blue. In the rafters above, at least one officer patrolled with what appeared to be a semi-automatic rifle, while a military-style armored vehicle idled out front. These were not the trappings of a Norman Rockwell town hall, but not even liberal California, with its strict gun laws, is immune to violence. Just days before, a troubled veteran had shot and killed three people and himself at a recovery home in Napa County, only a few miles away.
Kerr was introduced by Representative Ro Khanna, the first-term Democrat from Silicon Valley. The two had met at a Wizards-Warriors game in Washington days before. That was when the idea of a summit back in California was hatched. Khanna said that after the town hall was first announced, a constituent called with a question: "What expertise does Coach Kerr have on gun violence?"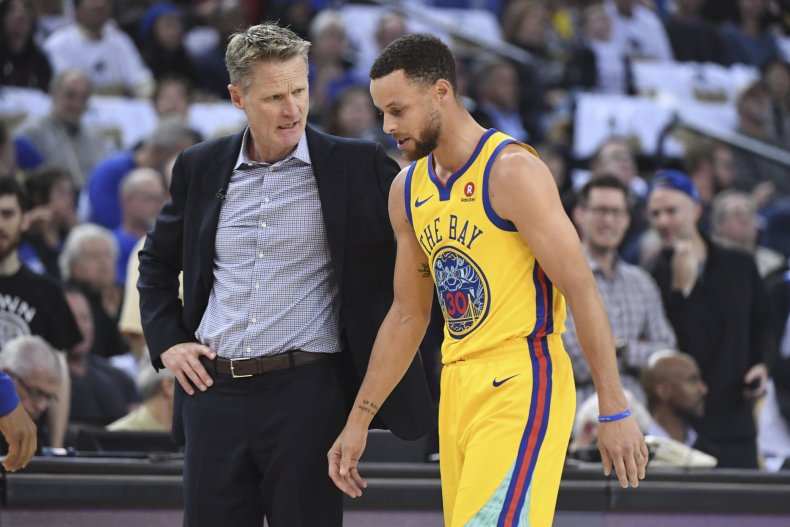 Kerr has expertise of a particularly tragic and personal kind. Kerr's father, a scholar of the Middle East, was shot dead by gunmen in Beirut, Lebanon, in 1984. The killers were associated with a group called Islamic Holy War, which said in a subsequent statement that it objected to "the American military presence in Lebanon." Kerr was a professor, not a general, but that distinction apparently did not matter.
Steve was a freshman at the University of Arizona at the time. Later, he played for the Chicago Bulls, alongside Michael Jordan. The year Kerr joined the Bulls, 1993, there were 850 killed in Chicago, 74 percent of them by guns. (That city remains a potent symbol of gun violence, and is frequently mentioned by conservatives, including President Trump, as a symbol of the futility of gun laws.)
Kerr was a quiet player on the Bulls, but as the head coach of the Golden State Warriors, he has become an increasingly vociferous advocate of gun control. In 2016, after a shooting at the University of California at Los Angeles, he spoke to The New Yorker about his father's death: "You understand how much they are suffering, just like how our family went through that suffering. When you think of it, all of these statistics have names and these names have faces. They are people who are now lost."
When I spoke to him a little later that year, he was even more blunt in his contempt for members of Congress who refuse to challenge the gun lobby. "How insane are we?" Kerr wondered. In the nearly two years since he posed that question, we've gotten more insane still.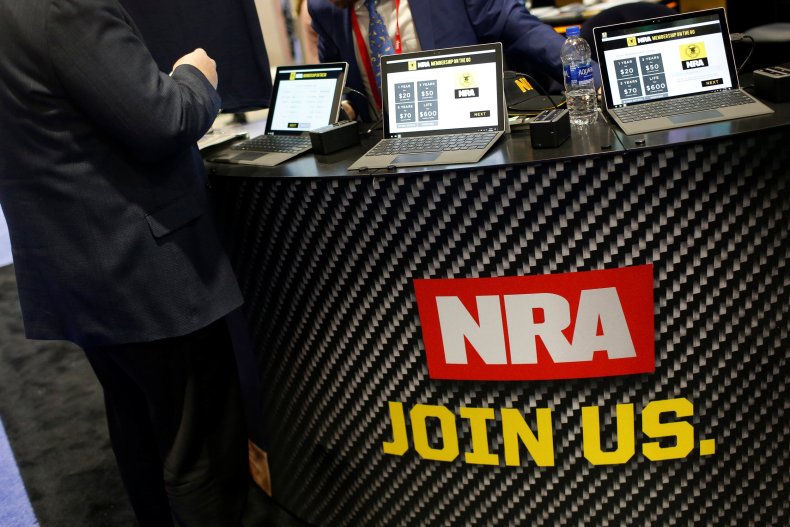 But as the coach of the most successful team in professional basketball, and the most politically progressive, Kerr has a rare opportunity to do something about that insanity. When the team came to Washington for a game against the Wizards, it did not visit the White House, as championship teams usually do. President Trump has tweeted critically about Curry, who has been critical of Trump. After his co-star Kevin Durant criticized Trump last month, Fox News host Laura Ingraham told Durant and LeBron James of the Cleveland Cavaliers, who made similar comments, to "shut up and dribble."
Kerr's presence at the Newark Memorial High gymnasium on Monday afternoon indicated that the Warriors intend to do quite the opposite. Though the event was small, it was nevertheless telling of a rising political mood, with two groups not generally known for their activism — professional athletes and young people — forming what could be a united front against the gun lobby.
NBA players, in particular, seem poised to assume the mantle of athlete activists. Etan Thomas, who played nine seasons in the league, recently published a book, We Matter: Athletes and Activism, on that very intersection. After the school shooting in Parkland, Florida that killed 17 students and educators, Miami Heat superstar Dwayne Wade wrote on Twitter to the family of one of the victims: "It's way BIGGER than basketball. We are the voices for the people that don't get to be heard. Joaquin Oliver may you Rest In Peace and i dedicate my return and the rest of this Miami Heat season to you."
On Monday evening, Kerr was joined at center court — fashioned into a stage, as if a pep rally were to be held — by Khanna, who is emerging as a progressive leader in the House, and Matt Deitsch, a Parkland native whose sister is a survivor of the Parkland shooting. Like several survivors at the Marjory Stoneman Douglas High School, Deitsch was transformed by the massacre into an activist to end gun violence. He and his classmates believe that can only be accomplished by curbing the inordinate power of the gun lobby.
"It's cool to see that people respond to us being active citizens," Curry's reticent Warriors teammate Klay Thompson said last year, "not just robots who just put a ball in a rim, but we actually have a conscience and can think for ourselves." The question, however, is whether the NBA's engagement will go beyond anti-Trump tweets. Kerr's presence at Newark Memorial suggests that may well be the case.
"I know how the Parkland families feel," Kerr said, reminding the audience of his own familiar tragedy. At the same time, he downplayed his own celebrity. "I'm here because I'm a citizen of this country and we're a democracy and when people say stick to sports, stick to coaching, that means nothing." He would not, in other words, shut up and dribble.
"For the first time, it feels like something's happening," Kerr said, speaking in the raspy voice basketball fans have come to know as a mainstay of postgame press conferences. Kerr remembered being seven, watching the youth activists protesting the Vietnam War. The activism emerging now, he said, was similar in conviction, if not yet in scope and size. "This is your number one issue," he said to the starstruck high school students sitting before him.
That assertion would have been a stretch only months ago. But Deitsch and his peers have found a way to talk about guns that the NRA and its allies, including prominent voices on Fox News, have found difficult to silence. And they have shown that the apathy of millennials is little more than myth. For the first time, a coalition may be forming for gun control, and if the coalition is somewhat strange — sports celebrities, high school students, liberal politicians — it could already be proving effective. Florida Governor Rick Scott, for example, recently signed more restrictive gun measures into law, despite ferocious opposition from the NRA, which has generally had its way in the Sunshine State.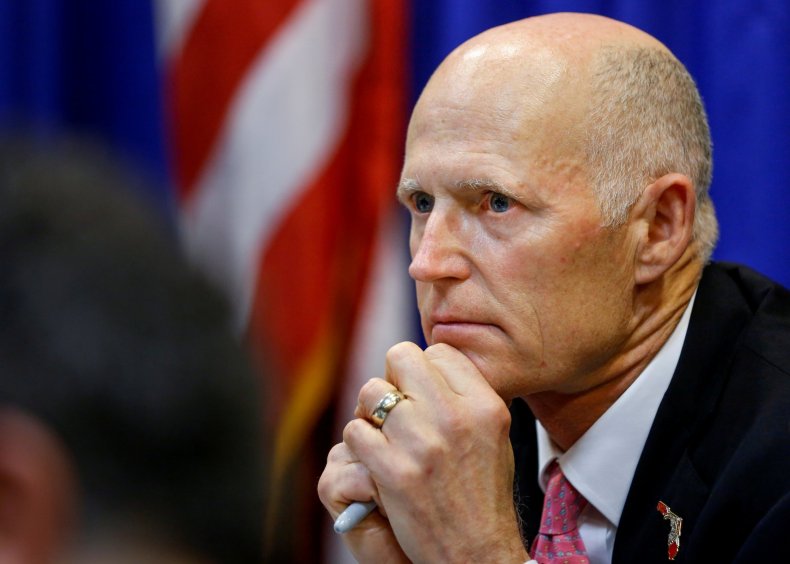 At the same time, Kerr reminded the audience that activism has its limits. Just hours before Kerr spoke, President Trump backed away from a fight with the NRA over the minimum age to purchase rifles. Part of his pitch to voters in 2016 had been that Democratic nominee Hillary Clinton would scrap "your Second Amendment," as he put it. The message was effective.
"You can scare the hell out of people by registering to vote," Kerr told the high school students. "One in five people your age take the time to vote, to register to vote. One in five. Let's get that number to two in five and three in five." From any other adult, this may have sounded like hectoring. But Kerr is the coach of the most innovative team in professional basketball. He has cred, and not just with the SportsCenter crowd.
He has a point, too, in regards to voting. The NRA is especially potent because its "grades" scare Republican legislators into strict adherence. Opponents, until now, have not been nearly so organized, a fault they have come to acknowledge. Outside the gymnasium, near the entrance to the school, a young woman sat before a stack of voter registration forms.
Deitsch took the stage in a plain t-shirt that bore a plain message: "Stop Gun Violence." He seemed to confirm what Kerr had said moments before: that young people did care, in large part because the issue is so pervasive. "If it happened in Parkland, it can happen anywhere. Every day is a looming threat," Deitsch said. There have already been 19 mass shootings since Parkland, according to the Mass Shooting Tracker database. And that was only a month ago.
What's more, the activism this time around isn't confined to social media campaigns. Survivors of the Parkland shooting have been meeting with Florida state legislators in Tallahassee, as well as politicians in Washington, pusing for a ban on assault weapons, among other reforms. And if their demands have not yet been met, that has only convinced them to make those demands louder. "They want us to forget that this matters," Deitsch said. "And I promise you, we won't."
After the talk was over, members of the media and Newark Memorial mobbed Kerr. He was the star, and although he had previously been reluctant to speak out on gun violence, that seems no longer to be an option. Meanwhile, the scores of police officers lingered on the edges of the gymnasium, waiting for the crowd to disperse. They were a grim reminder that, in 2018, any mass gathering of Americans could turn into a bloodbath.
A student had, minutes before, made that very point: "We're scared. This can happen to us as well."