Kerry Rips Israel, Demands End to Settlements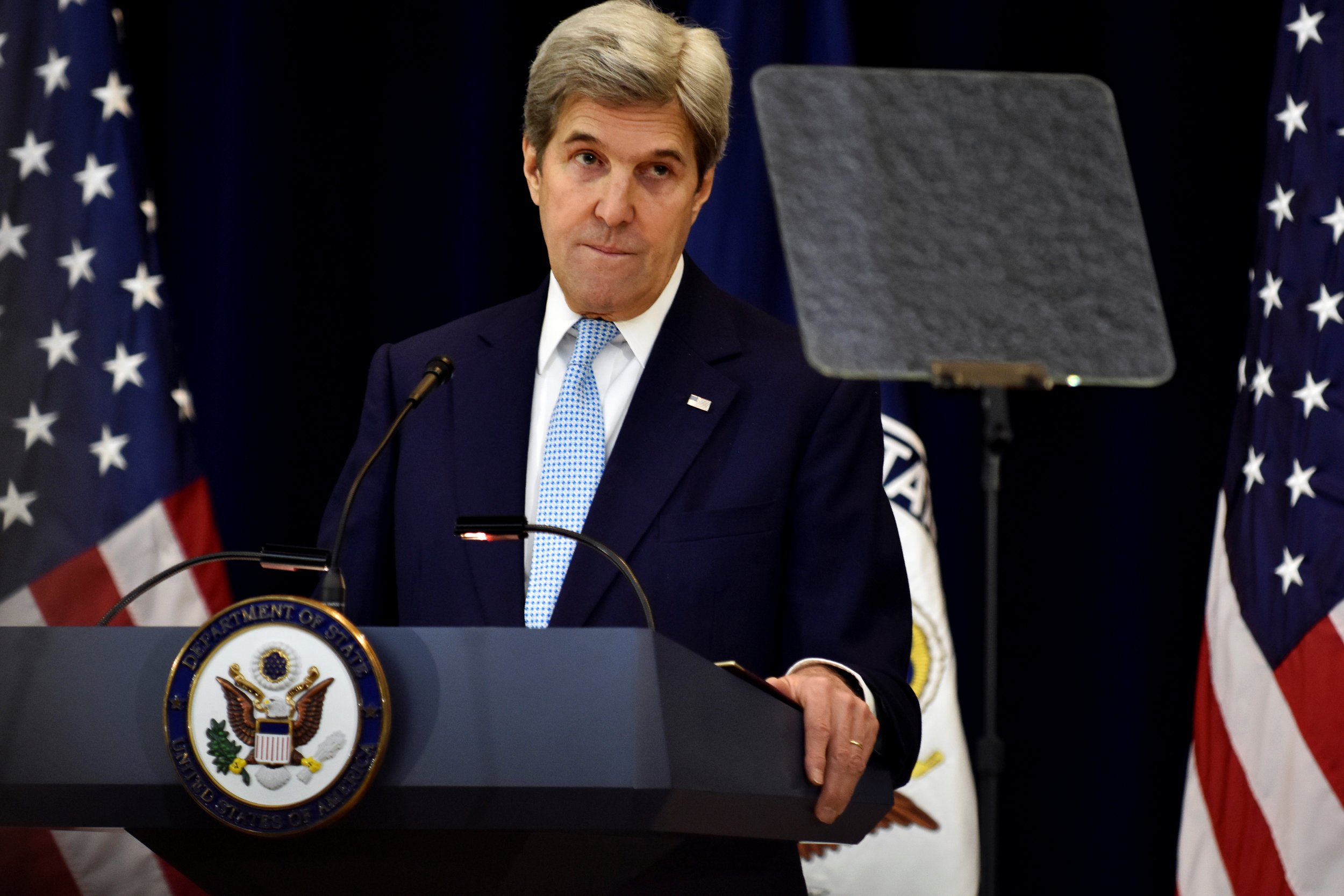 With just three weeks left in Barack Obama's administration, Secretary of State John Kerry delivered a stinging rebuke to Israel on Wednesday, demanding an end to the settlement expansion eight years after that nation first ignored Obama's request that Israel stop building them.
Kerry's speech came a week after the U.S. abstained on a vote by the U.N. Security Council that declared illegal all Israeli settlements constructed since 1967 on occupied Palestinian land, now home to some 650,000 Israelis. That prompted a bitter retort from the Israeli government, which has already turned to President-elect Donald Trump to champion its interests.
The U.N. flare-up with Israel may have been the immediate reason for Kerry's unusually timed holiday-week speech, but the Obama administration clearly wants to lay down a marker regarding its role in the Middle East peace process, which has been flailing ever since Kerry's efforts to broker a deal fell apart in 2014. Many analysts now worry that Israel and Palestine are nearing a point of no return where the promise of a two-state solution will slip out of reach.
Related: Full transcript: John Kerry on Israeli settlements and two-state solution
"I think the secretary is genuine in believing what he said today—if there is not a two-state solution, this will imperil Israel," says David Makovsky, director of the Project on the Middle East Peace Process at the Washington Institute for Near East Peace and a senior adviser on the Kerry peace process team in 2013 and '14. "Having worked on this day in and day out, he genuinely wants to leave some lessons to his successor."
That's how Kerry couched his speech in Washington, D.C. "The two-state solution is the only way to achieve a just and lasting peace," he insisted, but "that future is now in jeopardy."
"Some seem to believe that the U.S. friendship [with Israel] means the U.S. must accept any policy, regardless of our own interests, our own positions, our own words, our own principles—even after urging again and again that the policy must change," Kerry said. "Friends need to tell each other the hard truths, and friendships require mutual respect."
In Jerusalem, an hour after Kerry's speech, Israeli Prime Minister Netanyahu called it "unbalanced" and added that "Israelis do not need to be lectured about the importance of peace by foreign leaders." The hashtag #kerrysplaining popped up on Twitter shortly thereafter.
Netanyahu had already responded to the Security Council vote with a scorched-earth attack on the nations that supported it, summoning their ambassadors, canceling meetings with foreign leaders and shelving aid projects.
Pundits immediately characterized Kerry's speech, coupled with the U.S. abstention on the U.N. vote, as an all-time low in Israeli-American relations. On Twitter, the Republican pander machine went into overdrive, with former Arkansas Governor Mike Huckabee referring to "Kerry's speech from Twilight Zone." U.S. Senator Marco Rubio of Florida said Kerry's "anti-Israel speech undermines America's moral standing."
Palestinians, Israeli and American foreign policy experts had more nuanced reactions. Some saw the speech as the Obama administration's attempt to lay down a firm legacy and toss a challenge to both Israel and the incoming Trump administration, which has promised to not only move the U.S. Embassy to Jerusalem but also to acquiesce to large-scale settlement expansion.
On a conference call organized by the New York-based Israel Policy Forum Wednesday afternoon, Middle East expert Ilan Goldenberg, who assisted Kerry in his 2013-14 effort to bring Palestinians and Israelis together, pointed out that the Security Council resolution and Kerry's speech will probably not mean much in three weeks. "Trump might even show up in Israel for a groundbreaking of a settlement," Goldenberg said.
But Nimrod Novik, former senior foreign policy adviser to Israeli Prime Minister Shimon Peres, suggested that the speech and the Security Council resolution would provoke Israel's hard-liners. "These people don't have red lights," he says. "Without that, provocations will grow. And I am not sure the Trump administration will be able to support whatever these people want to do."
Nimrod, like other Israelis who spoke with Newsweek about Trump and Israel earlier this month, said Trump's grandiose promises to Israel are having a counterintuitive effect, emboldening Israel's hard-right settlers and putting the prime minister in a political bind with his conservative-coalition government, some members of whom want him to go even further on settlements than he already has.
Nimrod says Netanyahu's "basically threatening the entire world with Israeli retaliation" for voting for the Security Council resolution was political grandstanding to protect himself from his right flank. The rightist Home party, for example, wants to immediately legalize and annex settlements in the West Bank, thereby ending any glimmer of hope for the so-called two-state solution long sought by the U.S.
"I don't think any of [Netanyahu's threats] have anything to do with foreign policy," Nimrod says, adding that the prime minister has "for a long time been concerned with the possibility that the U.S. would take a step in order to enshrine a legacy in terms of the Israeli-Palestinian situation."
The heated reaction by Netanyahu and his government suggest they believe the 14-0 Security Council vote is damaging to their international—and perhaps domestic— standing. Nimrod says, speaking of the prime minister, "That Security Council resolution may be the defining moment, the beginning of the end of his tenure."
Netanyahu's crowd also fears, Makovsky said, that all this will feed into another anti-settlement push in Europe in early January, when France is set to host a peace conference with the world's foreign ministers. Israel has already said it will boycott that event.
There is speculation in the Israeli press that the European conference could adopt many of the parameters Kerry laid out in his speech and then call for them to be approved in a U.N. vote before January 20, when Obama leaves office.
Many Palestinians applauded Kerry's speech but expect it to have little practical effect. Palestinian lawyer Zaha Hassan, a Middle East Fellow at the New America foundation, praised Kerry but suggested it could leave Palestinians in an even more fragile position when Trump moves into the White House.
"No other high-ranking U.S. official has ever discussed the Israel-Palestine conflict, and what is at stake if Israeli settlement construction on Palestinian land is allowed to continue unabated, as eloquently as Secretary Kerry just did," Hassan says. "However, the timing of Kerry's parameters—just as a pro-settlement U.S. administration is about to take the reins of power—is not only too little, too late, but Kerry's call for Palestinians to relinquish certain legal rights and claims, and to recognize Israel as a Jewish state, could also have the effect of putting Palestinians in the occupied territories and inside Israel in an even more vulnerable position."
Former Kerry adviser Goldenberg says he believes Obama might have wanted Kerry to give a similar speech two years ago, when he was leading Palestinian-Israeli negotiations. "But that's not Kerry's style," Goldenberg says. "He much prefers to work things privately. And once those negotiations started to collapse, I think Kerry would have been happy to lay down this speech, but at that point, the president's view was: Why, when both sides reject it, take the political heat?"
The conundrum for Kerry and Obama, Makovsky told reporters on a conference call, is whether "by putting out what you think would be the end deal, are you going to bring these countries closer?… Or does this become a new baseline of defiance?"
In Washington, retired U.S. Ambassador to Saudi Arabia Chas Freeman, who has compared American support for Israel over the years to enabling an alcoholic, says the speech reminds President-elect Trump just how much Israel will be depending on him. "Netanyahu's condemnations of the U.S. failure to continue to act unilaterally to protect Israel against international condemnation of its policies just highlights the extent to which Israel—and, by extension, the United States—is now isolated in the international community."