Kerry: More Cooperation With Russia is Possible in Fight Against ISIS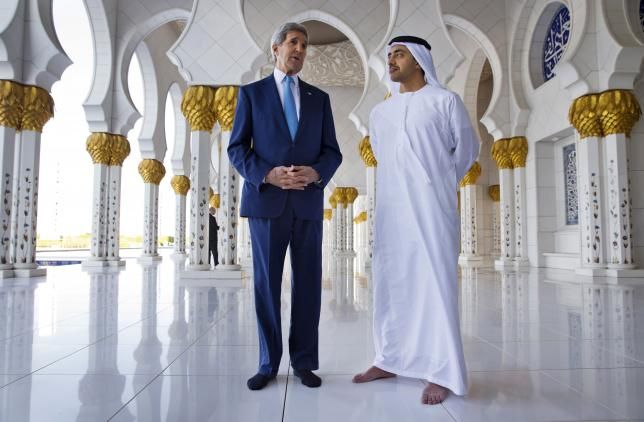 Secretary of State John Kerry said on Monday the United States could broaden military cooperation with Russia in Syria, but that such a move should not deter opposition groups trying to topple Syrian President Bashar al-Assad.
Washington has long resisted working more closely with Russia, or inviting it to be part of an international coalition of 61 countries trying to defeat Islamic State militants, until Moscow shows that its air strikes in Syria are not aimed at insurgent forces fighting Assad.
Kerry met Abu Dhabi Crown Prince Sheikh Mohammed bin Zayed al-Nahayan on Monday and later held talks with Saudi Foreign Minister Adel al-Jubeir on ways to bring Syrian opposition groups together at a conference in Riyadh next month. United Arab Emirates Foreign Minister Sheikh Abdullah bin Zayed joined the meeting with al-Jubeir.
Although Kerry said Washington was not under pressure to work more closely with Moscow, such cooperation would be possible under the right circumstances and could lead to "constructive possibilities".
But he told journalists that it was wrong to see any of Washington's moves as helping keep Assad in power.
"If certain entities perceive that whatever we're doing is going to help Assad to stay, that complicates issues," he said. "So it has to be done in a way that manages the passions ... among people who have been fighting Assad for four years".
Saudi Arabia, Iran, Turkey and the five permanent members of the U.N. Security Council - the United States, Britain, France, Russia and China - met earlier this month in Vienna, where they agreed plans to launch formal talks between Assad's government and its opponents by Jan. 1.
Divisions among Syrian opposition factions, some backed by the West and others by Gulf Arab states, are often cited as one of many obstacles facing diplomatic efforts to end the conflict.
Saudi Arabia and other Sunni Muslim Gulf Arab states have long been major backers of the insurgency against Assad, whom they say must leave power.
Assad has been supported militarily by Iran and Russia, which has carried out eight weeks of air strikes in Syria.
A Kremlin spokesman was quoted by Russia's RIA news agency as saying President Vladimir Putin and Iran's Supreme Leader Ayatollah Ali Khamenei said at a meeting on Monday that outside powers should not impose their political will on Syria.
VERBAL INVITATION
Khaled Khoja, president of the Syrian National Coalition told a news conference in Istanbul on Monday that his organization had received a "verbal invitation" from Saudi Arabia to take part in the opposition conference next month.
"We hope that we emerge from the conference ... with a result that speeds up a political solution," he said in televised remarks, adding that the group welcomed Riyadh's initiative and would work to make it a success.
He also reiterated the opposition stance that there could be no peaceful solution in Syria without the removal of Assad.
The Syrian conflict began in 2011 with protests against four decades of Assad family rule. About a quarter of a million people have been killed and 11 million - half the total population - have been driven from their homes.
Tens of thousands of Syrian refugees have fled to Europe in the past few months, which has led to increased efforts by Washington and other countries to find a political solution to end the war.
Kerry spoke as Brussels remained locked down with Belgian police making more arrests and continuing the hunt for the prime suspect of the Nov. 13 Paris attacks who was seen crossing over into Belgium.
Referring to the Paris attacks, Kerry called for accelerated measures against Islamic State militants and said he would discuss ideas to that end with his counterparts in Abu Dhabi.
"They discussed ways in which efforts to defeat Daesh can and will intensify across all lines of coalition efforts and asserted the need to explore more support from the international partners to that end," State Department spokesman John Kirby said.