Kerry Washington Thanks 'Inspiring' 8th Grade Law Teacher After DNC Speech
The third night of the 2020 Democratic National Convention saw Scandal actress Kerry Washington take on M.C. duties, opening the event with a powerful speech on the stakes of the 2020 presidential contest between Republican President Donald Trump and former Democratic Vice President Joe Biden.
"We're fighting for the soul of this country and for our lives," Washington said in her rousing address.
Washington also gave a shout out to her eighth-grade constitutional law class, prompting a shocked response from her then teacher, who reached out to the star on Twitter.
"When I was in 7th or 8th grade we memorized the preamble of the constitution and I've never forgotten it," she said. "The first 15 words of our constitution are, 'We the people, of the United States in order to form a more perfect union ... we say more perfect because our union is not without flaws. When our constitution was written, women couldn't vote. Black people were considered three-fifths of a human being, but therein lies the work. No one is perfect. Nothing is.
"But it is the striving towards justice, equality, and truth that distinguishes us. We fight for a more perfect union because we are fighting for the soul of this country and for the fight of our lives."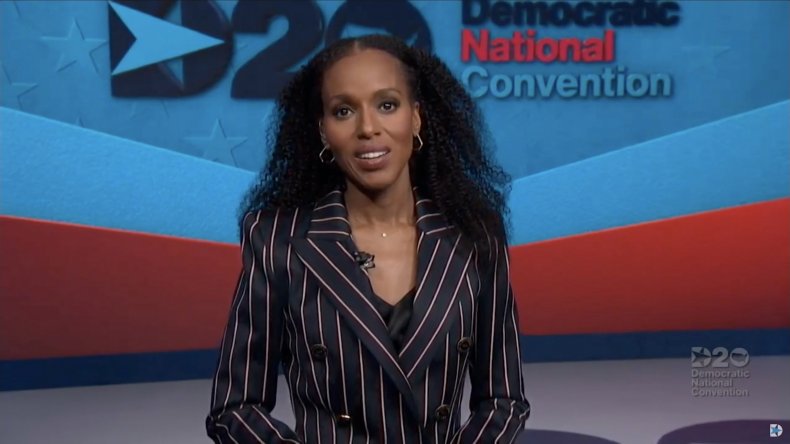 One person watching from home who caught the speech was Washington's teacher, Tiffany Bluemle.
She tweeted: "I nearly fell off the couch when @kerrywashington mentioned her 8th grade constitutional law class. I was her teacher. And so proud of her professional accomplishments and political advocacy."
Washington saw the tweet and replied to her former teacher, in a very sweet Twitter interaction.
"OMG!!!! Hi," the 43-year-old wrote. "Thank you for watching!!!!! And thank you for inspiring me and sooo many other students!!!"
Washington, who is an advocate for LGBTQ rights and the Black Lives Matter Movement also spoke at the 2012 Democratic National Convention in support of Barack Obama's reelection.
The star-studded event also featured speeches from the last Democratic president, Barack Obama, the last Democratic presidential nominee and former Secretary of State, Hillary Clinton, and current Democratic candidate, Joe Biden's running mate Kamala Harris.
Former Rep. Gabby Giffords, Rep. Nancy Pelosi, and Sen. Elizabeth Warren were among the other speakers.
Night three of the DNC saw performances from Billie Eilish, Jennifer Hudson, and Prince Royce.
Grammy-winner Eilish, 18, began trending when she gave a rousing anti-Trump speech in support of Biden.