Kevin Campbell Talks Pressure of Being Gay on 'Big Brother' in Heartfelt Conversation
Big Brother and CBS have been known to shy away from controversial topics in the past, but that's all changing this season. Big Brother All-Stars has already seen some giant statements from both houseguests and host Julie Chen, touching on subjects like Black Lives Matter and what it's like living with Autism.
There was another big conversation broached on Sunday night's episode, one about the LGBTQ+ community and how stereotypes can make it difficult for people to fit in. Kevin Campbell, who is openly gay, shared his perspective on judgment in the gay community, and how he's struggled to feel confident in his own personality.
Sitting in the kitchen, Dani Briones, Enzo Palumbo and David Alexander listened to Kevin's comments. The conversation started with Kevin stating that he hopes he's "doing the LGBTQ community proud."
The houseguests questioned how Kevin could fail them. "We're such a diverse group," he said. "I know I don't represent all of it. It's a huge responsibility. Sometimes there's criticism, too."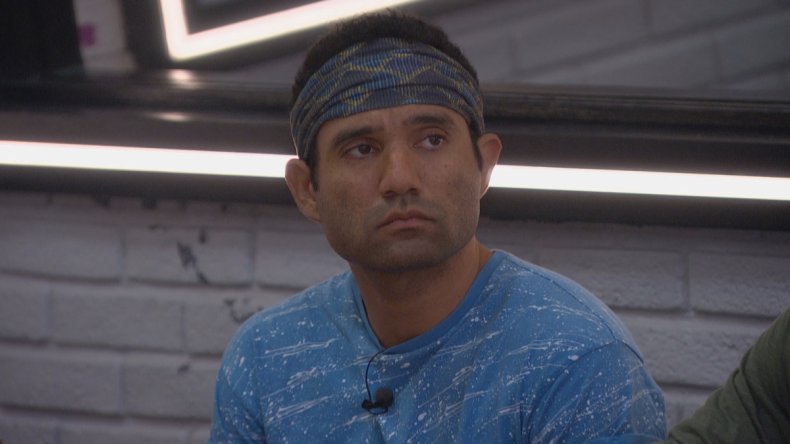 David asked what Kevin has been criticized about. He revealed that some people have slammed him for being too feminine.
The conversation was uploaded to the Big Brother social media, too, so if you missed it, you can watch here.
In the diary room, Kevin continued to talk about the importance of representation for the LGBTQ+ community, especially on a platform like Big Brother. "I really am a firm believer of representation matters," he explained. "I became obsessed with Big Brother because of the representation this show has offered. Now, I have the privilege of representing the LGBT community now, and I want the entire community to feel I'm doing a good job representing them."
In the conversation with houseguests, Kevin revealed that previous criticism of his time on Big Brother was difficult, but he knows his "truth," and strives to be himself, while also being a positive representative of the gay community.
Viewer responses to Kevin's comments were mixed. Some praised his strong words, but others were quick to question the representation on Big Brother. The show has been slammed in the past, by some, for engaging in tokenism with its casting. It also often appears that on Big Brother seasons, like Season 22, young, white men lead the game. Fans have never shied away from addressing that online.
Big Brother has had one openly gay winner in its 22 seasons—Andy Herren, who won Season 15 in 2013. Andy has also criticized CBS for not offering equal representation on the show, and for sticking to players who don't spark larger conversations about the series' sometimes failed potential.
While Kevin is definitely loved by viewers more than some of the other Season 22 houseguests, there's a chance he'll end up going home this week. Dani is the current Head of Household, and she nominated both Kevin and David for eviction.
Regardless of how that turns out, it's great to see a Big Brother houseguest, like Kevin, talking about his experience as a television personality who is representing a marginalized group. It's equally wonderful to see his fellow houseguests seemingly accept and appreciate Kevin's unique point of view and right to speak on his experiences.