GOP Sen. Kevin Cramer Says He Expects He Will Vote to Acquit Donald Trump
North Dakota Senator Kevin Cramer has suggested that he has already made up his mind to acquit former President Donald Trump and that he would take a lot of convincing to do otherwise.
House impeachment managers have presented senators with video footage of lawmakers fleeing the mobs of Trump supporters who had broken into the U.S. Capitol building on January 6.
The scenes of deadly violence, which included rioters in tactical gear and armed with zip-ties, shocked lawmakers, but Democrats still face an uphill struggle to get the two-thirds majority required for a conviction for Trump, who has been charged with inciting the riots.
Prior to the trial, Cramer expressed his disdain for the process in a video message in which he said: "Welcome to the stupidest week in the Senate." He also accused House Speaker Nancy Pelosi of using impeachment "flippantly" as a political tool.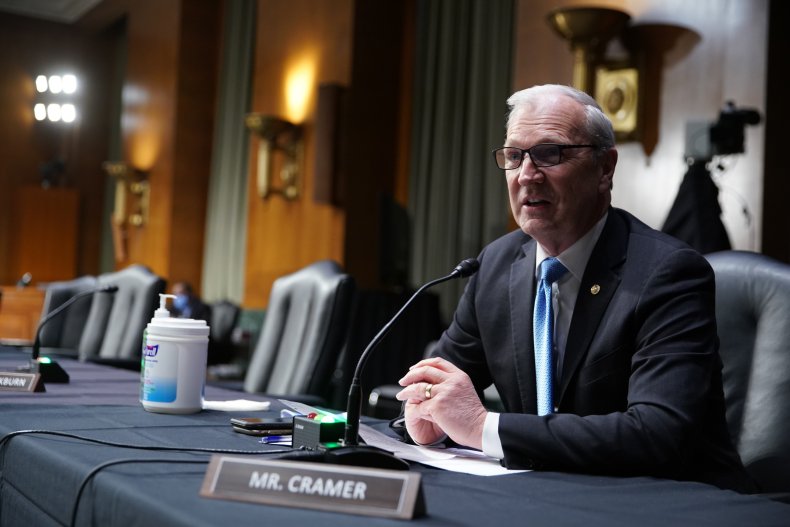 On Wednesday, he said he would listen to the evidence, but suggested he would be unlikely to back a conviction.
"I presume innocence. That being said, I do think the hill is very steep, it's supposed to be steep, it's designed to be a steep hill and unless I'm convinced otherwise I expect that the president will get my vote for acquittal," Cramer said in comments to MSNBC. When contacted by Newsweek, a spokesperson for Cramer said his office had no further comment to add.
At least 17 Republicans in the upper house will be required to convict Trump and only six GOP senators broke party ranks to vote that the impeachment trial was constitutional.
Among them, is Lisa Murkowski (R-AL), who after seeing the video footage told reporters that "the evidence that has been presented is pretty damning."
Mitt Romney (R-UT), a Trump critic who has also suggested he would vote to convict the former president described the footage as "overwhelmingly distressing." But when asked how other GOP senators felt, Romney said according to CNN: "I can't predict how other people will react."
However, Senator Lindsey Graham (R-SC) believed that the video had actually strengthened the case for acquittal, saying that "the 'Not Guilty' vote is growing after today."
"I think most Republicans found the presentation by the House Managers offensive and absurd," he tweeted, later telling Fox News that "we all know what happened in the Capitol was terrible. I hope everybody involved that broke into the Capitol goes to jail."
Meanwhile, Sen. Mike Braun (R-IN) was among GOP lawmakers who praised the visual presentation of the impeachment managers. But when asked if the footage would sway his verdict, he said, "when you think the process is flawed in the first place, I think it's going to be different to arrive at a conclusion on the facts and the merits itself."
The graphic below provided by Statista outlines how the impeachment process works.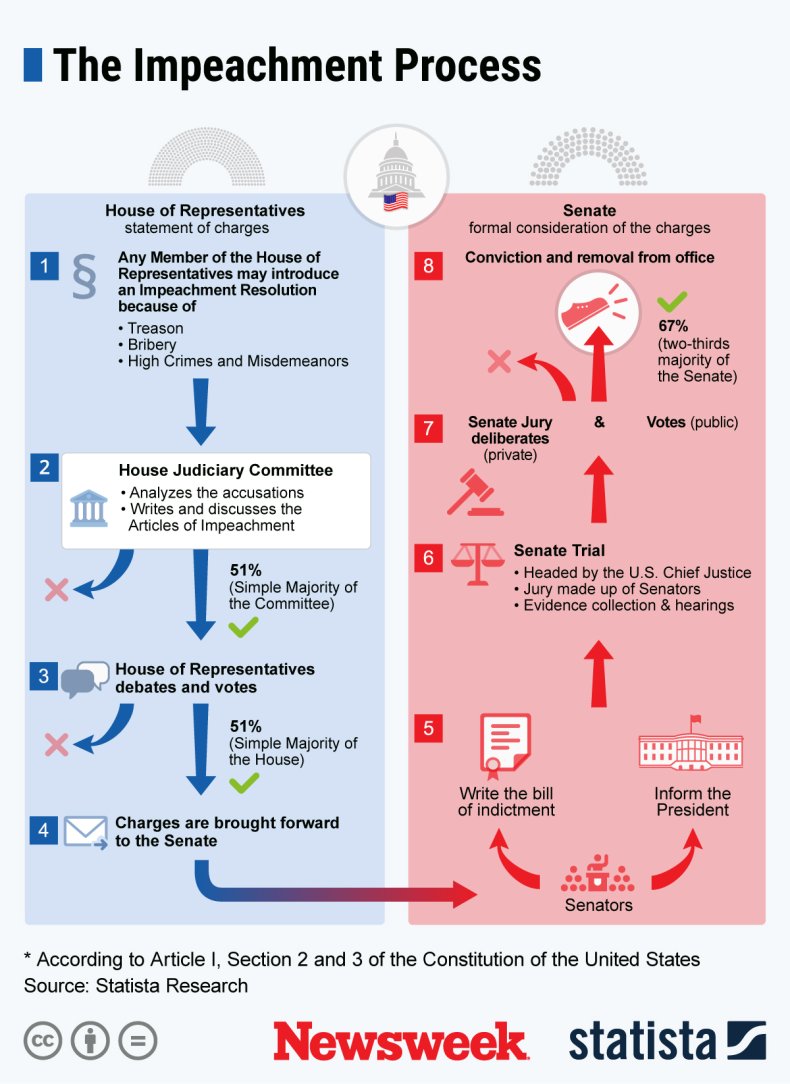 This story has been updated to include a response from Cramer's office to Newsweek's request for comment and to clarify the senator's comments were made on MSNBC.