Kevin Durant Engages in Twitter Spat With Ex-Teammate Over Work Ethic and Splitting for the Warriors in 2016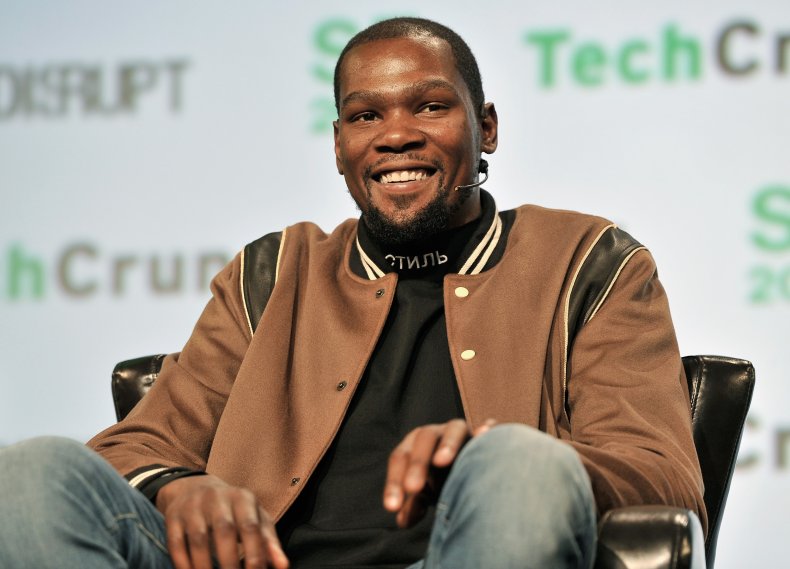 Brooklyn Nets forward and two-time NBA finals MVP Kevin Durant found himself in an argument on Twitter Thursday with former teammate Kendrick Perkins regarding work ethic and Durant's time with the Golden State Warriors.
"Weak is starting at center, playing real minutes with no production. Should've worked on your skills as much as I did," Durant wrote in one of a series of tweets directed at Perkins, who is retired from the league and now works for ESPN.
The feud began when Perkins published a tweet about Russell Westbrook, Durant's ex-teammate on the Oklahoma City Thunder.
"In about 30 minutes I'm going to give my opinion on @SportsCenter on why [I] believe that Russell Westbrook is the best player to have every put on a Oklahoma City Thunder Jersey!!! He is MR. THUNDER," Perkins wrote.
Perkins' tweet prompted Marc D'Amico, a writer for the Boston Celtics, seemingly to suggest Durant was the better player for the Thunder.
"He put together the best career within that organization, but he's definitely not the best player to have ever put on a jersey for them. Cmon Perk!" D'Amico responded to Perkins about Westbrook.
Perkins and D'Amico continued their argument and went on to discuss how Westbrook was eliminated from the playoffs before making it to the second round in three straight years--after Durant had departed from the Thunder following the 2015-2016 season for the Warriors.
Perkins then brought up the 2012-2013 playoffs, during which he was a member of the Thunder. At that time Westbrook had suffered a right knee injury during the first round, which caused him to miss the remainder of the playoffs. The Thunder eventually lost their second-round series.
"KD [Kevin Durant] lost in the second round without Russ when I was there. So what that mean?" Perkins wrote in response to D'Amico.
While Durant was not tagged in the Twitter thread between D'Amico and Perkins, he entered into the discussion and mocked Perkins' performance in the 2012-2013 playoffs.
"Yea and our starting center @KendrickPerkins averaged a whopping 2 and 3 during that series. U played hard tho champ lol," Durant wrote.
Perkins did not take Durant's criticism lightly and decided to knock Durant's decision to jump ship from the Thunder to the Warriors after the Thunder lost to them in the 2015-2016 playoffs.
"Boy stop you did the weakest move in NBA history!!!," Perkins wrote. "Up on a team 3-1 in the western conference finals and then go join them the following season?! Heart of a champion right there."
He also noted the Warriors' 73-9 record during the 2015-2016 season--the best regular-season finish in NBA history--in his criticism of Durant.
"That's fine!!! You worked that hard and still had to go join a 73-9 team. Truth be told you don't even feel like a real champ, you have a hard time sleeping at night huh knowing that you took the coward way out," Perkins wrote, which lead to Durant responding with a GIF of a sloth yawning.
This was not the first time Durant has found himself in an argument on social media, as he has yet to play a game as a member of the Nets due to an Achilles injury he suffered last year. Still, he defended his current team--who currently has a 16-20 record as of Friday--on Twitter just a day prior to his argument with Perkins.
"You're gonna watch anyway. Doesn't matter," Durant wrote in response to fans.
In July 2018, Durant was involved in a Twitter spat with current Portland Trail Blazers player C.J. McCollum, after he called Durant's decision to join the Warriors "soft."
"So, I would get into a gang fight, lose, plot on my brother for 2 months in our home and then go get the gang we lost to and beat him up? U think that low of me CJ? I just did your f***** podcast. Snakes in the grass boy I tell ya," Durant wrote in his response to McCollum.