Kevin Durant Free Agency: Warriors Ready to Pay Finals MVP 'Whatever He Wants'
The Golden State Warriors are willing to pay Kevin Durant "whatever he wants" as the forward prepares to open negotiations over a new contract.
Last week, Durant ended speculation over his future as he revealed he intends to prolong his stay in the Bay Area after winning two NBA titles in his first two seasons with Golden State.
A year ago, the nine-time All Star signed a $51 million two-year deal which included an opt-out clause, which will allow him to become an unrestricted free agent this summer and restructure his deal with the reigning NBA champions.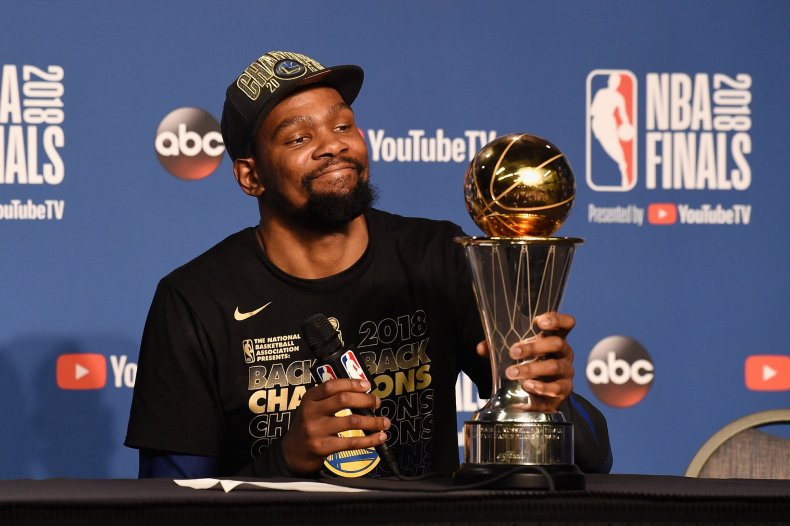 Durant could now sign a contract worth around $160 million over four years, but Warriors' general manager Bob Myers suggested he would give the forward a much longer deal, if he could.
"Sometimes you don't negotiate," Myers was quoted as saying by the Associated Press.
"I'd love to have him for 10 years. Kevin Durant, look what he did for us last year. He did us a great service. He's earned the right to sign whatever deal he wants. I just want him to sign a deal."
When Durant signed his two-year extension last year, the financial terms of the deal raised eyebrows as a player of his caliber could have commanded around $10 million more on a max salary. However, by agreeing to a discounted deal, the former Oklahoma City Thunder forward allowed the Warriors to retain Shaun Livingston and Andre Igoudala.
This year, however, the two-time reigning NBA Finals MVP has a number of different options on the table. He could sign a four-year max contract worth $158 million, which would see him earn around $30 million for the first year and $31.5 million for the option year.
The contract would also give him the chance of opting out again at the end of next season to sign a five-year max contract.
Alternatively, he could sign a three-year deal with a player option after the first two seasons. His earnings would grow to $38.2 million in the first year and the option year would be worth $41 million.
"[I] want him to be happy and want him to know that we want him as long as he wants to be here," Myers said.
"He's earned that, to kind of lay out the terms. He can do whatever he wants. That shouldn't be a long negotiation. Our goal, to be honest, is to try to keep the whole thing together, so that's the pieces of the puzzle we've got to try to figure out."
Meanwhile, Durant revealed he might have only another five NBA seasons left in him. The two-time NBA champion told ESPN he will probably walk away from the game once he turns 35.
"This game, your craft, you have to continue studying it," Durant, who turns 30 in September, was quoted as saying. "No matter how much you enjoy it, nobody wants to be in school that long. I know I don't. At some point, you have to be ready to graduate. Thirty-five, that's just a number in my mind."