NBA Finals 2019: Will Kevin Durant Play in Game 1?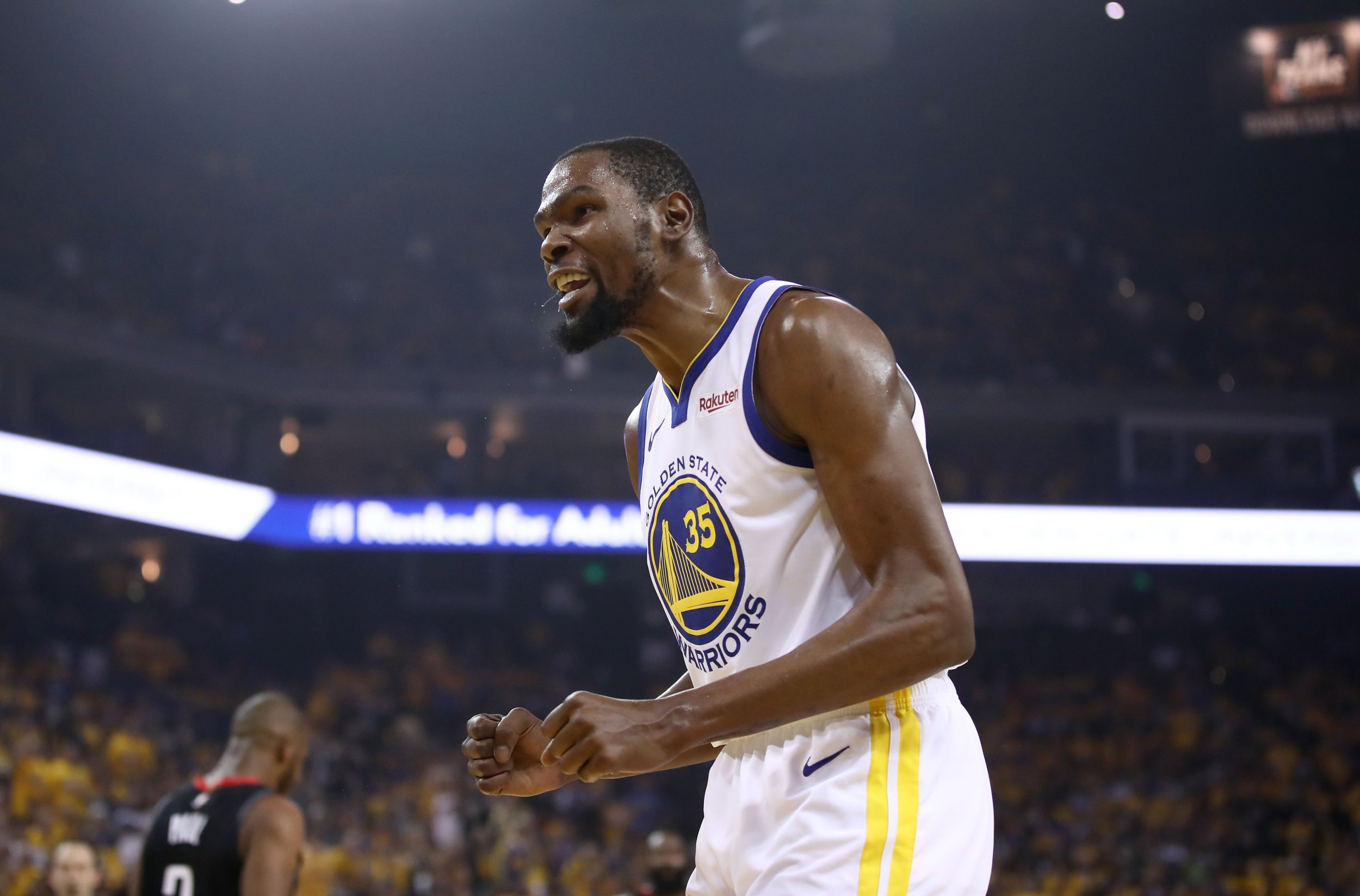 The Golden State Warriors could be without Kevin Durant for the first two games of the NBA Finals as he continues to nurse a right calf strain.
The defending NBA champions begin their quest for a third consecutive title on Thursday night in Toronto, Canada, but the two-time reigning NBA Finals MVP will sit the game out.
Durant hasn't played since May 8, when the Warriors went 3-2 up against the Houston Rockets in the second round of the playoffs. He missed the final game of the series and then sat out the entire Western Conference Finals, as the Warriors swept the Portland Trail Blazers.
Golden State hoped to have the 10-time All-Star back for Game 2 on Sunday but head coach Steve Kerr hinted he might have to wait longer to welcome Durant back in the fold.
"His next step is individual court work, so that will be the next priority over the next couple of days," Kerr was quoted as saying by the San Francisco Chronicle. "Hopefully he can wrap that up, and then he's going to have to practice. We have to see him in practice before he can play a game, and he hasn't practiced yet."
While Durant averaged 34.2 points per game in this postseason, his injury has so far not failed to derail the Warriors' juggernaut. Golden State won all the five games the 30-year-old has missed so far and has won 31 of the last 32 games in which Stephen Curry has played and Durant has not.
As those figures spell out, Golden State is clearly capable of beating the Raptors without Durant. In fact, they lost their only trip to Toronto this season, despite the fact their star scored 51 points and captured 11 rebounds.
However, the impact of Durant's absence could stretch well beyond the NBA Finals. The second overall pick of the 2007 draft is set to become a free agent on July 1 and there has been speculation this series could convince him to look for a new challenge.
The former Texas student, however, dismissed rumors about his future, insisting he remained focused on the Warriors for now.
"It's been that way since I got here," he told Reuters last week.
"It's the Warriors and KD. I understand that. I feel the organization knows exactly what I've done on and off the court to become part of this culture and stamp my flag on this organization.
"The last two years, I've done pretty much everything that they asked me to do from player, ambassador to the community to working hard every single day in shootarounds and practices.
"I know what I bring to the team but I also know a lot of people on the outside don't like to see us together. I get it."