Kevin Durant Injury Latest: GS Forward Left Game With Ankle Injury but Will Be 'Fine' for Game 4
Kevin Durant is adamant he will not miss Game Four of Golden State's first-round playoffs against San Antonio, despite twisting his left ankle on Thursday night.
The 29-year-old was forced off the court late in Game Three, remaining on the bench for several minutes as the Warriors' medical staffed assessed his condition and returning to the locker room with 4:36 remaining in the fourth quarter.
However, the reigning NBA Finals MVP was quick to allay fears over his injury, suggesting the ankle had only been subject to a "quick roll" and nothing more.
"I'm good," Durant said as reported by ESPN. "It's nothing. It didn't completely turn. I'm fine."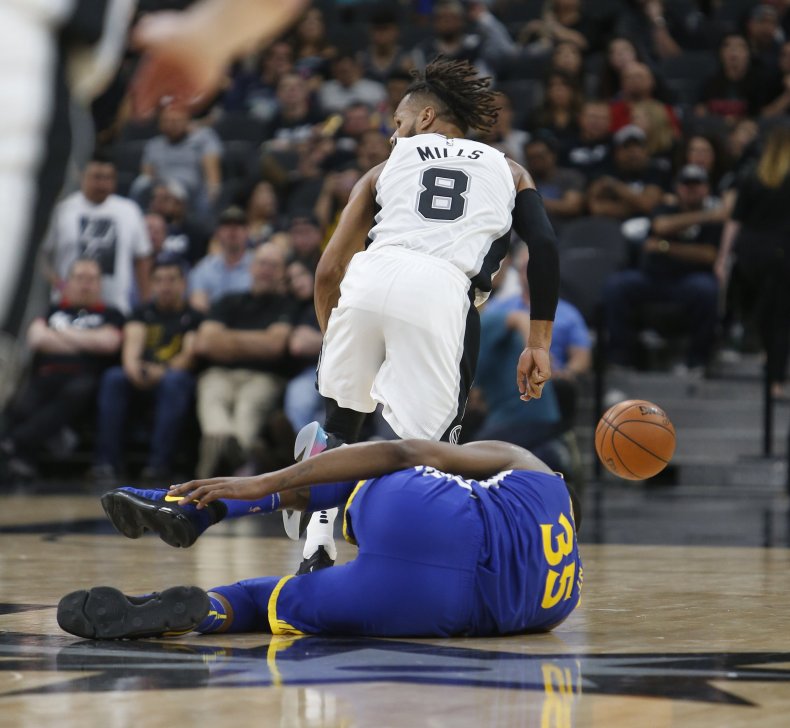 The 29-year-old was instrumental in leading the Warriors to a 110-97 win in San Antonio, scoring 26 points in 34 minutes, shooting 9-for-7 from the field, although he landed just one of his six attempts from three points.
Durant also added nine rebounds and six assists and once again the Spurs had no answer for him. With Stephen Curry missing the first-round series with a Grade 2 MCL sprain to his left knee suffered in March, Durant has stepped up to be the Warriors' main outlet and is averaging 27.3 points, 8 rebounds and 6.3 assists per game.
The defending champions also lost Shaun Livingston to an ankle injury, after the guard sprained his ankle in the fourth quarter and headed to the locker room with 4:03 played in the fourth quarter.
The 32-year-old had 16 points in 20 minutes, making four of his nine attempts from the field and converting eight out eight from the free-throw line.
Speaking to reporters after the game, Warriors coach Steve Kerr suggested neither injury was serious.
"I think they're going to be okay," he said. "Shaun's was probably a little worse than Kevin's. Both sprained ankles. I think they'll be alright."
Game Four is scheduled for Sunday in San Antonio, when the Warriors have the chance to complete a series sweep and move into the Western Conference semifinals.