Is Kevin Durant Out for the Rest of the Season? Suns Star's Injury Update
There has been an update given on Kevin Durant after the basketball player suffered an injury earlier this week.
Durant, who has only played three games for the Phoenix Suns after being traded from the Brooklyn Nets in February, slipped on the floor while warming up for his team's game against the Oklahoma City Thunder on Wednesday, March 8, and sprained his ankle.
The two-time NBA champion and four-time league top scorer, who is averaging 29.5 points per game this season, was brought to the Suns to boost their offence as the team tries to win its first ever championship title. Suns coach Monty Williams described signing Durant as "more than a lift" for his players.
A video taken during the pregame workout shows NBA star Durant slide and fall onto the floor, tweaking his left ankle.
According to the Twitter user who posted the video, Durant remained on the ground for a few moments after the slip, before getting up and finishing his workout.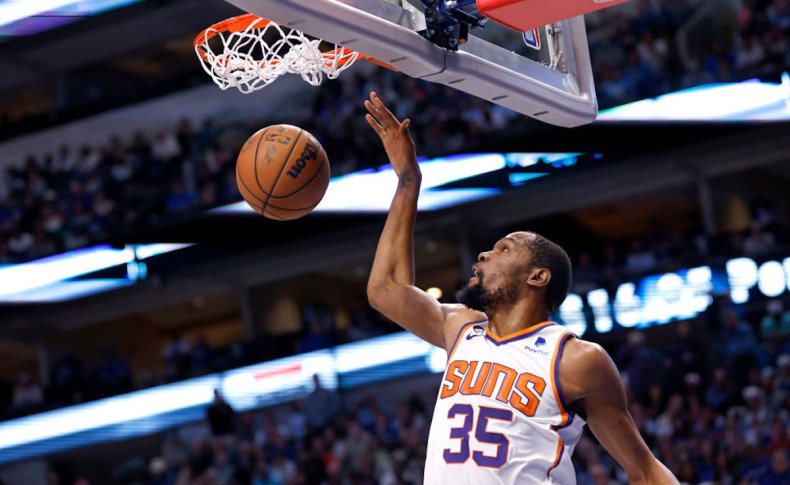 Despite making it through the warmup, Phoenix decided to not put him in the game. The Suns went on to score a 31-point victory over the opposing team.
Since Wednesday evening fans have been concerned for Durant, 34, and what his injury means for future games, and now they have an update on his condition.
Newsweek has everything we know so far about the latest information regarding Durant's injury and potential return to basketball.
Is Kevin Durant Out for the Rest of the Season?
Following his sprained ankle, Durant, also known by his initials KD, is expected to be re-evaluated in two weeks, according to sports reporter Shams Charania.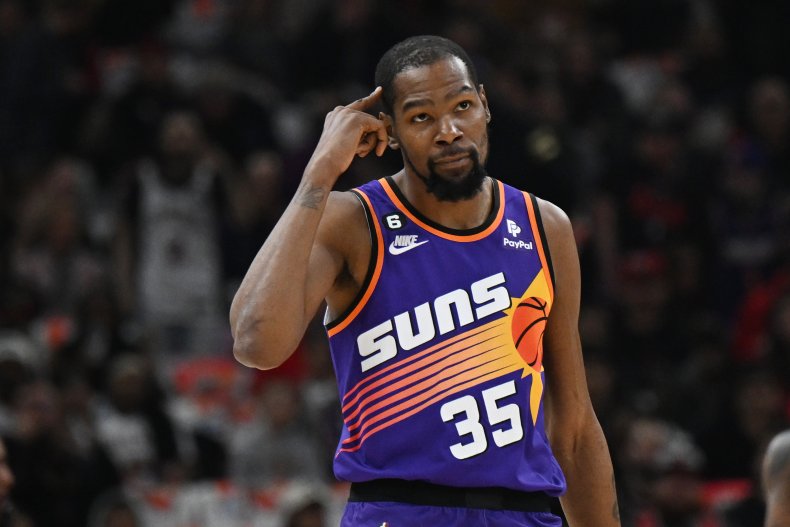 Charania, who writes for sports publication The Athletic, posted a tweet on Thursday evening that read: "Phoenix Suns star Kevin Durant is expected to be re-evaluated in two weeks with his left ankle sprain and return based on rehab progress, sources tell @TheAthletic @Stadium."
"Swelling has gone down in the ankle, which Durant injured slipping in pregame warmups Wednesday," he added.
In a later, separate, social media message, Charania added: "The Suns and Durant are hopeful of progress during the re-evaluation window that allows for the 13-time All-Star to return to action shortly after two weeks, sources said. Good news for KD and Phoenix following scary fall in warmups."
It had initially been reported that there was "fear" within the Suns organization that Durant could be out for the remainder of the regular season, per The Arizona Republic.
Phoenix's regular season finale is April 9, and there was said to be concern that Durant could miss the remainder of the regular season following his slip, and potentially the start of the playoffs.
According to Charania's reports, however, Durant could be back in just under a fortnight, if his re-evaluation allows.
Newsweek has contacted two representatives for Durant, via email, for comment.