Kevin Durant Achilles Injury: Experts Say Warriors Star May Never Be the Same Again
Kevin Durant may never fully recover from the Achilles injury he suffered on Monday night, a specialist has warned.
The Golden State Warriors star confirmed on Wednesday that he had underwent surgery to repair the Achilles he tore in Game 5 of the NBA Finals against the Toronto Raptors.
"What's good everybody I wanted to update you all: I did rupture my Achilles. Surgery was today and it was a success," the 30-year-old wrote in an Instagram post, captioning a picture of him in hospital.
"My road back starts now! [....] It's going to be a journey but I'm built for this."
Durant will in all likelihood miss most of next season, as the normal recovery times range from six months to a year. His teammate DeMarcus Cousins spent almost a year out after rupturing his left Achilles tendon in January 2018.
However, when Durant does come back he might not be the same player he was prior to his injury.
"You can get back to an elite level but normally you're a half-step slower, maybe slightly less able to jump to the same level you were and you're a little bit less explosive," Doctor Babak Baravarian, a foot and ankle specialist who serves as a consultant to the ATP Tour, was quoted as saying by Omnisport.
"When you're talking about an athlete at the peak level as Kevin Durant is, that half-step, that inch less jump, can be a difference in whether you're elite level or just a good level."
Baravarian's warning is backed up by a study—"Performance Outcomes after Repair of Complete Achilles Tendon Ruptures in National Basketball Association Players—published in 2013, which showed players who have suffered torn Achilles rarely return to their pre-injury levels.
When Kobe Bryant tore his Achilles in March 2013 he was averaging 27.3 points per game. In three seasons after the injury, he played a combined 107 games averaging just 19 points.
Chauncey Billups, the 2004 NBA Finals MVP, played just 41 games in the two seasons after tearing his Achilles in 2012 at the age of 35. Two years later, former Cleveland Cavaliers big man Anderson Varejao suffered the same fate at the age of 32 and then played a combined 588 minutes in the next two seasons.
San Antonio Spurs forward Rudy Gay was 30 when he tore his Achilles in 2017 at a time when he was averaging 18.7 points per game. He has since started just 57 games over the next two seasons, during which he has averaged 12.6 points.
Cousins went from averaging 25.2 points, 12.9 rebounds and 36.2 minutes per game to 16.3 points and 8.2 rebounds over 25.7 minutes.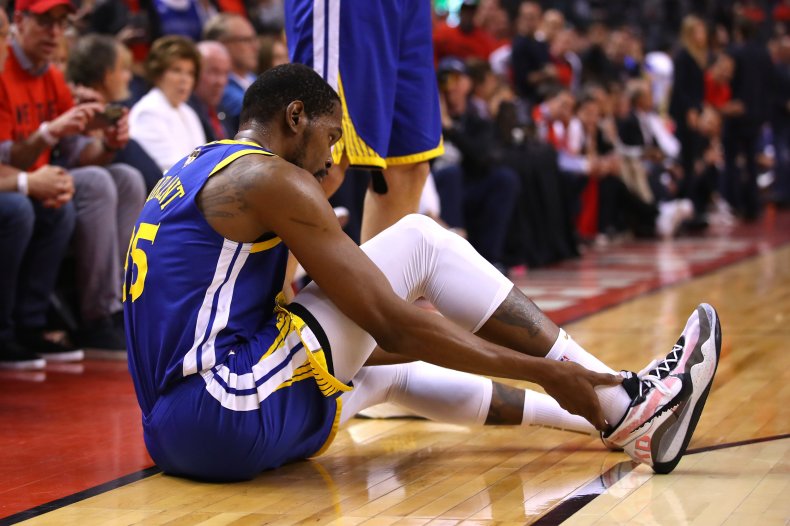 There have been almost 30 cases of torn Achilles in the NBA and the one common factor is age. According to the medical paper, the average age of players who suffered a torn Achilles between 1992 and 2013 was 29.
By comparison, the average age of players in the league over the same period was 27.
More importantly, the injured players had 7.6 years of experience; the league average was six.
Durant will be 31 before the start of next season, meaning he might not be back onto the court until he's close to his 32nd birthday. He has already clocked 12 seasons in the league.
"A guy who is number one and a freak of nature and all of a sudden he becomes five percent less [...] that can become somewhat significant in the overall game," Baravarian added.
"A guy can still be a phenomenal player because he understands the game so well. Kevin Durant's wingspan is ridiculous, his height is ridiculous for his position. I still think he's going to be able to be an elite player but he may not be at that level that he was."