Kevin Durant: Lakers, LeBron James Will Have Difficulty Finding Second Option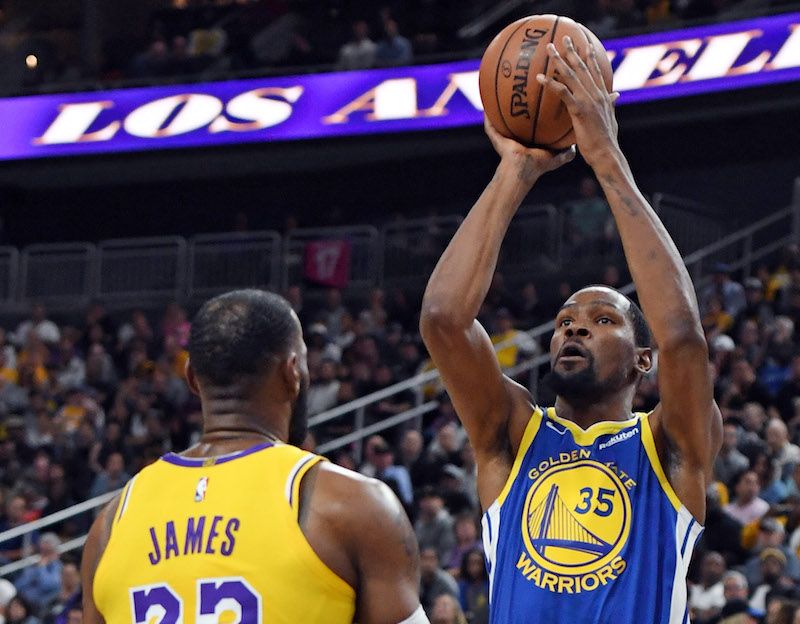 The Los Angeles Lakers are one of several teams that have been linked to Golden State Warriors forward Kevin Durant in his upcoming free agency next offseason. However, it doesn't sound as though he's interested in sharing the spotlight with All-Star forward LeBron James.
Durant said that he believes the Lakers will have difficulty bringing in any superstar to play alongside James in a recent interview with Bleacher Report.
"It depends on what kind of player you are," Durant told Bleacher Report, which published its story early Wednesday. "If you're Kyle Korver, then it makes sense. Because Kyle Korver in Atlanta was the bulk of the offense, and he's not a No. 1 option at all, not even close. So his talents benefit more from a guy who can pass and penetrate and get him open."
Los Angeles has made multiple attempts to lure in All-Stars since signing James last summer. However, the Lakers failed to acquire both Kawhi Leonard and Jimmy Butler -- both of whom were dealt elsewhere -- after being linked as potential trade partners.
"If you're a younger player like a Kawhi, trying to pair him with LeBron James doesn't really make sense," Durant told Bleacher Report. "Kawhi enjoys having the ball in his hands, controlling the offense, dictating the tempo with his post-ups; it's how he plays the game. A lot of young players are developing that skill. They don't need another guy."
Durant also noted the constant media coverage James receives as a potential factor that could pivot big names from playing alongside the four-time NBA MVP.
"So much hype comes from being around LeBron from other people," Durant said. "He has so many fanboys in the media. Even the beat writers just fawn over him. I'm like, we're playing basketball here, and it's not even about basketball at certain points.
"So I get why anyone wouldn't want to be in that environment because it's toxic. Especially when the attention is bulls--- attention, fluff. It's not LeBron's fault at all; it's just the fact you have so many groupies in the media that love to hang on every word. Just get out of the way and let us play basketball."
Durant did mention that established players who are willing to adjust their games tend to fare better with James, such as former teammates Kevin Love and Chris Bosh.
"Kevin Love, he had to totally change his game to fit, to be a shooter. Which, I think, he deserves way more credit for switching his game. Bosh, same way," Durant said. "LeBron is a player that needs to play with guys that already know how they play the game -- and shooters. Like, young players that are still developing, it's always going to be hard because he demands the ball so much, he demands control of the offense and he creates for everybody."
Golden State will host Los Angeles on Christmas Day at 8 p.m. EST.