Kevin Durant's Mom Wanda Says Basketball Player Has 'Heart of a Warrior'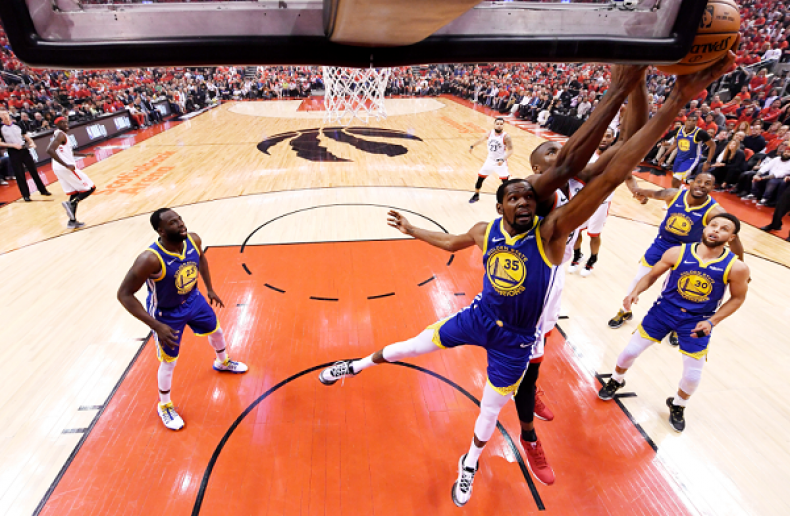 Kevin Durant's mother offered a message to those who doubted in her son: "You don't know him."
The Golden State Warriors player suffered an Achilles injury during the fifth round of NBA finals against the Toronto Raptors on Monday night. It was Durant's first night back on the court following a nine-game absence due to a leg injury. He played for all of 12 minutes before he was hurt during a play in the second quarter.
While a number of sports-watchers criticized Durant following his injury online, his mother Wanda Durant came to his defense in a tweet. "For ALL of you who question my son as a Man, question his Heart, question his Integrity and question his LOVE for the game of basketball, you DON'T know him," she wrote on Tuesday.
"He has a heart of a true Warrior! This too shall pass. God Bless you ALL," she continued.
Kevin Durant's mother wasn't the only one to come to his aid against naysayers. The Warrior's president of basketball operations Bob Myers spoke highly of Durant and took the blame for putting him back in the game prematurely.
"Prior to coming back he went through four weeks with our medical team. It was thorough. It was experts and multiple MRIs and multiple doctors, and we felt good about the process. He was cleared to play tonight. That was a collaborative decision. I don't believe there's anybody to blame but I understand this world. If you have to, you can blame me," Myers said.
"Let me tell you something about Kevin Durant. Kevin Durant loves to play basketball. People that questioned whether he wanted to get back to this team were wrong," Myers continued. "He's one of the most misunderstood people. He's a good teammate, a good person. It's not fair."
Since arriving to the Warriors in 2016, Durant's helped the team win back-to-back championships in 2017 and 2018. Nonetheless, basketball fans have continued to criticize his initial decision to leave the Oklahoma City Thunder, who he played with for nine seasons, to join the team that wiped his former during the 2016 Western Conference Finals.
Only adding insult to injury, Durant will be up for free agency for the 2019-20 season. The timing of contract negotiations and his health struggles have caused some spectators to question his dedication to the team.
The severity of Durant's Achilles injury has not yet been revealed.