Kevin Durant Would 'Be Better than LeBron' If He Won a Title With the Knicks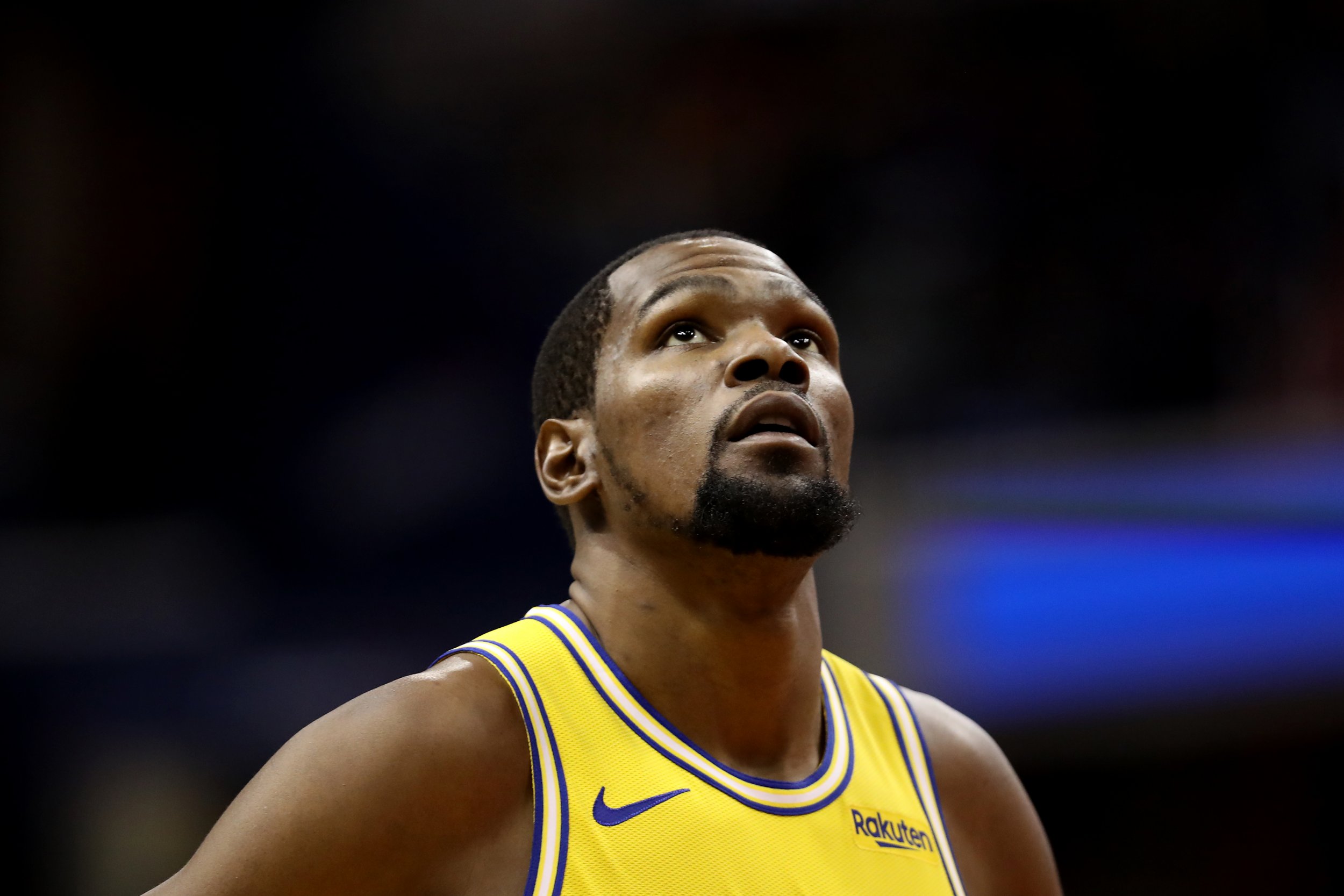 Fox Sports anchor Nick Wright believes that Kevin Durant would surpass LeBron James as the best player in the NBA if he were to move to New York and lead the Knicks to a title.
Despite being crowned NBA Finals MVP in each of the last two seasons, Durant has often felt he doesn't get the recognition he deserves.
Since swapping Oklahoma for the Warriors in the summer of 2016 he has had to share the stage with Stephen Curry, while LeBron has taken a vastly inferior team to the finals over the last two years.
However, while Curry has always seemed comfortable alongside Durant, Wright suggested the latter was not entirely happy at not being the main man in Golden State.
He added the 30-year-old's desire to be recognized as the undisputed number one player on the team and in the league as a whole meant he might soon have to leave the Bay Area.
"To his credit, Steph [Curry] welcomed the man and didn't care he wasn't going to win any more MVPs and he didn't care about the rankings," Wright said on Thursday morning on Fox Sports' First Things First.
"This seems to really eat at Durant and he's going to have to go elsewhere."
Durant has a player option for this summer and he is widely expected to explore his options in the free agent market. For Wright, there's only destination he should consider.
"You go and win a title in New York City," he added.
"If Kevin Durant comes to New York City and wins a championship, I will say he's the best player in the world."
The two-time NBA champion has long been linked with a move to the Big Apple. In October last year, a billboard depicting him wearing Knicks colors while standing alongside New York's big hope Kristaps Porzingis and the NBA trophy was put up next to the Madison Square Garden.
Porzingis was traded to Dallas last week but, far from being a blow to the Knicks' chances of landing Durant, the move was instead considered as part of a wider plan.
By trading the Latvian, Courtney Lee and Tim Hardaway Jr. to the Mavericks, New York has moved on significantly salaries and is projected to have over $70 million of salary cap space in the summer.
That would pave the way for them to be very aggressive in a market that is expected to be loaded with high-profile free agents. Aside from Durant, Kyrie Irving and Kawhi Leonard also have a player option, while Kemba Walker will be an unrestricted free agent.
While the Knicks have struggled for decades, they could offer Durant the chance of playing on the world's biggest stage while having a franchise built around him.
However, the 10-time All-Star has clearly had enough of speculation and made his point clear during an extraordinary rant in the post-game press conference on Wednesday.
"I have got nothing to do with the Knicks, I don't know who traded [Kristap] Porzingis, I'm trying to play basketball," he said.
"I come here every day and [you reporters] ask me about free agency, ask my teammates, my coaches and you rile up the fans about it. Let us play basketball."