'F***ing Kevin Durant': Richard Jefferson Claims Cavs Would've Beaten Warriors in 2017 NBA Finals Had It Not Been for KD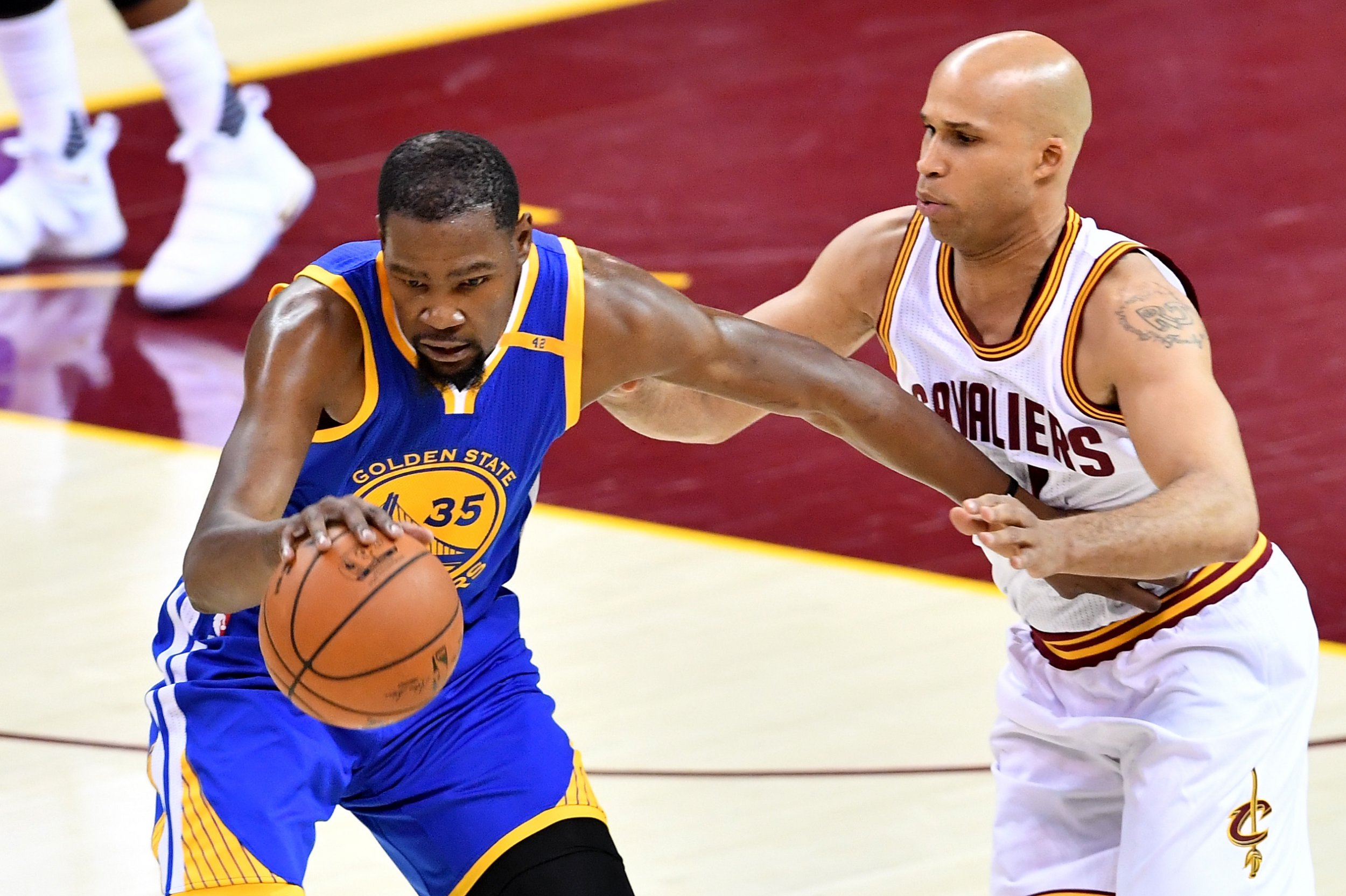 Kevin Durant's decision to join the Oklahoma City Thunder was widely unpopular in some NBA circles—and it seems some former players still hold a grudge.
None more so than Richard Jefferson, who claimed he would have won two titles, had it not been for Durant swapping Oklahoma for the Bay Area.
Read more: Kevin Durant 'has no clue' where New York Knicks rumors came from
Jefferson was part of the Cleveland Cavaliers team that beat the Golden State Warriors in seven games to clinch the NBA title in 2016. He believes the Cavs would have made it back-to-back titles the following season.
"You know what's sick?" Jefferson wrote in an article for The Players' Tribune on Monday.
"Even after all that, it genuinely pisses me off that we didn't repeat as champions. I should have two rings."
"(F***ing Kevin Durant, man!!!)"
The Players' Tribune is the same publication through which Durant announced his decision to sign for the Warriors on July 4, 2016.
The second overall pick of the 2007 draft officially joined the 2015 NBA champions a few days later, a move that dramatically altered the NBA landscape. In 2017, Durant helped the Warriors get revenge over the Cavs and Jefferson, inspiring them to a 4-1 win.
The former Texas student was voted NBA Finals MVP and was the series top scorer, finishing with 35.2 points, 8.4 rebounds and 5.4 assists per game.
Last year, Durant claimed a second consecutive NBA Finals MVP crown as the Warriors clinched a third title in four years after sweeping the Cavs in the fourth consecutive final series between the two teams.
The 30-year-old finished with 28.8 points, 10.8 rebounds and 7.5 assists per game, becoming only the fifth player in history to be named Finals MVP in consecutive seasons.
Part of the criticism aimed at Durant's decision to move to Golden State stemmed from the fact he had lost to the Warriors in the Western Conference Finals just a few months earlier.
Some felt he should have stayed in Oklahoma City and help engineer the Warriors' downfall, instead of making them a seemingly invincible machine by joining forces with Stephen Curry and Klay Thompson.
However, despite all the criticism and vitriol aimed his way, Durant has two rings to show for it.
In his piece Jefferson, who retired in October last year, admitted the desire to win an NBA title can lead players to make decisions some might regard as questionable.
"People say, 'Oh Richard, you were ring chasing'," Jefferson wrote to explain why he signed for the Cavs in 2015.
"And I say, 'Hell yes I was ring chasing.'
"I played all this basketball, and I put in all this work, and I had all these crazy memories, but I didn't have the most important thing in the world, man.
"I didn't have that ring."