NBA All-star Game: Team LeBron Beats Team Giannis as Kevin Durant Steals the Show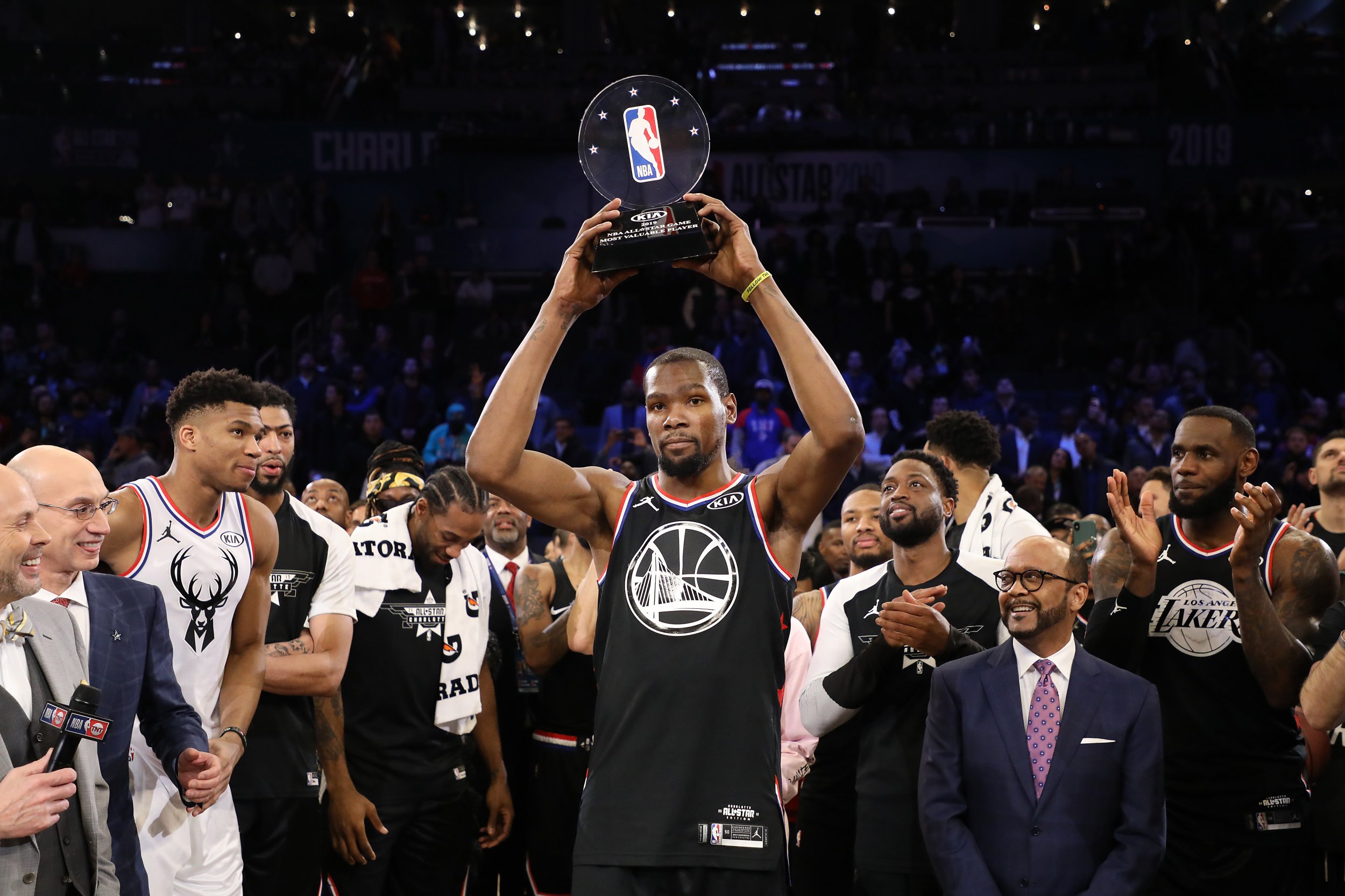 Kevin Durant added yet another MVP award to his trophy cabinet after inspiring Team LeBron to a win over Team Giannis in the 2019 All-Star Game in Charlotte, North Carolina.
It was the second time Durant, who is the two-time reigning NBA Finals MVP, received the award, having first won it in 2012. The Golden State Warriors star finished with 31 points, on 10-for-15 from the floor, seven rebounds and two assists in 25 minutes on the court.
The 30-year-old was LeBron James' first pick in the All-Star draft and it proved to be an inspired choice as he played a crucial role in his team coming back from a 13-point halftime deficit to win 178-164.
"Everything's special," Durant told ESPN when asked about what it meant to be named All-Star Game MVP for a second time. "But it's cool to be out there with some of the best players to ever play the game, and to win an MVP here in front of my family and friends is pretty sweet. I just keep trying to rack them up, I guess."
Despite featuring Kawhi Leonard, James Harden and Kyrie Irving in the starting line-up alongside Durant and LeBron, James's team had to rely on the second unit to haul itself back in the game.
"They came in and just changed the whole complexion of the game," LeBron told NBC. "We got stops, and, obviously, Dame [Damian Lillard] and Klay [Thompson] caught fire from beyond the arc, and that allowed us to get back in the game."
Lillard and Thompson finished with 18 and 20 points respectively, for a combined 12-for-29 from beyond the arc.
Giannis Antetokounmpo had led his team to a commanding first half lead after scoring 20 points in the first two periods, on his way to finish with a game-high 38 points and 11 rebounds in just 27 minutes.
Antetokounmpo's performance, however, was not enough to see his team over the line, as it conceded 96 points in the second half.
Team LeBron's coach Mike Malone had an unusual explanation when asked to single out the reason behind the comeback. Malone revealed that he had allowed the players to watch rapper J. Cole's halftime performance after the players guaranteed they would give 100 percent in the second half.
"I said, listen, I'll let you go watch the concert if you promise to get your ass back in transition," Malone said. "LeBron made my words known, they watched the concert, and they came out and played great."
LeBron, who finished with 19 points and eight rebounds, made history on Sunday night by becoming the first player to rack up 15 consecutive starts in the All-Star Game. According to Elias Sports Bureau, that is the most in the history of the event and placed him two ahead of Bob Couse and three ahead of Tim Duncan in the all-time ranking.
Kobe Bryant is the only player to have started 15 times in the All-Star game but his streak of consecutive starts ended at 11.