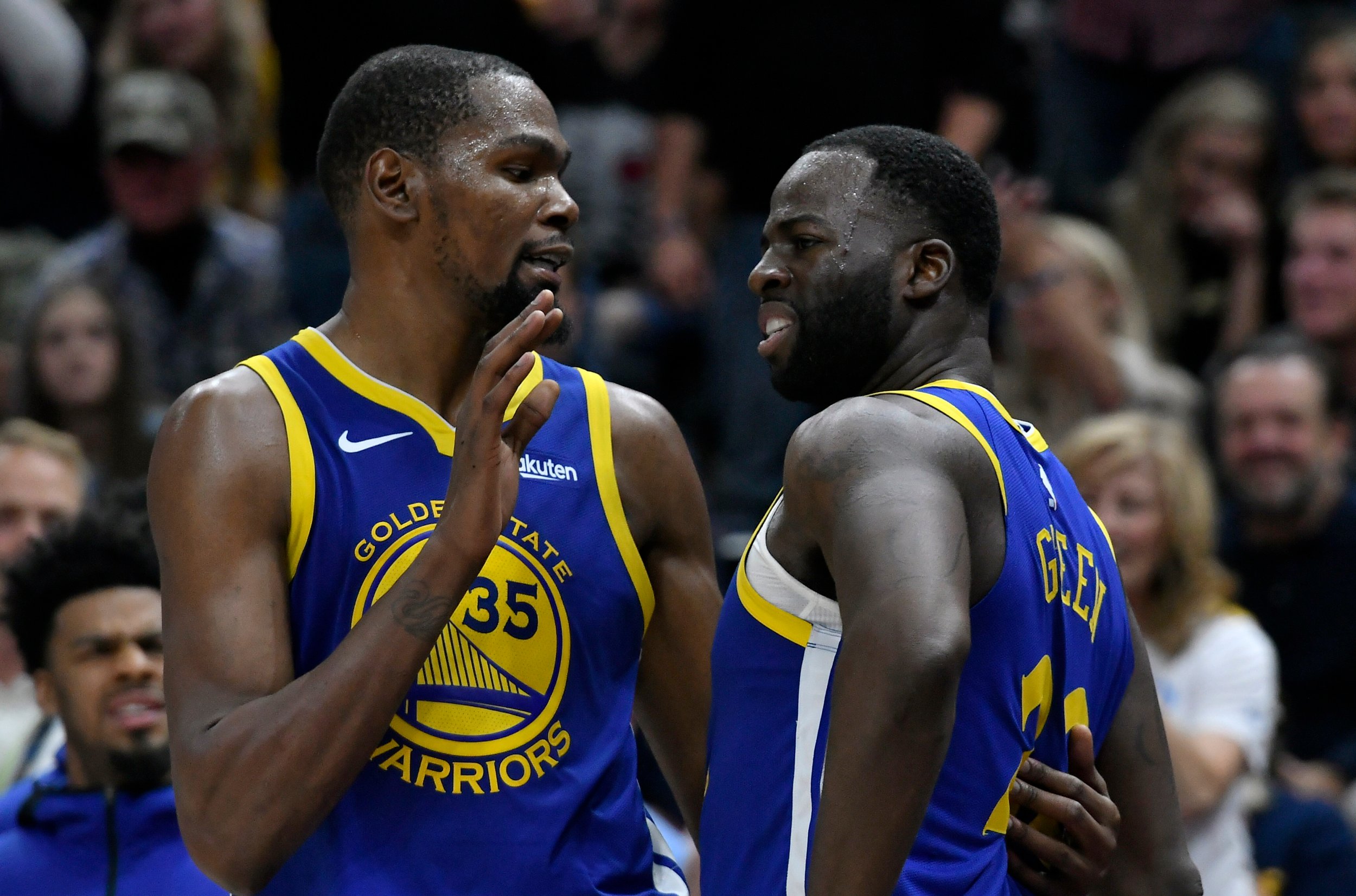 Fans of the other 29 NBA franchises will look high and low for any cracks in the foundation of the Golden State Warriors dynasty. After all, the star-laden team is just so dominant—they've cruised to three of the last four NBA championships—it takes a careful eye to find glimmers of weaknesses. Oftentimes, folks end up finding faults in Golden State that aren't really there.
But this week, the issues are real.
Two of the team's All-Stars—Kevin Durant and Draymond Green—are locked in a feud of sorts that led to the team suspending Green for a game, without pay. That's a pretty severe step.
The issues at play are apparently more than surface-deep, but the bubbling over began in public—when Green declined to pass to Durant in the final seconds of a tie game against the L.A. Clippers on Monday night. Green lost possession of the ball as Durant called for it, and the two got into a spat on the bench. The Warriors ended up losing in overtime. Not a huge deal, it would seem. NBA teammates argue with one another constantly—it's a competitive atmosphere and tensions run high. But we've now learned much more happened and things are worse than they seemed at first.
Durant—who, you'll remember, joined an already dominant Warriors squad as the hired gun a few years back—is scheduled to become a free agent after the season, and apparently Green is kind of fed up with the circus surrounding his superstar teammate. And he used some colorful language to express that feeling.
Here's the heart of it, reported by The Athletic's Marcus Thompson II, a well-connected Warriors writer who cited sources from "the locker room, the front office and to adjacent parties":
"Green took exception to how Durant addressed him. The exact dialogue couldn't be recounted as it was said, but it began with Green immediately firing back.

'Who the [f***] you talking to?'

According to multiple sources, Green then went on to make it clear he's been making plays for years. He reminded Durant the Warriors were winning before Durant showed up so he wouldn't stand for Durant talking to him as if he were a scrub. Green accused Durant of making the whole season about him even though he was going to leave after this season. Green let out his frustrations about how Durant has handled free agency — keeping his options open and keeping the story alive, consuming the Warriors and their season with talk of what Durant will do next.

That's the mild version. The original version included Green calling Durant a 'b***h' several times — disrespect that management said was too harsh to overlook."
Yikes.
There's a lot of context to consider here, but the biggest thing is the whole free agency part. Along with Durant, star Warriors guard Klay Thompson is scheduled to be a free agent this summer. Green is a free agent the summer after that. If Thompson and Durant sign big deals with Golden State this summer, those contracts—along with the max deal already signed by superstar guard Steph Curry—would make it very, very difficult for the Warriors to retain Green. And the franchise suspending Green signals whom the team prizes most—and it's not the second-rounder who helped develop the Warriors into a star team... it's the hired gun.
The Warriors have, for years, largely avoided any real infighting like this, but lots of money and star power are bound to create tension. It doesn't help that Green is notoriously fiery and Durant is notoriously thin-skinned.
And it doesn't seem like things are improving all that much. Durant said he had yet to talk to Green after the Warriors beat the Atlanta Hawks on Tuesday night. (Green was, of course, suspended for the matchup.)
Asked if the talk will ever happen, Durant told reporters: "I'm sure it will. We've got a long season ahead."
Warriors coach Steve Kerr—who reportedly made the ultimate decision to suspend Green—said he'd talked to Green but that the conversation was private. He was short with media after the Hawks game but did manage to defend Durant, denying his free agency was any kind of distraction.
Thompson, according to The Athletic report, was a calming force in the locker room after the Green-Durant feud. And the shooting guard, ever-interesting, had a funny (if kind of incomprehensible) way of suggesting the Warriors move on from the fight between stars.
"A win on Thursday," Thompson said, via ESPN. "And a win on Saturday and Sunday. Once we go on a little win streak [the Green-Durant situation] will not matter. And this will be in the past like a ponytail."