Kevin Durant's Future: Golden State Star Reveals He Will Sign New Deal with Warriors
Kevin Durant has revealed he will remain with the Golden State Warriors next season, ending speculations about his future.
Last summer, the nine-time All Star signed a $51 million two-year deal which included an opt-out clause, which will allow him to become an unrestricted free agent this summer and restructure his deal with the reigning NBA champions.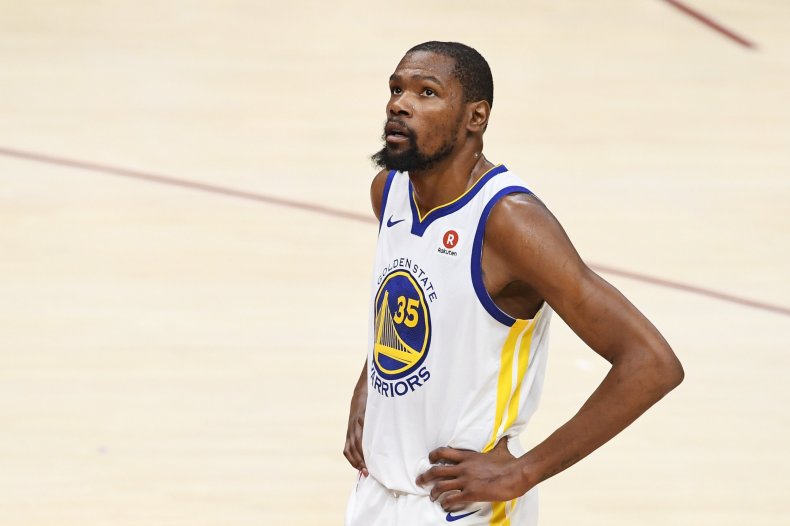 "I'm planning on staying with the Warriors, and we'll figure the rest out," Durant was quoted as saying by ESPN, adding there were some "small details" that were yet to be finalized.
When Durant signed his two-year extension last year, the financial terms of the deal raised eyebrows as a player of his caliber could have commanded around $10 million more on a max salary. However, by agreeing to a discounted deal, the former Oklahoma City Thunder forward allowed the Warriors to retain Shaun Livingston and Andre Igoudala.
"It made sense to do the one-year deal," Durant told The Athletic in March.
"I'm sure here soon I'll want to sign a long-term deal just to feel stable. But I'm enjoying every moment of it, so I'm not trying to look too far down the line."
The 2017 NBA Finals MVP has a number of different options on the table this summer. He could sign a four-year max contract worth $158 million, which would see him earn around $30 million for the first year and $31.5 million for the option year.
The contract would also give him the chance of opting out again at the end of next season to sign a five-year max contract.
Alternatively, he could sign a three-year deal with a player option after the first two seasons. His earnings would grow to $38.2 million in the first year and the option year would be worth $41 million.
Under these terms, Durant would again be able to opt out of the deal after two seasons to seek a five-year deal worth in the region of $228 million, with the first year alone worth $39.4 million.
Should he sign a three-year deal, Durant would be eligible for a no-trade clause by virtue of having been in the NBA for eight seasons and having played for the Warriors for four seasons.
The 2nd overall pick of the 2007 draft could sign another two-year deal with a player option, similar to the one he penned last summer.
On Wednesday night, Durant put in his best performance in this postseason as the Warriors won Game 3 of NBA Finals against the Cleveland Cavaliers. The Warriors forward scored 43 points, adding seven assists and 13 rebounds as the defending champions won 110-102 in Cleveland, to take a commanding 3-0 lead in the series.