Kevin Faulconer Blames Gavin Newsom for 'Shocking' Failure to Fix Unemployment System
Fixing California's troubled unemployment system is a top priority for Republican Kevin Faulconer in his bid to replace Governor Gavin Newsom, who is expected to face a recall election later this year.
Faulconer, who served six years as mayor of San Diego until late 2020 before launching his gubernatorial campaign in February, introduced his plan to reform the state's Employment Development Department (EDD) in March.
"Our unemployment system is broken," Faulconer tweeted at the time. "Struggling families are being forced to choose between putting food on the table or paying their bills. They need the help and it's unacceptable they're not getting it."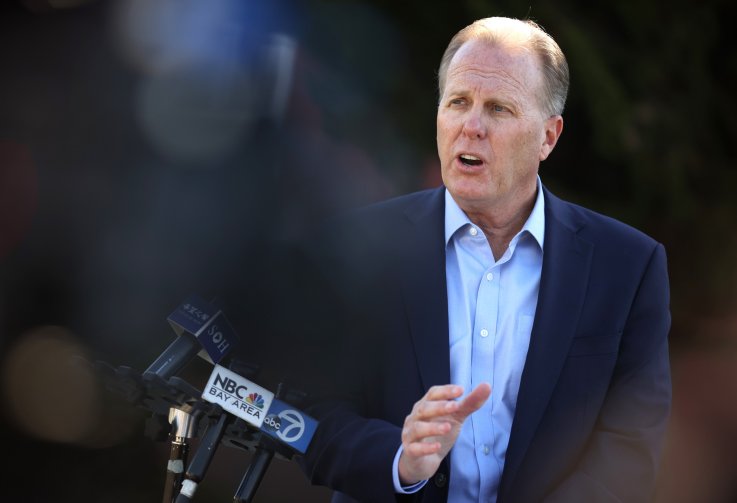 "It's shocking that California has failed to make any progress towards addressing the fundamental problems within [the Employment Development Department]," Republican gubernatorial candidate Kevin Faulconer told Newsweek. In the photo above, Faulconer speaks during a news conference in front of Abraham Lincoln High School on February 17, 2021 in San Francisco, California.
Justin Sullivan/Getty Images
As of June 25, the EDD reported 22.9 million claims filed since March of 2020 with $153 billion in benefits paid out. Though the EDD reported 85.5% of received claims were paid within one week of their certification, in late June there remained a backlog of more than 230,000 claims in the last three weeks alone still awaiting authorization.
Faulconer has been touting his EDD reform plan on social media, and has invited Californians struggling to get through to the EDD to share their experiences through a comment form on his website.
Shortly after California Secretary of State Shirley Weber confirmed on June 23 that the organizers of the recall campaign targeting Newsom had gathered enough signatures to trigger a recall election, Faulconer answered some of Newsweek's questions about his plan to reform the EDD.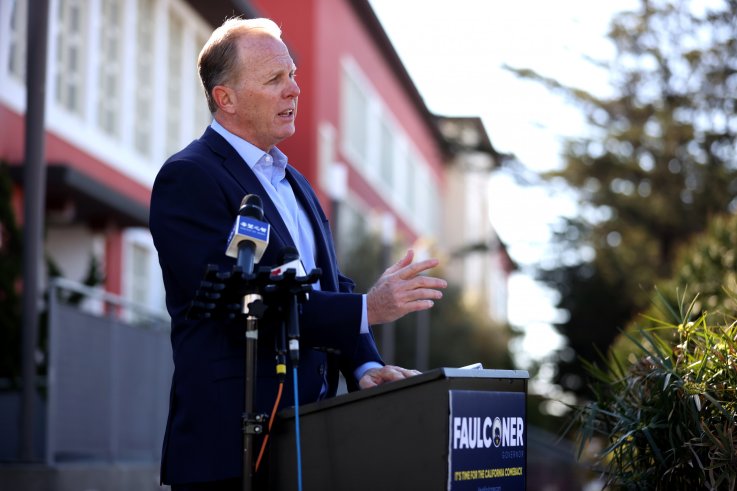 Former San Diego Mayor Kevin Faulconer speaks during a news conference in front of Abraham Lincoln High School on February 17, 2021 in San Francisco, California.
Justin Sullivan/Getty Images
The EDD has struggled for years, but the coronavirus pandemic put a spotlight on those festering issues. What struck you as the biggest problems facing the EDD over the last 15 months?
Our state EDD had many of the same problems during the Great Recession more than a decade ago. It's shocking that California has failed to make any progress towards addressing the fundamental problems within EDD, like its ancient computer systems.
The biggest issue seems to be reaching a person who can help resolve an issue. There have been so many stories of people calling every day for months trying to get their benefits approved or restored.
When you served as mayor of San Diego, what frustrations did you hear most from your constituents about the EDD?
I heard about the frustrations from so many being kept on hold and not receiving the adequate help they needed during such a tumultuous time. Prisoners and out of state residents got help before many Californians did. That's embarrassing. We need to change that. And Governor Newsom has had more than a year to handle this crisis—and still to this day, there isn't a fix in place that gets people the help they need quickly.
Governor Newsom's May 2021 revised budget proposal included money to address some of the problems at the EDD, including resources to fix the claim backlog and to create a direct deposit option for claimants. Some of the suggestions in his budget seemed to mirror those in your reform plan. What are your thoughts on Newsom's proposed EDD plans?
I'm glad he is using some of my unemployment system reform plan. However, Governor Newsom doesn't have a problem making promises. It's the follow-through that's the problem. The Employment Development Department's backlog of overdue claims has actually gotten worse since I announced my plan in March. It's increased from 150,658 on March 20 to 222,559 [by] June 12.
Again, Gavin Newsom has had ample time to fix this and has yet to do so. It's a shame because while he's able to put food on the table, many in the state waiting for this help haven't been able to or have struggled.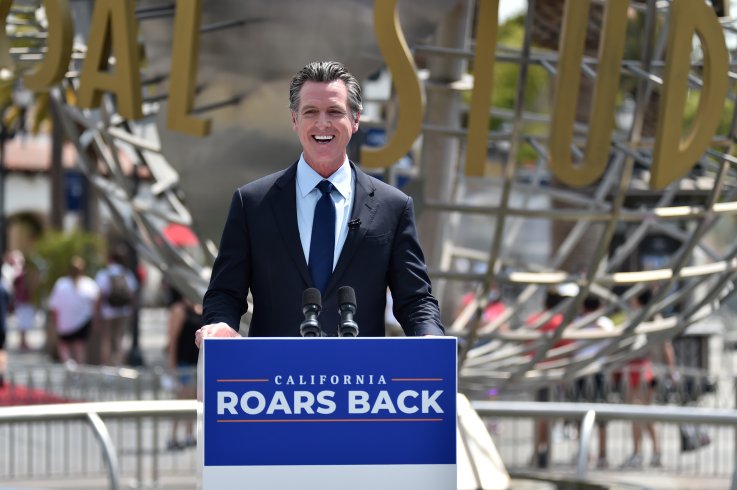 California Governor Gavin Newsom hosts a press conference for the official reopening of the state of California at Universal Studios Hollywood on June 15, 2021 in Universal City, California.
Alberto E. Rodriguez/Getty Images
Addressing the backlog and improving the department's technology to streamline the process for claimants seem to be what Californians most want from the EDD. Why do you think it is taking so long to get these problems addressed?
EDD hasn't been a priority and that's why so little has been done. EDD has an 11-year plan to modernize its IT systems that began in 2016. To date, no vendor has been selected to implement the project.
Sacramento has a pattern of chasing flashy new programs and computer systems while neglecting to upgrade key systems like EDD or DMV. Governor Newsom added more bureaucracy to the state's technology system when he created the Office of Digital Innovation despite a similar office already existing within the California Department of Technology.
As the home state of some of technology's top innovators, California seems well poised to collaborate with those innovators to improve the EDD's systems. What would those partnerships or collaborations look like with you as governor?
California's bureaucracy is so rigid that it blocks innovation from private sector vendors. The state has failed to examine the underlying red tape that block these public-private partnerships. In San Diego, we were able to forge a successful partnership with the private sector to overhaul our 9-1-1 dispatch which resulted in 96.5% of all calls are answered in less than 15 seconds. We looked at people, processes and technology and designed the best system possible. We also created the City's first Performance and Analytics Department which was an internationally-recognized team that works to modernize government operations and improve efficiencies across the organization.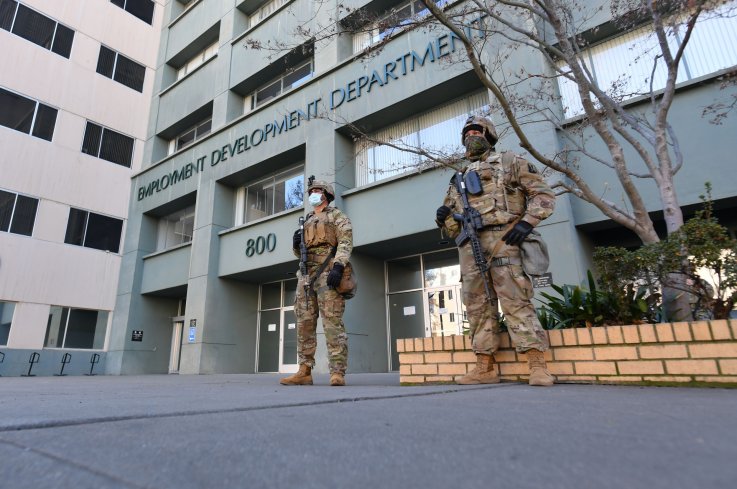 Members of the National Guard protect an Employment Development Department building near the State Capitol in Sacramento, California on January 17, 2021.
JOSH EDELSON/AFP via Getty Images
Reports of unemployment benefits fraudulently obtained through the EDD have made headlines in recent months. How would you go about addressing and preventing fraud at the EDD, and to what extent do you believe a technology-forward department could avoid some of those problems in the future?
EDD has no centralized approach to preventing fraud. That needs to change. Other states check claims against prison inmate databases but EDD only implemented this tool months into the pandemic.
Additionally, because EDD relies on outdated technology, it is prone to easily break. During the height of the pandemic, EDD suspended a key fraud prevention measure to help relieve the strain of processing claims. The State Auditor said that decision resulted in over $10 billion potentially fraudulent claims. If EDD was more prepared to prevent fraud and had a more modern system, it's unlikely California would have lost the estimated $30 billion in fraudulent claims that we saw under the current system.
Even without its current backlog, the EDD's critics say there are a lot of ways in which the department could improve. If the backlog were not an issue, what would be your top priority for the EDD and why?
Modernizing EDD's IT system is the most important technology project for California. That would be my focus so Californians never find themselves in a situation where they can't get their unemployment benefits when they need them the most.
What do you most want California voters to know about your EDD plan?
EDD has been ignored by Sacramento for too long. Under my administration, we will prioritize EDD and begin the change the department's culture after years of neglect. I know how important it is to receive your unemployment benefits when you're already facing a crisis of being out of work. For more information, visit my website to learn more about my plan to make this the number one technological priority for the state when I'm Governor here: www.EDDReform.com or alternatively, www.KevinFaulconer.com