Kevin Garnett and Ray Allen Interaction at All-Stars Prompts Wave of Memes, Jokes
The NBA All-Star Game in Cleveland, Ohio on Sunday night saw the reunion of several greats for the 75th-anniversary team and was attended by a host of celebrities.
However, it was the reignition of the long-standing feud between former Boston Celtics teammates Kevin Garnett and Ray Allen that has everyone talking after the pair's awkward interaction went viral.
The event honored the league's 75 best players in its history in a halftime ceremony led by director Spike Lee.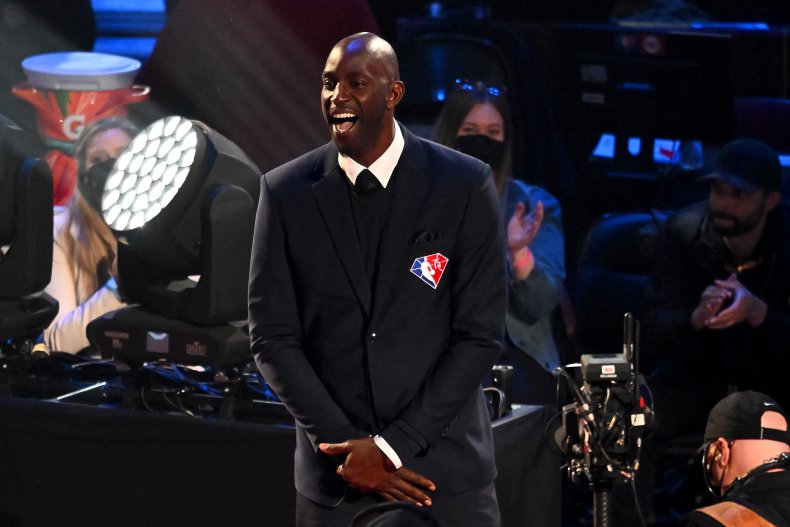 A number of former Celtics players made the cut for the top 75, including former teammates Paul Pierce, Garnett and Allen, who won an NBA championship in 2008.
A clip is now going viral—with more than 1.2 million views at the time of publishing—that shows Allen ignoring Garnett as he stepped on the stage and instead dapped up LeBron James.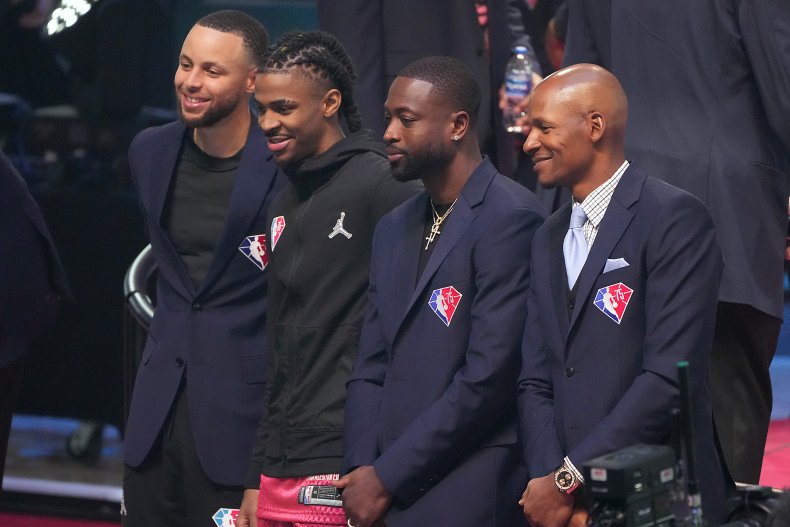 The moment saw NBA Twitter explode with the awkward interaction provoking a tsunami of memes and jokes.
"KG despising Ray Allen is so completely pointless but it is absolutely hilarious," tweeted writer Brady Klopfer.
While sports reporter Conor Ryan added: "Tired: Kanye and Pete Davidson is the top celeb beef Wired: Kevin Garnett vs. Ray Allen in the same building."
"LeBron dapping up Ray Allen while a salty Kevin Garnett and Paul Pierce look on is amazing," reads another tweet.
"This Picture of Ray Allen, Lebron James and Kevin Garnett is the funniest thing I've ever seen #NBAAllStar," said another.
"@KevinGarnett5KG face after Ray Allen ain't dap him is priceless #NBAAllStar," said another.
"Kevin Garnett's face while Ray Allen and LeBron dap up."
Garnett has spoken frankly about his strained relationship with Allen with their feud starting when he left the Celtics to play for rival team Miami Heat back in 2012.
"I've been very vocal on my distaste for what Ray did, that was real for everybody that was involved," Garnett told the Boston Globe in April 2020.
"That's real life. We was in a real beef with Miami at the time and very similar to if someone was to go from the Lakers to the Celtics, and vice versa. No one will speak on the underlyings of it, but that was a real thing. Miami and Boston. That was a real thing."
He added: "Ray made a decision; I wouldn't expect Ray to be at anything of mine. And vice versa. If I see him, I'll speak. I'll say hello to his family like always. He knows that decision altered and made us all feel different."
Allen would go on to win an NBA championship with the Miami Heat in 2013.