Kevin Harlan's Streaker Play-by-Play Viewed Over 1.5 Million Times: 'Pull up Your Pants!'
Kevin Harlan's call of the Super Bowl pitch invasion has gone viral as a clip of the incident has been viewed more than a million times on Twitter.
Harlan, who was commentating on the game for Westwood One radio, has been widely praised for his humorous reaction to the fourth quarter invasion.
The video, shared to Twitter by Timothy Burke via Ryan Lacey, has been viewed more than 1.5 million times, shared more than 15,000 times, and has amassed more than 37,000 likes at the time of writing.
As the intruder ran across the field, Harlan narrated his journey to the goal line and said: "Someone is running on the field, some guy with a bra. And now he's [...] chased, he's running down the middle of the 40, arms in the air and the victory salute.
"He's pulling down his pants. Pull up your pants, my man! Pull up those pants."
The rest of his brief appearance on the pitch was narrated as if he were a football player, as Harlan said: "He's being chased to the 30, he breaks [...] from the security guard, the 20, down the middle of the 10, the five, he slides on the one and they converge on him at the goal line. Pull up your pants, take off the bra and be a man.
"And the players with hands on hips at the other end of the field are looking at him and shaking their heads, saying 'why, oh why is this taking place in a Super Bowl?'"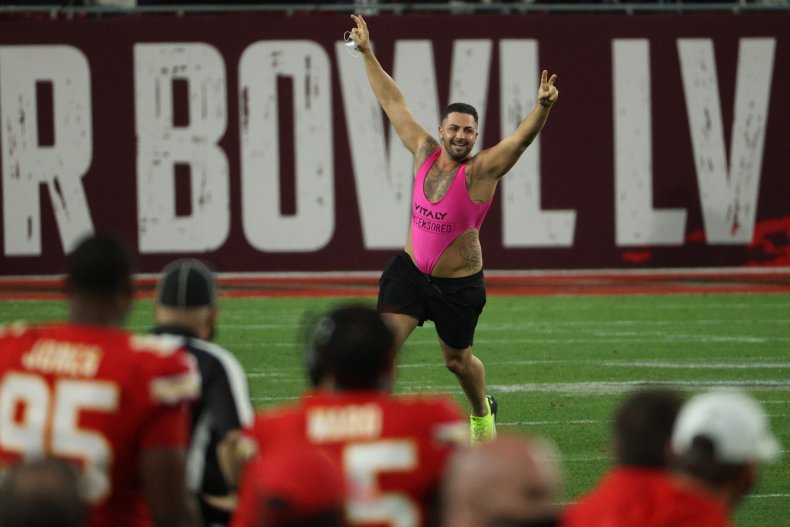 The invader was wearing a neon-pink unitard that read "Vitaly Uncensored" which is a pornography website launched by Russian YouTuber Vitaly Zdorovetskiy.
Zdorovetskiy shared a photo of the invader on Twitter and said: "We f****** did it."
With Super Bowl commercial slots costing more than $5 million, the adult website was able to secure exposure for a lot less, with Harlan's viral commentary only drawing more attention to the brand.
But last night's incident was far from the first time Vitaly Uncensored had pulled a pitch invasion stunt. In 2019, Kinsey Wolanski invaded the Champions League final on behalf of the explicit website, wearing a black unitard displaying the brand's name.
Then, Kelly Kay Green invaded the Super Bowl pitch in 2020, in collaboration with the website, and was arrested on a trespassing charge.
Zdorovetskiy, who has more than 10 million YouTube subscribers and more than 620,000 Twitter followers, is known for his prank content. He was arrested last April after allegedly assaulting a woman jogging in Miami, and in January 2020, Zdorovetskiy said that he spent five days in an Egyptian jail for climbing to the top of the Giza pyramid complex.