'Hart to Heart': Who Are the First Guests on Kevin Hart's New Talk Show?
Kevin Hart is an actor, comedian, producer, entrepreneur, Olympics commentator—and now he can add talk show host to that list as he prepares for the first episode Hart to Heart Thursday.
Airing on the streaming service Peacock, Hart is welcoming some big-name celebrities onto his set and says he's planning on hosting the talk show "in a way you've never seen."
Hart has already won over Peacock viewers with his unique take on the Tokyo Olympic Games 2020. Olympic Highlights with Kevin Hart and Snoop Dogg sees the pair commentate on sports they're not familiar with, with hilarious results.
As Hart prepares to make his talk show hosting debut, let's take a look at what viewers can expect from Hart to Heart.
Who are Kevin Hart's guests on Hart to Heart?
Only three celebrities have been revealed to appear on Hart's talk show so far but each of them carries a big profile. The first three episodes of the show will drop on Peacock on August 5.
Early trailer footage shows that Hart's first guest on Hart to Heart will be Miley Cyrus. The singer shares the story of how she become the youngest student to ever get suspended from her school.
The second guest featured is Marvel movie star Don Cheadle. Hart appears to catch his guest on the back foot when he asks Cheadle if he does drugs.
The third and final guest confirmed to take part in Hart's new show is former American Idol winner, and host of her own talk show, Kelly Clarkson. After singing, Clarkson tells Hart she wants to duet with Hart but he informs her she needs to work on her tone.
New guests are due to be announced weekly ahead of each new episode on Peacock.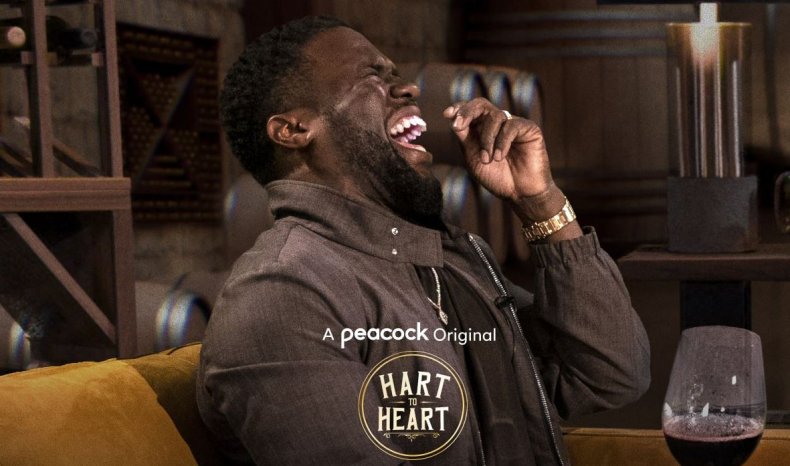 What has Kevin Hart said about Hart to Heart?
In a preview for his new show shared on his Instagram account, Hart promised that his new talk show is unlike anything his fans have ever seen.
He said his show features "no prep... Just real dialogue between real people!!!!"
In early previews for the show, Hart explains the format of the show, saying he gets to know people there, they drink wine together, which will lead to a heart-to-heart.
On Instagram, Hart said the project was part of expanding his brand and that it had always been a goal of his to host a talk show.
What to expect from Hart to Heart
Each episode has Hart invite a celebrity guest for a candid, hour-long discussion over a glass of wine in his virtual wine cellar.
While only three guests are known at the moment, Peacock said in a statement that the future interviewees will vary as the celebs "will represent Kevin's range of interests and influences."
Hart has previously had plenty of practice hosting. As well as his Olympic coverage with Snoop Dogg, he's hosted Saturday Night Live, the Comedy Central Roast of Justin Bieber, as well as numerous awards shows.
The first three episodes of Hart to Heart will be available on Peacock on August 5. New episodes will then drop weekly every Thursday.