Help For Houston: Kevin Hart, JJ Watt, Kim Kardashian and More Celebrities Donate Money to Hurricane Harvey Victims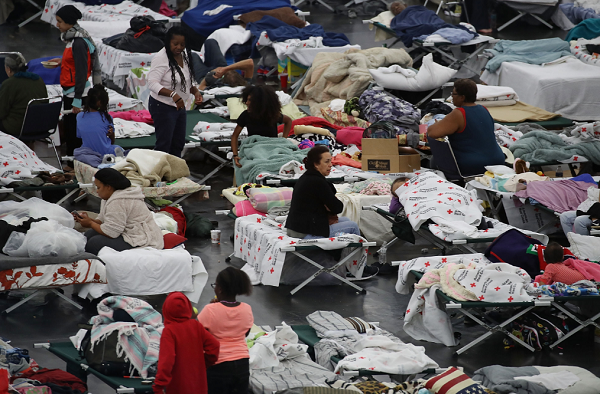 Since Hurricane Harvey first made landfall in Houston on Friday, Hollywood's elite have been posting messages of support on social media and have recently increased their efforts by donating thousands of dollars to relief organizations such as the Red Cross. According to FEMA officials, as many as 30,000 people may be without a home after Harvey, which was reduced to a tropical storm on Thursday,
After seeing photos of the devastation in Houston, comedian Kevin Hart initiated a donation challenge, calling on some of his high-profile friends like Dwayne "The Rock" Johnson, Steve Harvey, Beyoncé, Jay Z, Justin Timberlake, Chris Rock, Jerry Seinfeld and several others to match his $25,000 donation to the Red Cross for storm victims.
"I just caught up to speed with everything that's happening with Hurricane Harvey, and this shit is unbelievable. I think we participated in a lot of challenges on the Internet, some meaningful, some meaningless. But we've all done them. I've been a person that partakes in several of them. At this point, I'm going to start a real challenge," Hart said in a video message posted on Instagram Monday. "I'm challenging a lot of my celebrity friends to follow my lead and donate $25,000 to hurricane Harvey and the Red Cross. At this point, it's a serious matter. I think people are in bad shape and they need help."
Hart later upped his donation to $50,000 and started a Crowdrise campaign so others could donate money to Harvey victims, as well.
A number of celebrities have followed in Hart's footsteps and launched fundraising campaigns aimed at raising money for people affected by the storm.
Check out a list of celebrities that have been helping storm victims below.
JJ Watt: The NFL's Houston Texans have pledged to donate $1 million to the United Way of Greater Houston Flood Relief Fund. Additionally, Texans defensive lineman JJ Watt started a fundraising campaign of his own on Sunday. Watt said he would donate $100,000 of his own money while encouraging his fans to also donate to his campaign in an effort to raise $1 million. By Tuesday, Watt had succeeded in raising more than $2 million and posted on Twitter that he was increasing the goal to $3 million. Houston Rockets point guard Chris Paul was one of the contributors to Watt's cause, donating $50,000 to victims.
The Kardashians: "Keeping Up With the Kardashians" stars Kim Kardashian, Kourtney Kardashian, Khloe Kardashian and their mother Kris Kardashian pledged to donate $500,000 to the Red Cross and Salvation Army to help with Harvey relief.
Dwayne Johnson: The actor took Hart up on his challenge and donated to the Red Cross, while also encouraging others to "donate a buck or two to our Houston families in need."
Chris Young: The country singer started a GoFundMe campaign to help raise money for Texans in need, pledging to donate $100,000 of his own money. "I have friends and family there and I'm almost certain my house down there may have to be torn down as it was in one of the areas that was hardest hit by winds and flooding," Young wrote in a statement. "But that's the least of my concerns. I'm worried about the people there—my friends, family and neighbors—and I want to help."
Chris Brown: The singer responded to Hart's challenge in a video posted on Twitter, vowing to donate $100,000 for storm relief and imploring others who could make a difference to step up to the challenge.
Jennifer Lopez and Alex Rodriguez: In an Instagram post, the couple said they would each be making $25,000 donations to help victims in need and shared a link to the Red Cross encouraging their fans to donate if they were able to.
Nicki Minaj: The rapper reposted Hart's call to action on Instagram and accepted his challenge by agreeing to donate $25,000 to the city of Houston. "Praying for everyone there. Great work @kevinhart4real," she wrote.
Lady Antebellum: The country music group was supposed to perform in Houston on Sunday, but was forced to cancel their concert due to the storm. However, the group announced that they would be giving proceeds from merchandise sold at their earlier Dallas concert to hurricane relief funds.
Ellen DeGeneres: The daytime talk show host not only donated $25,000 to the Red Cross for hurricane relief but said that she'd also be donating another $25,000 to the SPCA of Texas. She also confirmed that The Ellen Show would donate $25,000 to the Red Cross.
Houston Astros: The ownership group and foundation of the baseball team pledged to donate $4 million to relief efforts.
DJ Khaled: The producer took Hart up on his challenge and offered to donate $25,000 to help all the families in need.