Watch Kevin Hart Instagram Video After Getting Drunk, Trying to Go Onstage at Super Bowl: 'Definitely in the Top Two Stupidest Things I've Ever Done'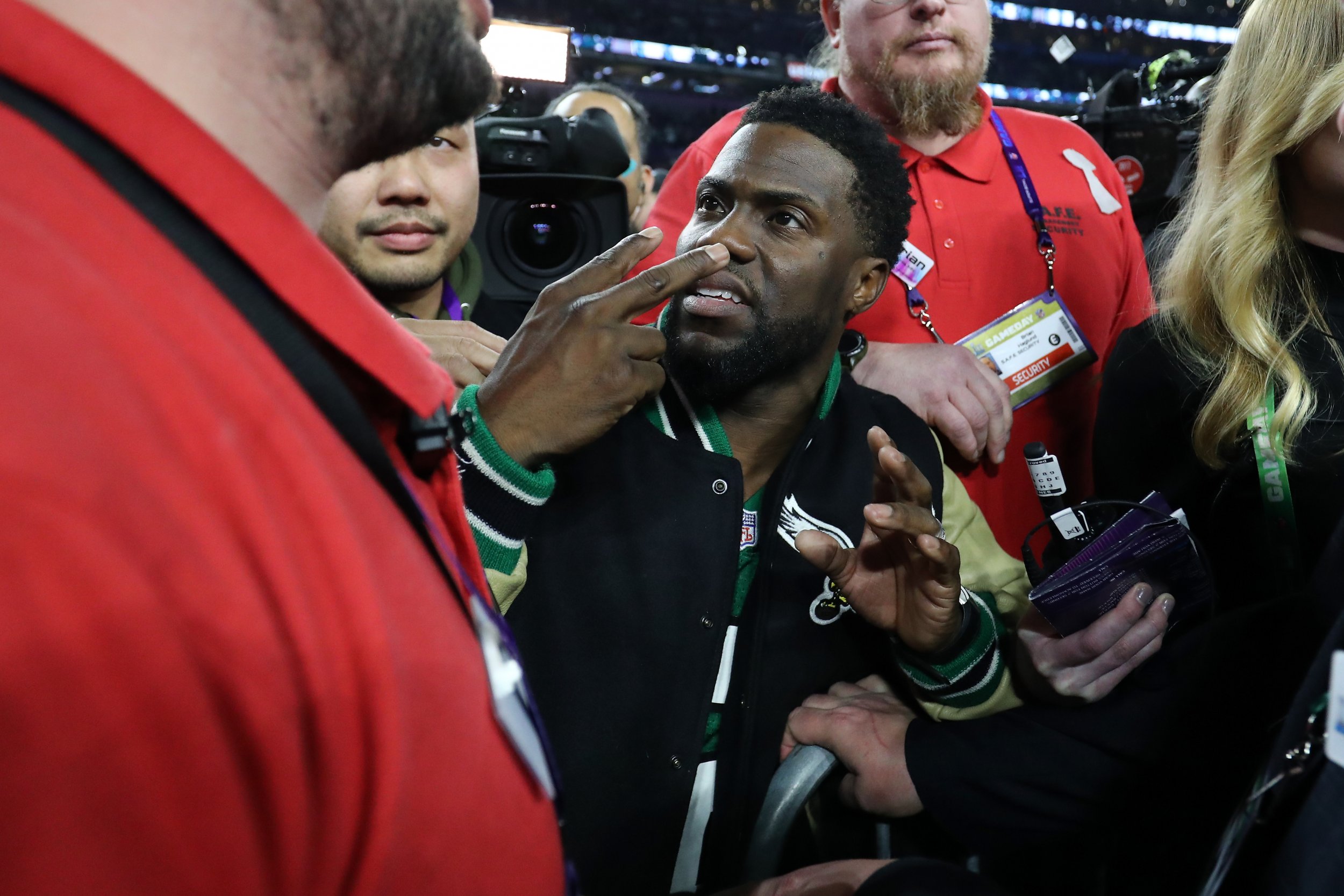 Did anyone celebrate the Philadelphia Eagles' Super Bowl win harder than superfan Kevin Hart?
Not only did the Jumanji: Welcome to the Jungle star drop an F-bomb on the NFL Network after the big game, he also drunkenly tried to get up onstage with the players as they celebrated with their trophy—only to be denied entry by a burly security guard.
The awkward moments quickly went viral on Twitter Sunday night.
Speaking on the NFL Network's Super Bowl post-game show, the actor, clearly ecstatic about the Eagles' victory, accidentally swore on live television. "Philadelphia's a great city. I hope this is an example of what we can do. We gave a fuck," he said before realizing he had made a faux pas. "Ooh, I'm out," he then said, dropping his microphone and walking away.
But that wasn't all the excitement for Hart, 38. He was also seen trying to join the Eagles during their trophy celebration, but was stopped by security.
After his drunken antics went viral, Hart posted a video on Instagram Monday admitting that he may have celebrated the Eagles's victory a little too hard.
"To all the kids out there, I just want to say, don't drink," he said. "When alcohol's in your system, you do dumb stuff. Me trying to go onstage with the trophy is definitely in the top two stupidest things I've ever done. But who cares? The Eagles won the Super Bowl."
"Yeah, I'm still a little tipsy, but the world can kiss my ass," Hart added.
Giggling as he addressed being blocked from joining the Eagles on stage, he said: "My wife was the first one to say don't go up there. I got to be up there with my city...but it didn't work out too good. The man did his job, didn't he? He said, 'Kevin Hart, I know who you are, but you can't be up here.'"
Hart concluded the video saying: "Who gives a shit? Fly, Eagles, fly. Fuck it."
Fly, Eagles, fly, indeed.