Kevin Hart Slams Katt Williams for Tiffany Haddish Comments: "You Chose Drugs"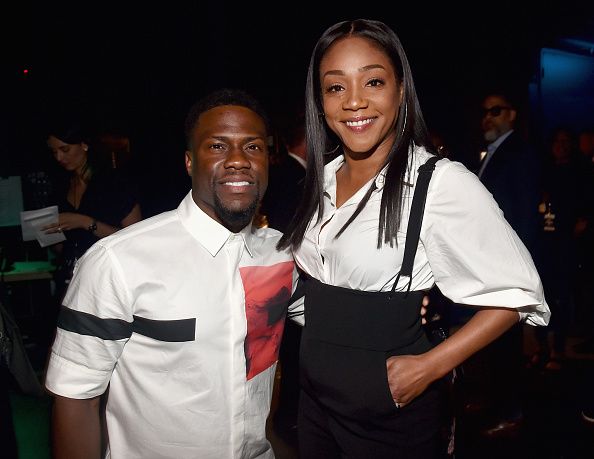 During a press run for his upcoming movie Night School with Tiffany Haddish, Kevin Hart spoke on comments made by Katt Williams during an interview with Power 105,1's The Breakfast Club on Friday.
"My frustrations with Katt Williams comes from, you keep pointing at Hollywood. Hollywood this, the white man, this, this, and this. When do you take responsibility for your actions?" Hart said. "You had the shot. You were the guy. You were set up to be the star. You didn't show up to work. You f****d off promo shoots. You f****d off promo trips that they had set up for you. You became a risk to the studios which is why the studios stopped f***ing with you."
"He chose drugs," Hart added. "Take responsibility for what you chose and say, 'You know what, I gotta fix me and I'ma come back and stand up for comedy."
Hart's response comes after comments Williams made about Haddish. During an appearance on the Atlanta radio show Frank and Wanda in the Morning on September 14, Williams said that Haddish has not proven herself to be a good comedian. "She has not proven the ability to tell jokes back-to-back for an hour to nobody," he said.
"She had a white husband for all of the 14 years she's been doing comedy and then all of a sudden divorced him. Then said he abused her. Then wrote a book. Then said he didn't and then now we're at Brad Pitt," he continued.
Despite these comments, Haddish quickly responded with kindness on Twitter.
The two appear to have reconciled at The Emmys on Monday after the two had won their respective awards. Haddish posted a photo to her Instagram of the two of them behind-the-scenes with Williams kneeling in front of her.
This didn't stop Hart from defending his Night School co-star from Williams comments. "Katt Williams, have you ever used your platform to f***ing bring the people under you up? You haven't!" Hart said.
"Don't shit on my sister's light because you're not happy with your s***. This s*** is earned, it's not given. I don't give a f*** if you're a Tiffany Haddish fan or not. It's earned," he continued. "Tiffany Haddish got years in the game. It's not an accident that Tiffany Haddish got an opportunity to star in a movie. It's not an accident that that character popped in a movie, written or not written. A character has to pop it."
Night School will premiere in theaters everywhere September 28.