Who is Eniko Parrish? Kevin Hart Says Cheating on Wife Was His 'Dumbest Moment'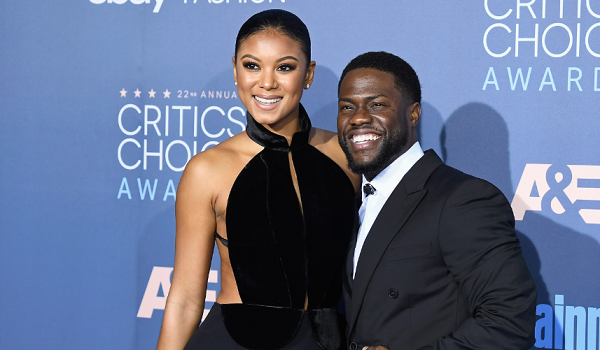 While appearing on Power 105.1 Radio's The Breakfast Club on Thursday, comedian Kevin Hart admitted to cheating on his wife Eniko Parrish
"There's no way around it. The best way to do it is to address it right on. You gotta fucking just say exactly what it is. That's Kevin Hart in his dumbest moment. That's not the finest hour of my life," Hart said. "With that being said, you make your bed, you lay in it."
The Jumanji: Welcome to the Jungle star's infidelity was exposed back in September after an unidentified person claimed to have "sexually provocative" video of Hart with another woman. The person threatened to expose the footage if Hart refused to pay for the tape.
A rep for Hart confirmed to People magazine the incident was a "failed extortion attempt" that was being investigated by law enforcement. Authorities have since obtained the video, in which a man appearing to be Hart is seen canoodling with a woman at a Las Vegas nightclub and later in a bedroom.
Before the news of the extortion attempt made headlines, Hart took to his social media to explain the situation, saying that someone was trying to make "financial gain" off his past mistakes.
"I made a bad error in judgment and I put myself in a bad environment where only bad things can happen and they did," Hart said at the time. "And in doing that I know that I'm going to hurt the people closest to me, who've I talked to and apologized to, that would be my wife and my kids."
Although Parrish, a model, accepted her husband's apology, 38-year-old Hart told The Breakfast Club that he was paying for his mistakes at home. But, he said he was more than willing to step up to the plate and fix his marriage.
"Me being wrong, I'm going to face the music," he said. "I'm gonna go home, I'm gonna address it, I'm gonna make my wife fully aware of what's going on in the situation that I have now put us in, and I'm hoping that she has a heart to where she can forgive me and understand that this is not going to be a reoccurring thing and allow me to recover from my fucking massive mistake. That's what I'm trying to do not only as a man, but within teaching a lesson to my son."
Hart and Parrish, 33, tied the knot during a lavish California ceremony in August 2016. In November, the couple welcomed their first child together, Kenzo Hart, just a few months after the actor's cheating scandal.
Hart is also a father to Heaven Hart, 12, and Hendrix Hart, 10, sharing custody of the kids with first wife, Torrei Hart.
Despite rumors that infidelity was the cause of his failed marriage to Torrei, Hart said during his Breakfast Club interview Thursday that he was actually the one to file for divorce.
"It's a difference between fucking up and trying to recover from a fuck up because you realize what you almost lost. That's the real difference here," Hart said. "I didn't fuck up my first marriage. Stop it. Stop the talk. I don't like people bringing up my first marriage. I left my first marriage. I got a divorce. I filed. I'm the one that said, 'I don't wanna do this anymore. I'm not happy.' The infidelity and shit was because we were both off, we [were] done. So I walked away from it."