Trump's Acting Homeland Security Chief Says He Has Lost Control Of His Department
Acting Department of Homeland Security Secretary Kevin McAleenan claimed that while he had "operational" control of the department, other facets of his work are out of his hands.
McAleenan took over the position after then-Department of Homeland Security Secretary Kirstjen Neilsen resigned in April and has been tasked with working with President Donald Trump's on immigration. Immigration was a key aspect of Trump's 2016 campaign and continues to be a focus of his presidency, with the number of border arrests frequently being a talking point.
Despite cutting monthly border arrests by about two-thirds, McAleenan has yet to be nominated to the position he holds outside of a temporary capacity, and it's unclear if he ever will assume that role. In the time being, he claimed that his department isn't entirely under his sole command.
While he has "operational control" over the department, meaning he coordinates work at the border between Immigration and Customs Enforcement (ICE), Customs and Border Protection (CBP), and Citizenship and Immigration Services, he told The Washington Post in an interview published on Tuesday that he's out of control when it comes to other aspects of the DHS.
"What I don't have control over is the tone, the message, the public face and approach of the department in an increasingly polarized time," McAleenan explained. "That's uncomfortable, as the accountable, senior figure."
In his mind, DHS should be a neutral law enforcement agency. Despite his own opinions, he claimed the department was being used as a tool in a partisan immigration agenda.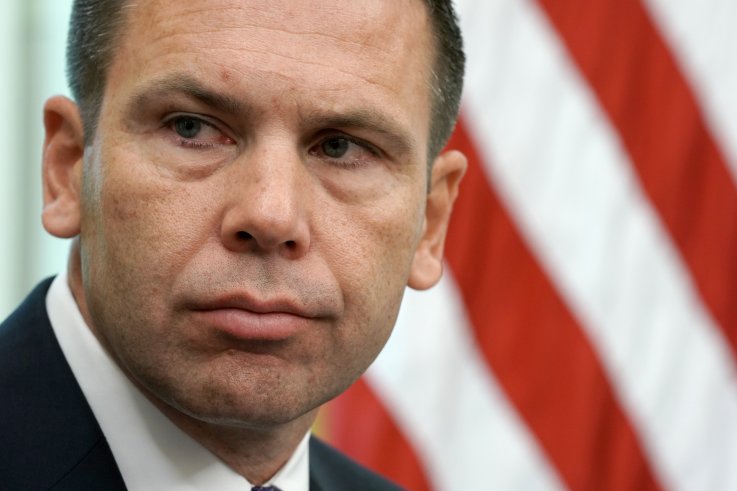 He did have words of praise for Trump, though. McAleenan credited the president with "changing the dynamic" by using tariffs to threaten Mexico.
McAleenan has a number of connections to Trump's predecessor, former President Barack Obama. He took one of Obama's courses at the University of Chicago while he was in law school, donated to his presidential campaign and worked as CBP commissioner when during Obama's second term. Now, he works for a Republican and he told The Washington Post that the department is "apolitical."
Regardless of an employee's registered political party or the donations they made, McAleenan stressed that it shouldn't affect their professional conduct. This sentiment was one he said he has tried to impart on Border Patrol agents, CBP officers and Coast Guard personnel during a recent event.
"It doesn't matter who is in the White House—Bush, or Obama, or Trump—you guys all know that our job remains the same," McAleenan said at the time.
McAleenan's interview caught the attention of multiple reporters, who found his words to be interesting since they came from someone still working in the Trump administration. Devex reporter Teresa Welsh questioned if it was an exit interview and Axios reporter Alayna Treene characterized it as "very rare" and "candid."
Politico reporter Ted Hesson pointed to McAleenan's quote about having a lack of control and claimed that it was a dare of sorts get to Trump to either nominate or terminate him.
McAleenan has been criticized for being one of the architects of the child separation policy, something he expressed regret to the Post over implementing. His comments regarding his time at the White House sparked some to think the interview was a way of patching up his legacy.
Deputy White House press secretary Hogan Gidley told the Post that McAleenan is doing a "fantastic job" implementing Trump's immigration plan.
"Thanks to the changes President Trump's administration has put in place, now, if you try to violate our borders, you will be turned around and sent back to where you came from," Gidley added.
Trump's Acting Homeland Security Chief Says He Has Lost Control Of His Department | U.S.