Acting Department of Homeland Security Secretary Kevin McAleenan repeatedly made desperate pleas Sunday for Congress to provide more funding to improve the living conditions of detained migrants along the southern border, but Michigan Congresswoman Rashida Tlaib pushed against against providing more money for what she called a "broken" system.
Both McAleenan and the Democratic congresswoman appeared separately Sunday morning on ABC News' This Week to address accusations of unsanitary and "inhumane" living conditions at a detention facility in Clint, Texas, located about 25 miles southeast of El Paso, along the border with Mexico.
McAleenan rejected reports in The New York Times and El Paso Times which labeled the Clint facility "The Stuff of Nightmares." The center was among those visited by New York Representative Alexandria Ocasio-Cortez and other lawmakers last week, who then shared what they viewed as horrifying living conditions.
The acting DHS secretary on Sunday repeated his defense that such claims were "unsubstantiated," but conceded there is a widespread crisis at the border which requires more congressional funding.
McAleenan insisted that conditions at the detention facilities are not what critics have made them out to be.
"Because there's adequate food and water, because the facility is cleaned every day, because I know what our standards are, and I know they're being followed because we have tremendous levels of oversight," he said, adding he believes the Clint facility is "clean and well-managed."
When Raddatz read off allegations of chicken pox and rancid clothing at the Clint facility, McAleenan responded by claiming, "You just referenced three things that were unsubstantiated."
"Let's be very clear this is an extraordinarily challenging situation, we had an overflow situation with hundreds of children crossing every day that's why we were asking for funding for Health and Human Services to provide adequate bed space so those children could be moved from that immediate border processing to a more appropriate setting for children," McAleenan continued.
Later in the program, Raddatz pressed Tlaib on why she recently voted against the $4.6 billion border funding package, despite the reportedly poor conditions of these facilities and the pleas from McAleenan and other DHS officials for more help at the border.
Tlaib defended her vote against sending that additional $4.6 billion to the border, saying she and the other progressive House Democrats — including the Congressional Hispanic Caucus — who came out against the bill were "reflective of this nation in many ways," regardless of establishment party politics.
House Speaker Nancy Pelosi had chided Tlaib and other "progressive" members for living in their "Twitter world" instead of getting on board with the vote.
Tlaib said Sunday that Congress should not be throwing more money at a wrecked system.
"Do you know what the CBP agents said on the ground? Ask a CBP agent. That's the one thing — I can talk to the secretary and he can say throw more money at a broken system, at an inhumane system. But three agents took me aside, away from my colleagues, and said, 'More money is not going to fix this,'" Tlaib said, relaying a story from her recent visit to the border.
"That they were not trained to separate children," she continued. "That they do not want to separate two-year-olds away from their mothers. That's not what they were trained for, that's not what they signed up for -- they signed up to protect the border, not to separate children, not to put people in cages. They all said' this is a broken system.'"
"They all know this is a choice and let's be honest right here, Martha. In the 80s, it was more coming across the border and we didn't do this. We allowed the asylum seekers to go through the legal process," she added.
McAleenan became the fourth person to fill the role of DHS Secretary during Trump's administration, although the president has not yet officially nominated him to the position full-time. He reiterated that he and other border officials are not trying to hide the crisis at the border.
"I am not denying there are challenging situations at the border, I've been the one talking about it the most," McAleenan said Sunday. "What I can tell you right now is there is adequate food, water and that the reason those children were at Clint station in the first place is so they could have medical consolidated, they had shower facilities for over a year so this is why we try to provide a better situation for the brief time they're supposed to be [there]."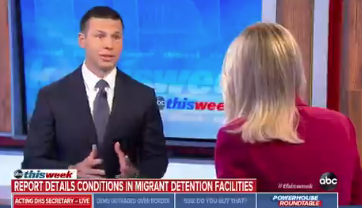 Acting DHS Secretary Kevin McAleenan made desperate pleas for more funding at the border, but Michigan congresswoman Rashida Tlaib rejected this, calling it a "broken" system.
ABC News/Screenshot