Kevin McCarthy Accuses Biden of Picking 'Taliban Over Our Allies and Over Americans'
House Minority Leader Kevin McCarthy accused President Joe Biden's administration of siding with the Taliban over Americans by sticking to an agreed-upon deadline of August 31 for withdrawing troops.
Biden faced mounting criticism over his strategy for leaving Afghanistan, particularly with regard to the administration's refusal to disclose how many Americans and Afghans they're hoping to evacuate. While the administration has defended not disclosing the information on the basis that it doesn't have a hard number, critics argue it's a means of not being held accountable if Americans are left in Afghanistan.
At Friday's press conference, McCarthy lambasted Biden for failing to commit to troops remaining in Afghanistan until every American and Afghan ally who wants to leave is able to be evacuated. He noted America's allies have advocated for extending the deadline to allow for more evacuations and said Biden leaving on August 31 amounted to "turning our backs" on our allies.
"Why would President Biden pick the Taliban over our allies and over Americans?" McCarthy said.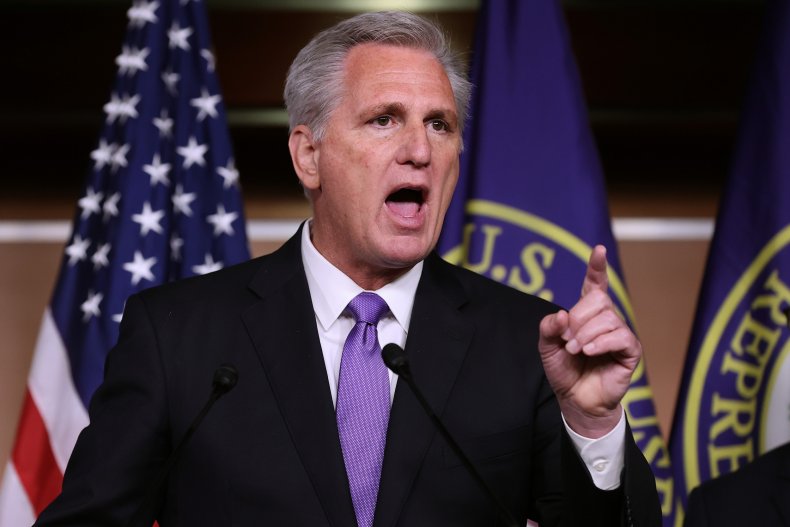 America's withdrawal from Afghanistan gave rise to the Taliban, which rapidly took over the country. Fearing for the future of the country under Taliban rule, America has been working to evacuate tens of thousands of Americans, Afghan allies, vulnerable populations and their families.
The White House has championed the evacuations, citing the ability to ramp up flights that have successfully relocated about 110,600 people since August 14. People continue to flock to the airport despite Thursday's attack that represented the deadliest day for U.S. forces in a decade, and the administration's goal for the number of people they're looking to evacuate remains unclear.
Administration officials are holding firm to their plan to evacuate everyone by the August 31 deadline and haven't committed to keeping troops in Afghanistan beyond that date. On Thursday, Biden said the mission to evacuate everyone in the next five days will continue and there may be opportunities for more people to leave after the deadline either through means provided by the U.S. or through "cooperation with the Taliban.
"Let me be very clear. I would not allow the Taliban to dictate the date that Americans leave. That America leaves and leaves Americans behind and American allies behind because the Taliban tells you to leave," McCarthy said. "At no given time should the president of the United States allow that to happen."
McCarthy pushed Speaker of the House Nancy Pelosi to call Congress into a special session to pass Representative Mike Gallagher's bill. It would prohibit America from withdrawing troops until every American was evacuated. Pelosi's stood by Biden's timeline for leaving Afghanistan.