Kevin McCarthy Blasted for Handing Over Jan. 6 Footage to Tucker Carlson
Democratic lawmakers slammed Republican House Speaker Kevin McCarthy on Monday after a report said he handed over footage of the January 6, 2021, attack on the U.S. Capitol to Fox News host Tucker Carlson.
McCarthy allowed Carlson to exclusively access 41,000 hours of Capitol surveillance footage from the January 6 attack, Axios reported on Monday. Producers working with the conservative TV host began looking into the footage, with some excerpts likely to air in the coming weeks.
The videos include different angles of the areas surrounding the Capitol building, which was stormed by supporters of former President Donald Trump in their attempt to stop the certification of Joe Biden's victory in the 2020 presidential election.
McCarthy's move outraged some Democratic lawmakers, who noted that this footage should have been accessible to all media and the public and warned that Carlson could spin the contents of the videos in a way that would fuel conspiracy theories ahead of the 2024 presidential election.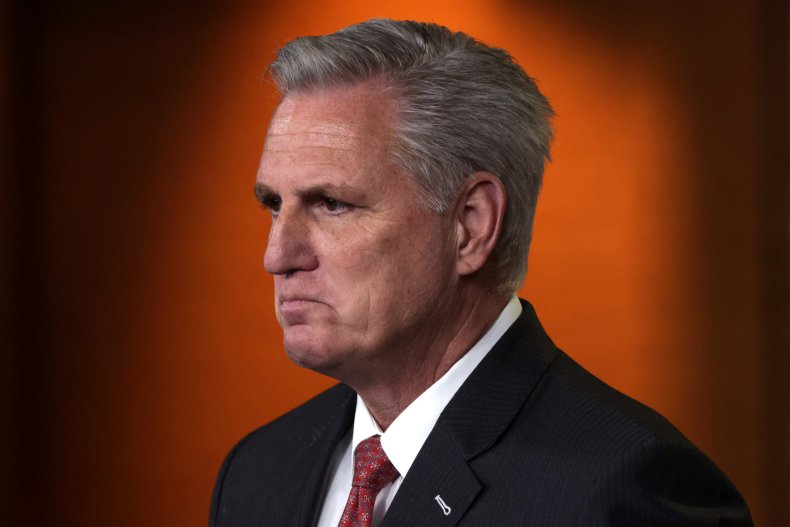 "McCarthy giving 40,000 hrs of Jan. 6 tape to a pro-Putin journalist is an astounding ethical collapse. What security precautions were taken to keep this from becoming a roadmap for 2024 insurrection? Why isn't it available to all media & public? Smell the MAGA propaganda coming," said Democratic Representative Jamie Raskin of Maryland.
The raw material is now accessible to producers of his shows Tucker Carlson Tonight, Tucker Carlson Today and Tucker Carlson Originals.
Carlson, who has previously described the insurrection at the Capitol as "vandalism" and questioned January 6 accounts, told Axios that this footage shouldn't remain secret for any reason.
"If there was ever a question that's in the public's interest to know, it's what actually happened on January 6. By definition, this video will reveal it. It's impossible for me to understand why any honest person would be bothered by that," Carlson said.
However, Democratic Representative Adam Schiff of California is concerned that Carlson might use the footage to tout a different narrative that would pave the way for "dangerous" theories.
"Kevin McCarthy turned over Jan 6 videos to right-wing propagandist Tucker Carlson. A man who spews Kremlin talking points. Suggests Jan 6 was a false flag. And spreads the Big Lie. Make no mistake: This isn't about transparency, it's about fueling dangerous conspiracy theories," Schiff wrote on Twitter.
Meanwhile, Victor Shi, a writer and Biden's youngest delegate, said in a Twitter thread that McCarthy's move is "the definition of state-run media & is a betrayal to our nation."
"Make no mistake: Tucker Carlson will try to distort the footage as much as he can to downplay and dismiss what happened on January 6th. And, sadly, his audience will believe him. Kevin McCarthy should be ashamed of himself, but we all know he has no shame," Shi added.
Last year, Carlson described the Capitol attack as "an outbreak of mob violence, a forgettably minor outbreak by recent standards."
Newsweek has reached out to Fox News' press team for comment.