Republican House Minority Kevin McCarthy didn't mince words about Vladimir Putin on Wednesday.
McCarthy, currently serving as the minority leader in the U.S. House of Representatives, disagreed with Donald Trump's description of the Russian president as a "genius."
"I do not think anything savvy or genius about Putin," McCarthy told reporters during his weekly press conference. "I think Putin is evil. I think he's a dictator. I think he's murdering people right now."
The comments signal a rare break from the former president, as the two have remained allies after Trump's time in office ended.
Trump complimented Putin last month after the Russian leader decided to recognize Donetsk and Luhansk, two separatist regions of eastern Ukraine, as independent.
"I went in yesterday and there was a television screen, and I said, 'This is genius.' Putin declares a big portion of the Ukraine—of Ukraine. Putin declares it as independent. Oh, that's wonderful. So, Putin is now saying, 'It's independent,' a large section of Ukraine. I said, 'How smart is that?'" Trump said during an radio interview on The Clay Travis and Buck Sexton Show on February 22.
Trump doubled down on his comments even after Russia launched its full-scale invasion of Ukraine on February 24.
"The problem is not that Putin is smart, which of course he's smart, but the real problem is that our leaders are dumb," Trump told the crowd at the annual Conservative Political Action Conference on February 28.
Trump also asserted during his CPAC address that the crisis in Ukraine wouldn't be happening if he was still in the White House as he repeated the baseless claim that the 2020 presidential election was rigged.
Since the Russian invasion of Ukraine began nearly two weeks ago, hundreds of civilians have been killed and 2.2 million people have fled the country. On Wednesday, there were reports that a maternity facility in a children's hospital was destroyed by Moscow troops.
The former president described the situation as a "holocaust" during an appearance on Fox News last week and urged an end to the fighting, but he still hasn't offered much of a rebuke of Putin.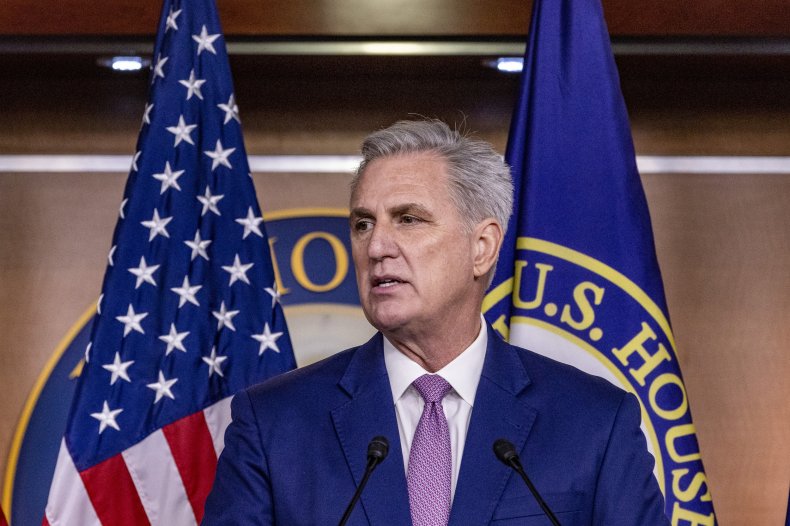 McCarthy's not the only Trump ally to distance from the former president's comments on Putin.
Retired U.S. Army General H.R. McMaster, who served as national security adviser during the Trump administration, told CNN that Putin is "certainly not someone to be praised."
Former Vice President Mike Pence said last week that there's "no room in this party for apologists for Putin" during an event with Republican donors.
Newsweek reached out to Trump's Save America PAC for comment but didn't receive a response before publication.