Kevin McCarthy Criticizes Biden Stimulus for Sending 'Biggest Chunk' of Funds to His Home State California
House Minority Leader Kevin McCarthy, a California Republican, criticized President Joe Biden's $1.9 trillion COVID-19 stimulus proposal for sending the "biggest chunk" of funds to his home state.
As Democrats continue to push forward with Biden's American Rescue Plan, most Republican lawmakers continue to criticize the package and its high price tag. However, recent polls have shown that there is bipartisan support among voters for the additional COVID-19 relief.
During a Wednesday morning interview with CNBC's Squawk Box, McCarthy expressed his opposition to the package—raising concerns that his state would receive too much money.
"I think the three things we need to do: back to work, back to school, back to health," McCarthy said. "So I would spend more money on COVID. I wouldn't reward states—what they're doing is they're reversing the order of how they provide resources to the states. Those that actually shutdown get more money," he said.
"California just came out with a $10 billion surplus and they're gonna get the biggest chunk of the money," McCarthy complained. "But states with the lowest unemployment that stayed open are actually going to be in a negative ability of receiving resources." Notably, California has the largest population and biggest economy of any state, with nearly 40 million residents.
The GOP House leader said he'd be "more surgical" in his approach, taking issue with the widely popular $1,400 stimulus checks included in the package. McCarthy additionally criticized Democrats' efforts to raise the minimum wage to $15 per hour.
Newsweek reached out to McCarthy's office for further comment, but did not immediately receive a response. In a Tuesday tweet, McCarthy described the stimulus package as "too costly, too corrupt, and too liberal."
While Republicans have largely expressed opposition to the Biden stimulus proposal, the package looks set to pass with or without GOP support. Democrats control the House of Representatives and narrowly control the Senate as well. They are attempting to pass the bill through the budget reconciliation process, which will allow Senate Democrats to approve the package with a simple majority instead of the 60 votes typically required due to the legislative filibuster rule.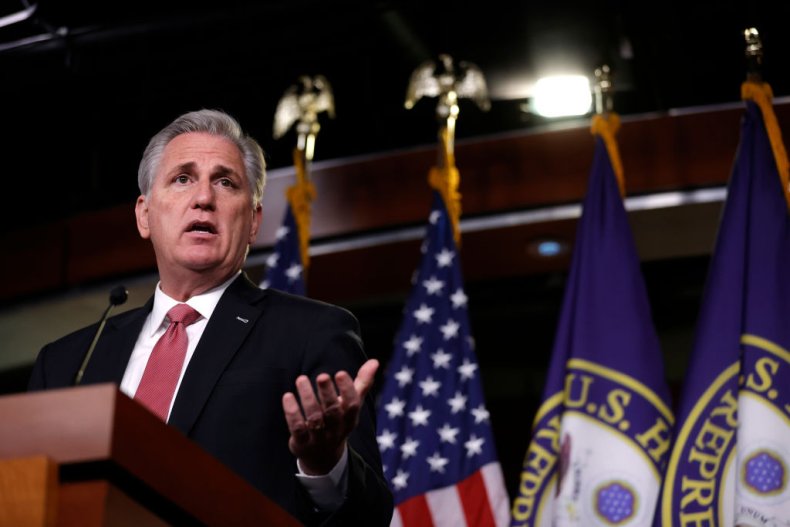 Some moderate Democrats have voiced opposition to raising the minimum wage to $15 per hour and argued that $1,400 stimulus checks should be more targeted, but the overall contours of the package are expected to pass both chambers of Congress with or without Republican backing. Meanwhile, polls show significant bipartisan support, even if GOP lawmakers in Washington are opposed.
Polling conducted by Morning Consult from February 19 to 22 showed that more than three-quarters (76 percent) of voters strongly or somewhat support the package. That includes 89 percent of Democrats, 71 percent of independents, and 60 percent of Republicans. The poll's margin of error is plus or minus 2 percent.