Kevin McCarthy Doesn't Know What QAnon Is, But Condemned It In Past
House Minority Leader Kevin McCarthy has said he doesn't know what QAnon is, despite criticizing the conspiracy theory on cable news in the past and voting to reject the radical belief and its supporters last year.
The California Republican told reporters on Wednesday that he didn't "even know" what QAnon was after House Republicans met to discuss the futures of Reps. Liz Cheney, the GOP conference chair, and Marjorie Taylor Greene (R-GA), a one-time QAnon supporter with a history of controversial remarks.
In a statement yesterday, McCarthy condemned Greene's past comments on school shootings, anti-Semitic conspiracy theories and political violence. But he also said that he was willing to "hold her to her word" after she recognized that lawmakers had to hold themselves to a higher standard.
"Past comments from and endorsed by Marjorie Taylor Greene on school shootings, political violence, and anti-Semitic conspiracy theories do not represent the values or beliefs of the House Republican Conference," the minority leader said. "I condemn those comments unequivocally. I condemned them in the past. I continue to condemn them today."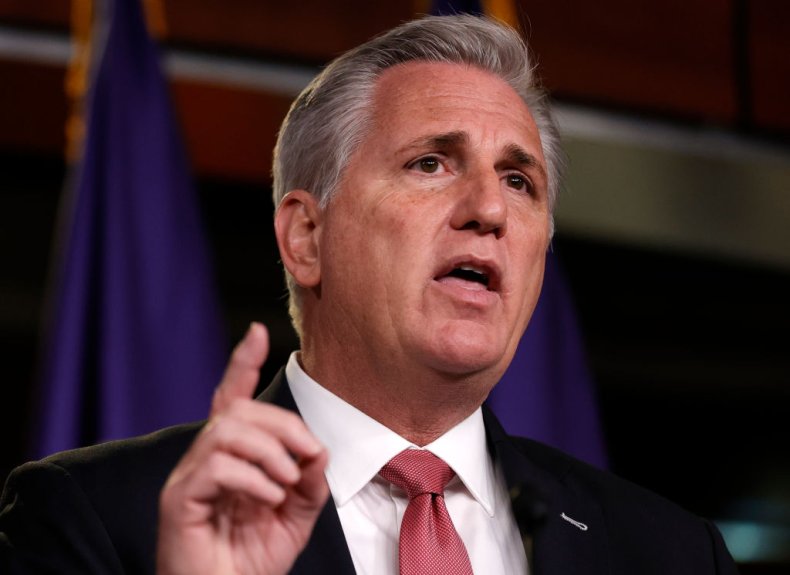 The House GOP leadership has not stripped the freshman congresswoman of her committee assignments, but Democrats are expected to make a move against the Republican on Thursday.
Speaking about Rep. Greene after a meeting of the Republican caucus on Wednesday, McCarthy said: "I think it would be helpful if you could hear exactly what she told all of us. Denouncing Q-on [sic], I don't know if I say it right, I don't even know what it is.
"She said she knew nothing about lasers, or all of the different things that have been brought up about her."
Newsweek has contacted the office of Rep. McCarthy for further comment. This article will be updated with any response.
While the House Republican leader claimed to know very little about QAnon, his voting record shows he backed a resolution condemning the conspiracy theory in October last year. The motion, brought forward by Rep. Tom Malinowski (D-NJ), slammed supporters of the theory, and encouraged intelligence officials to uncover "foreign support for QAnon.
The resolution passed in a 371-18 vote after only 17 GOP lawmakers and one independent opposed the motion.
In August last year, McCarthy also told Fox News that QAnon was not welcome in the Republican Party, and said that he did not support the extreme conspiracy theory. "Let me be very clear, there's no place for QAnon in the Republican Party," he said.