Kevin McCarthy Drops Out of Speaker Race, Republicans Delay Vote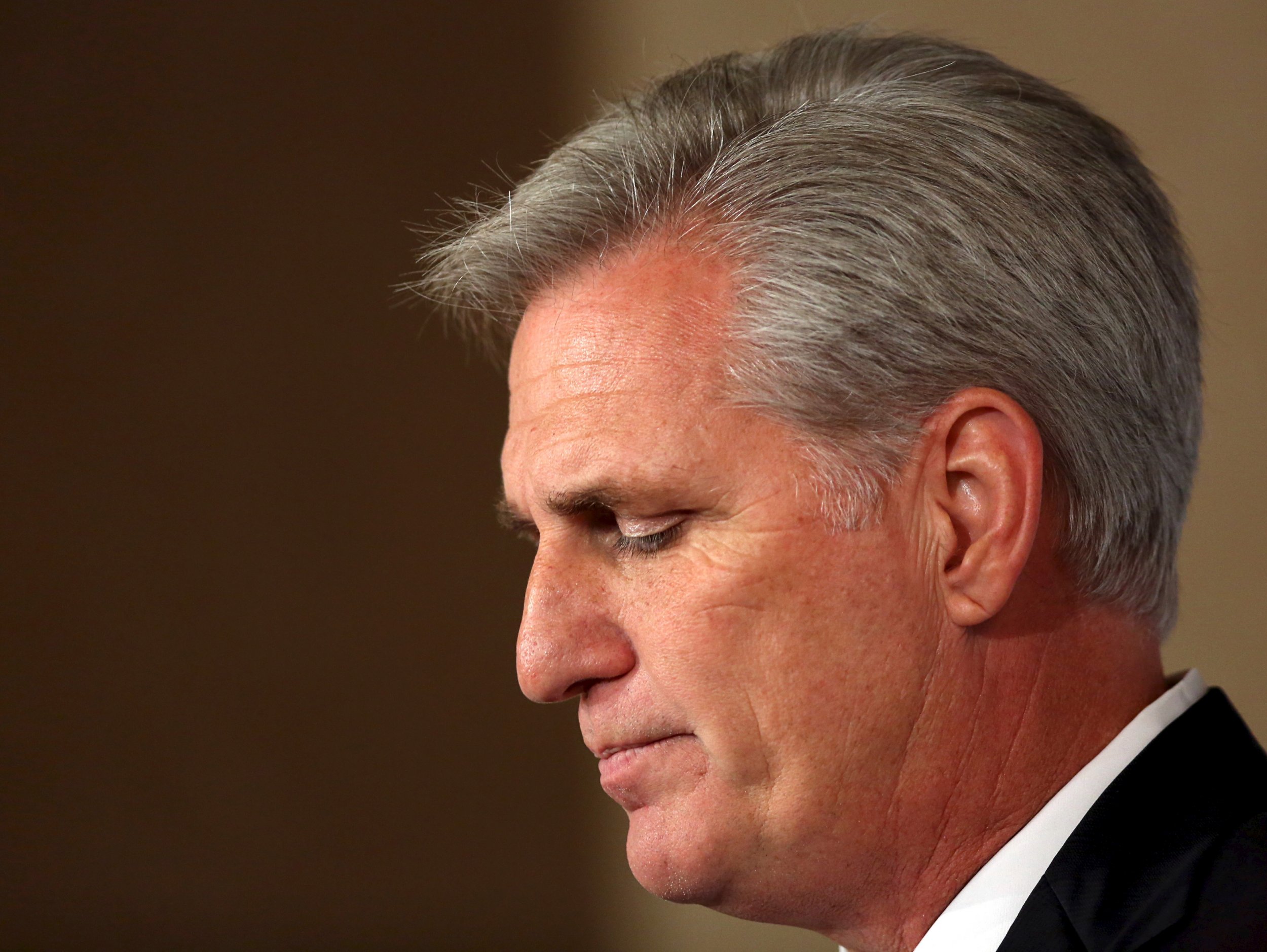 Updated | The House Republican Conference gathered behind closed doors Thursday morning to vet the party's three candidates for speaker of the House. As the group came to the cusp of voting on a nominee, Kevin McCarthy, the current majority leader, unexpectedly announced that he is withdrawing from the race.
"It's time for a new face," McCarthy said after leaving the meeting. "I have always put this Conference ahead of myself."
"I don't believe he had 218 votes," Charlie Dent of Pennsylvania told CNN's Dana Bash. That's how many votes the party's eventual nominee will need to win the actual speaker election, which is scheduled to take place on October 29. Republican leaders said today that they are now postponing a vote on their conference's nomination.
McCarthy was running against fellow Republicans Jason Chaffetz and Daniel Webster. Chaffetz, the chairman of the House Oversight Committee, surprised commentators by declaring his candidacy after criticizing McCarthy's controversial comments on the House Benghazi Special Committee.
Daniel Webster, hitherto a little-known representative from Florida, was the nominee from the far right Freedom Caucus, a group of Tea Party-influenced representatives led by Jim Jordan of Ohio and Mark Meadows of North Carolina. Neither man was expected to beat McCarthy for the party nomination, and neither is expected to get 218 votes.
McCarthy apparently took the floor at the meeting and shocked his colleagues, which included outgoing Speaker John Boehner, by telling them that he wasn't the person to unite the GOP. A minority of hard-core conservatives has thrown the party and the Congress into chaos in the past month over criticisms that Republican leadership has failed to advance a conservative agenda against the president and Democratic senators. Boehner's decision to retire was widely attributed to deep divisions within the party, and McCarthy's decision shows that there's still a long way to go.
"We lost two speakers in two weeks, essentially," Representative Tim Heulskamp told Bash.
Dent added of his Republican colleagues that "the next speaker should not appease those who make unreasonable demands.
McCarthy's shock decision will no doubt increase calls for Paul Ryan, the chairman of the House Ways and Means Committee, to enter the race, even though Ryan has said he has no plans to seek the position. After the decision, Ryan released a statement saying he was "disappointed" in McCarthy's decision and reiterated that he will not become a candidate.
This article has been updated to include Kevin McCarthy's quote.