Representative Kevin McCarthy Falsely Says Republican Abortion Platform Has Exceptions for Rape and Incest
House Minority Leader Kevin McCarthy said Thursday he opposes Alabama's abortion law because it doesn't include exceptions for rape, incest and the life of the mother. The California congressman falsely claimed these exceptions are part of the Republican Party's platform.
When pressed by The Washington Post, McCarthy declined to say whether he thinks the Alabama bill signed by Governor Kay Ivey Wednesday should be struck down by the courts. But he told reporters that the law, which virtually outlaws all abortion procedures, "goes further than I believe."
"I believe in exceptions for rape, incest and life of the mother, and that's what I've voted on," McCarthy said at his weekly press conference Thursday. He added that exceptions for rape and incest are "exactly what Republicans have voted on in this House. That's what our platform says."
But the GOP platform, published in 2016, features a section titled "The Fifth Amendment: Protecting Human Life" that makes no mention of any of these exceptions.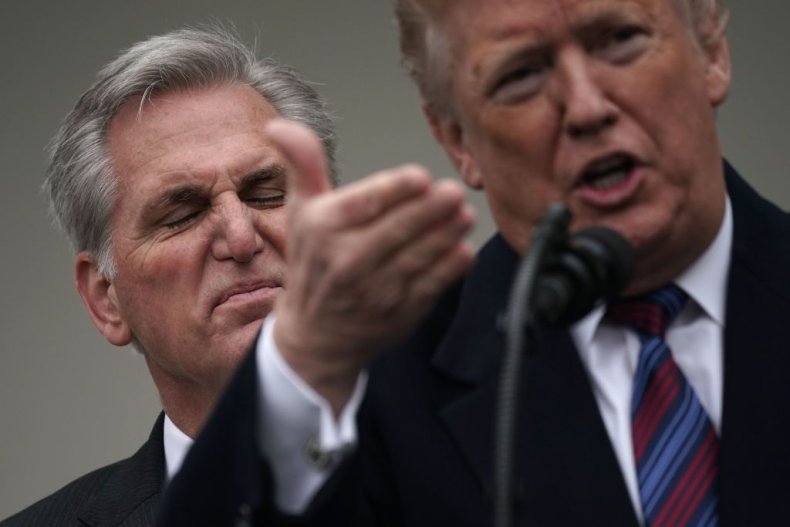 "We oppose the use of public funds to perform or promote abortion or to fund organizations, like Planned Parenthood, so long as they provide or refer for elective abortions or sell fetal body parts rather than provide healthcare," reads the GOP platform. "We urge all states and Congress to make it a crime to acquire, transfer, or sell fetal tissues from elective abortions for research, and we call on Congress to enact a ban on any sale of fetal body parts."
The 2016 Republican platform advocates the "appointment of judges who respect traditional family values and sanctity of innocent human life," which President Donald Trump has worked to do since taking office in 2017.
But while the platform does note that Republicans have a "moral obligation to assist, rather than penalize, women who face an unplanned pregnancy," it says nothing about any specific exceptions, as McCarthy claimed there were.
The White House issued a statement Thursday that said: "Unlike radical Democrats who have cheered legislation allowing a baby to be ripped from the mother's womb moments from birth, President Trump is protecting our most innocent and vulnerable, defending the dignity of life, and called on Congress to prohibit late-term abortions."
The state of Alabama is not alone in enacting strict abortion legislation this month. The governors of Missouri and Ohio have signed similar bills, and Missouri effectively issued a blanket ban on abortion after the eighth week of pregnancy, including in cases of incest and rape.
Missouri Governor Mike Parson touted the law, tweeting, "It's time to make Missouri the most Pro-Life state in the country!"