'He Made the FBI Political': Kevin McCarthy Defends Trump Firing Comey at California Event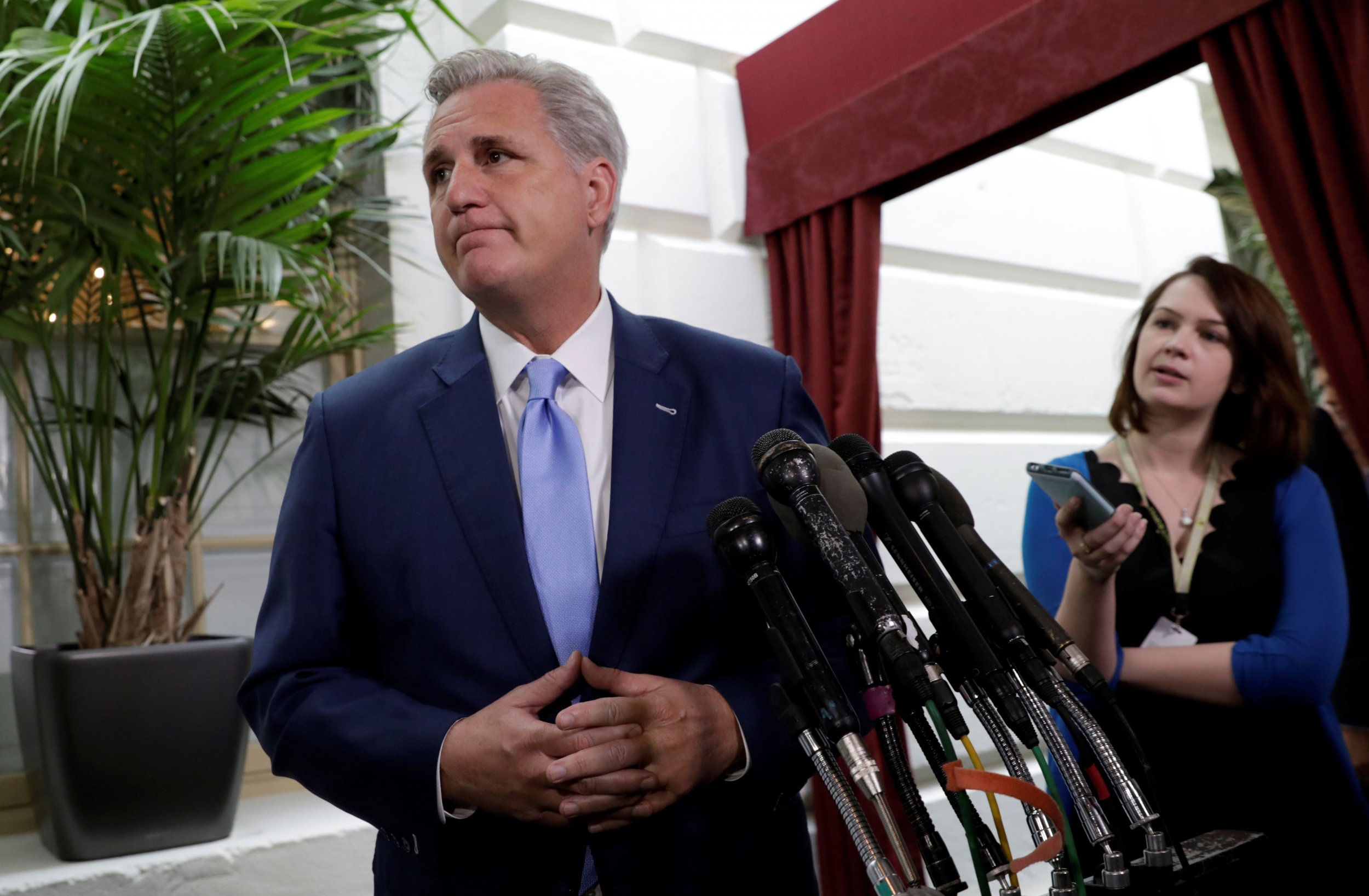 In a fifth-floor conference room in the headquarters of ride-sharing service Lyft that overlooked San Francisco Bay, some of California's most prominent politicians discussed the presidency of Donald J. Trump. The event, hosted by Politico, included a refreshingly bipartisan lineup that included House Majority Leader Kevin McCarthy, an ardent supporter of the president. There were also members of the anti-Trump resistance, including Representative Eric Swalwell and the state's new Attorney General Xavier Becerra, who has signalled that the state would strongly resist Trump in the courts.
The event took place a day after the firing of FBI director James Comey, which has been condemned by Republicans and Democrats as an amateurish attempt meant to slow the inquiry into Russia's possible collusion with the Trump campaign.
The three Californians were interviewed individually by Politico staffers.
McCarthy, up first, had the unenviable task of defending the firing of Comey. He said Trump had called him the previous evening to discuss the move. "Four months ago, every Democrat would tell me they lost trust in Comey," he told Politico staffer Anna Palmer, in reference to Comey's handling of the inquiry into her private email server. McCarthy said there was "a morale problem as well," though he conceded it would have been better if Comey had been fired during the presidential transition. He argued that Comey "had made the FBI political," and that this was the reason he had been dismissed.
Read more: Subpoenas were issued in the FBI's Russia investigation
"It's probably a good decision and let's move on," McCarthy said. Given the furor over Comey's removal, that's unlikely.
Palmer asked McCarthy what it was like to work closely with Trump. In response, McCarthy asked if anyone present had voted for Trump. Of the more than 100 people in the room, not a single hand went up.
"You should embrace this president," McCarthy argued. "He is not philosophically bent to the far right. He is one who's going to look for results." He claimed—perhaps naively, perhaps disingenuously—that Trump wanted to be a bipartisan president, but was being hampered by Democratic antipathy to his administration.
McCarthy also offered his insight on other major political issues.
On the healthcare bill recently passed by the House: "I believe the Senate will pass this."
On immigration: "There will be an element of a border wall."
McCarthy was followed by Swalwell, a rising Democratic star in the House who sits on the Intelligence Committee. Asked by Palmer to comment on the Comey firing, Swalwell said it "shakes the faith" in American democracy. Swalwell, who once served as a prosecutor in Oakland, had previously introduced a bill for an independent commission to investigate Trump's ties to Russia. On Wednesday evening, he renewed calls for such an investigation.
"We're gonna call for Speaker Ryan to bring that bill to the floor," Swalwell said. But given Ryan's hesitation to confront Trump, that bill isn't likely to fare well in the Republican-controlled House.
Read more: James Comey has written a goodbye letter to FBI staff, urging them to stay honest and independent
Swalwell also urged Democrats to focus on the 2018 congressional races, especially on the 6th District of Georgia, where newcomer Jon Ossoff had a surprisingly strong showing against several Republican primary challengers. "We have to start winning," he said. At the same time, he offered praise for House Minority Leader Nancy Pelosi, a fellow Californian who some thought should have relinquished her leadership position this year.
Politico's final guest was California new Attorney General, Xavier Becerra, who was appointed by Governor Jerry Brown after his predecessor Kamala Harris was elected to the U.S. Senate. Carla Marinucci, who helms Politico's coverage of California, introduced Becerra as, "the point man for the state of resistance," which elicited applause from the otherwise restrained audience.
"I'm starting to smell Watergate," Becerra said of the previous day's firing of Comey. He continued with the olfactory metaphor when asked about whether the nation was approaching a constitutional crisis. "It's starting to smell like it."
On healthcare, environmental regulation and the legalization of marijuana, Becerra struck a hard anti-Trump line. "I would love to see Jeff Sessions try to come to California and tell us that we're not going to move forward on cannabis," he said. Asked if he was a user of marijuana, Becerra said he had "tried it" when he was "much younger."
This proved a much needed moment of levity in a conversation otherwise occupied with talk of constitutional crises and state-federal conflicts. As the conversation wound down, the audience headed for the open bar. Another day of the Trump presidency was over, and everyone needed a drink.