At a press conference on Wednesday afternoon, President Joe Biden acknowledged that major legislation had stalled and lamented the GOP's effort to block his agenda.
Biden conceded he would have to pare back his Build Back Better plan, but said he was confident he could get "big chunks" of the spending package signed into law before the midterm elections later this year.
Biden also criticized Republicans for uniting against his proposals. "I did not anticipate that there'd be such a stalwart effort to make sure that the most important thing was that President Biden didn't get anything done," he said. "Think about this: What are Republicans for? What are they for? Name me one thing they're for."
On Sunday, House Republican leader Kevin McCarthy provided an answer to the question in a tweet posted about 11 a.m. ET.
"I heard President Biden ask repeatedly: 'What are Republicans for?' I'll happily answer," McCarthy wrote.
The Constitution, kids in schools, safe streets, a secure border were among the things he listed. McCarthy also wrote that Republicans were for "an economy that keeps food on the shelves" and "holding Biden's failed administration accountable."
Republican Iowa Sen. Joni Ernst also offered an answer during an appearance on CNN earlier this week.
"Generally speaking, I understand the politics; midterms tend to be referenda on the people who are running the country," host Jake Tapper said. "But what are three things that Republicans will do if you recapture the Senate in the midterms?"
Republicans "stand for a strong, free and prosperous nation," Ernst replied.
"So, one, we need to tackle the issue of inflation," she said. "Biden is facing a 40-year high with the inflation rate, and Iowans and all Americans are feeling those pressures. So, alleviating those pressures on our families would be job, number one."
Ernst also listed tackling COVID-19, adding: "We need to make sure that American families have access to testing. But certainly, we want to make sure that they are getting their children back into school and that their workplaces are safe and they can return to work.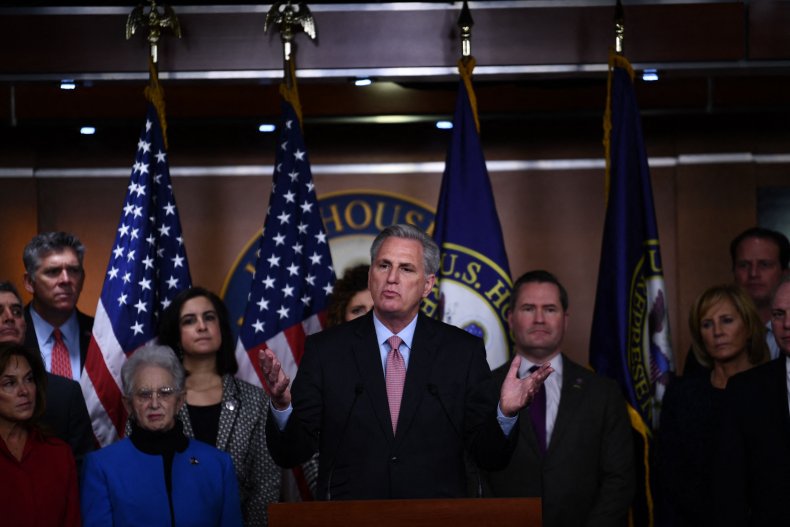 "And then as well, we need to focus on additional things like, you know, foreign relations with our allies, because obviously with national security, we are under a lot of pressure right now. So, Republicans believe in peace through strength.
"I certainly believe that bolstering our military, but also making sure that we're using all of the other tools in our toolboxes to repair fractured relationships with other nations, engaging in trade, all of those things. That's what Republicans stand for. That's what I stand for."
Ahead of Biden's press conference, Senate Minority Leader Mitch McConnell had been asked by an NBC News reporter what the GOP's policy agency would if the party takes back control of Congress.
"That's a very good question," he said. "And I'll let you know when we take it back."