House Minority Leader Kevin McCarthy said Tuesday that members of his GOP caucus have expressed concerns that Representative Liz Cheney, a fierce critic of former President Donald Trump, may not be able to "carry out the job" in her leadership role.
Speaking on Fox & Friends Tuesday, McCarthy added that many in the GOP are concerned that Cheney lacks the ability to represent the party's "message" as the House Republican Conference's chair.
"I have heard from members concerned about her ability to carry out the job as conference chair, to carry out the message," the California Republican said, according to Politico. "We all need to be working as one if we're able to win the majority. Remember, majorities are not given, they are earned. And that's about the message about going forward."
McCarthy denied that his statements were a result of Cheney's vote to impeach Trump in February, adding that "there's no concern about how she voted on impeachment. That decision has been made."
However, his comments represent the latest escalation in an ongoing feud between members of the GOP regarding how much influence Trump should continue to hold over the party.
During the impeachment trial, Cheney came out firmly in favor of Trump's conviction after the former president was accused of inciting his supporters to attack the U.S. Capitol on January 6. Since then, the Wyoming congresswoman has repeatedly condemned Trump for pushing baseless claims that the presidential election was stolen because of voter fraud. She has argued that he should play no role in the Republican Party's future.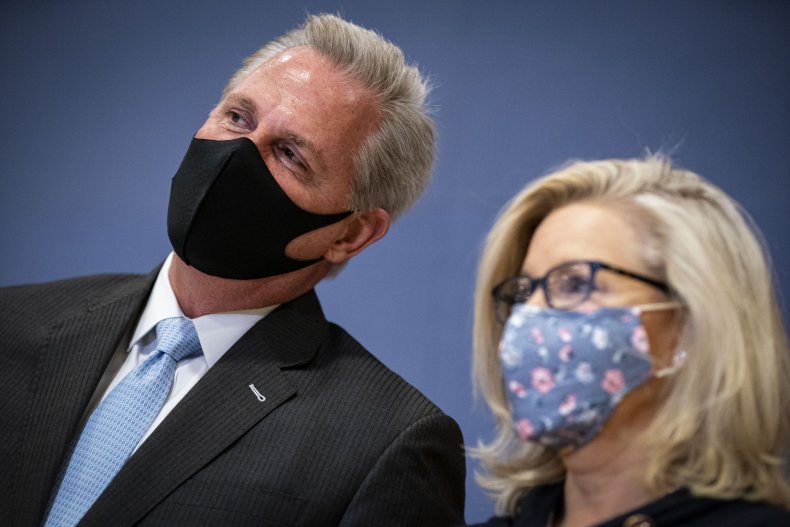 Her critical stance toward Trump has made her the target of several attacks from members of the GOP, including Trump himself. In February, Cheney survived an attempt by Trump loyalists in Congress to oust her from her position as the No. 3 House Republican. Sixty-one lawmakers voted for her to be removed, while 145 voted in her favor.
At the time, McCarthy voted to defend Cheney, but their relationship has since been strained as he has attempted to walk back criticisms of the former president and maintain that Trump should be active within the party. The two lawmakers shared an awkward exchange in February when asked whether Trump should remain a leader in the GOP during the Conservative Political Action Conference, with McCarthy saying yes and Cheney vehemently saying the opposite.
On Monday, the situation escalated further when Cheney and Trump publicly clashed. The Wyoming representative warned that the Republican Party was becoming a "cult of personality."
"We can't rebuild the party or the conservative movement on a foundation of lies. We can't embrace the notion the election is stolen," Cheney said. "It's a poison in the bloodstream of our democracy. The way we win back suburban voters and keep all who voted for us in 2020 is with ideas and policy. We can't be a cult of personality."
She added, "We can't whitewash what happened on January 6th or perpetuate Trump's big lie. It is a threat to democracy. What he did on January 6 is a line that cannot be crossed."
Cheney's fiery criticisms of Trump have led at least one GOP congressman to predict that she will be ousted from her leadership role by the end of this month.
"Liz Cheney has promised she will campaign on impeaching Trump 'every day of the week.' Good luck with that, Liz!" Representative Lance Gooden, a Texas Republican, tweeted on Saturday.
"PREDICTION: she'll be out of her GOP leadership role by month's end!" added Gooden, a member of the Republican Study Committee caucus.
Newsweek contacted a Cheney representative for additional comment but did not hear back in time for publication.