Kevin McCarthy Should Denounce QAnon Candidates at RNC, Top Democrat Says
As bipartisan pressure on Capitol Hill builds for top Republicans to more aggressively denounce GOP candidates who support the widely discredited conspiracy theory known as QAnon, a top Democrat has called on House Minority Leader Kevin McCarthy (R-Calif.) to use his primetime speaking slot Thursday night at the Republican National Convention (RNC) to do just that.
"If Kevin McCarthy is truly the leader of his [conference], he would stop paying lip service and use his RNC speech—and his wallet—to stop the dangerous movement of QAnon from creeping into the halls of Congress," Rep. Cheri Bustos (D-Ill.), chair of the Democratic Congressional Campaign Committee, told Newsweek.
QAnon, popular among far-right extremist supporters of President Donald Trump, is the debunked belief that a deep-state of Satan-worshipping pedophiles consisting of Democratic politicians, the media and other prominent figures is running a global child sex-trafficking operation.
QAnon supporters believe that Trump is working to uncover and destroy them. The true identity of "Q" him or herself remains a mystery, although it is widely speculated among believers that the person is a government employee.
The FBI has labeled the conspiracy group as a potential domestic terror threat, and it that has been linked to murders, attempted kidnappings and other violent crimes.
As the theory festers on the fringes of the internet, it has grown more prevalent among Republican office-seekers. So far, GOP leaders have done little to prevent those who support QAnon from becoming members of Congress.
Bustos said that McCarthy needs to "stop winking and nodding at this dangerous conspiracy movement and speak up the way he should, as any leader should."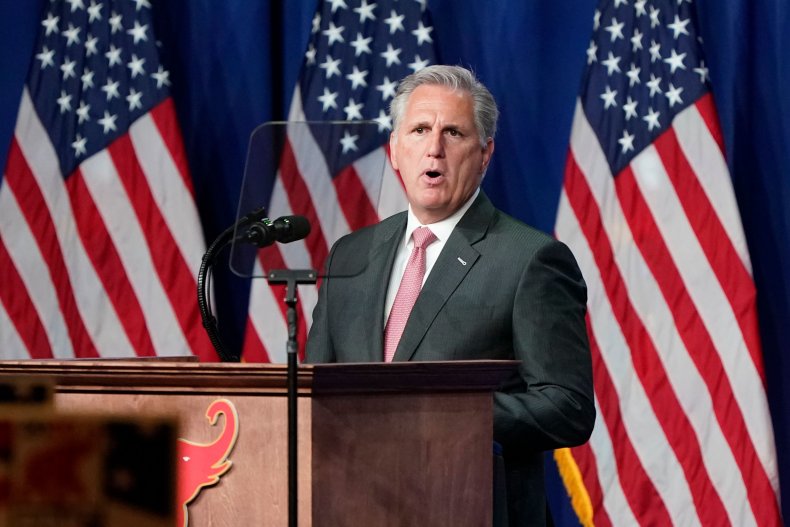 McCarthy's office did not respond to Newsweek's request for comment. The California Republican is slated to give his RNC speech Thursday night, the event's final evening that will showcase an address from Trump on the White House South Lawn as he officially accepts his party's nomination.
The RNC is the perfect opportunity for McCarthy to call out QAnon, Bustos said.
"This is probably the biggest national audience Kevin McCarthy has ever been in front of," Bustos said. "If he's saying he's denouncing QAnon and then doing all these endorsements of these candidates who will bring these conspiracy theories into the sacred halls of Congress, he owes the American people to speak out against it."
Rep. Tom Emmer (R-Minn.), chair of the National Republican Congressional Committee (NRCC), told The Hill that while he would not say whether he backs the campaigns of QAnon-linked candidates, he said that he has congratulated them and told them to "let us know how we can be of assistance."
Despite the dangerous conspiracy theories it spreads, President Trump has praised the group, while other prominent Republicans range from tepid to outright condemnation of several GOP congressional candidates with QAnon ties who are poised to win their elections in November.
One of them, Marjorie Taylor Greene from Georgia, will attend his Thursday evening RNC speech at the White House after she was invited by the president. Trump labeled her a "future Republican Star" and "a real WINNER!" after her primary win.
McCarthy has previously said there is "no place for QAnon in the Republican Party," while still endorsing Greene. But Bustos, along with Democrats and even some Republicans, think more needs to be done by the GOP, such as yanking their political and monetary support.
"They like me very much, which I appreciate," Trump told reporters last week of QAnon supporters. "I've heard these are people that love our country."
At least 19 Republicans linked to QAnon are up for election this Fall, with at least two closely-aligned candidates expected to emerge victorious—Greene and Lauren Boebert of Colorado, whom Trump also congratulated after her primary win. Both candidates have tried to distance themselves from QAnon. The NRCC has endorsed Boebert.
Republicans like Adam Kinzinger (Ill.) and Liz Cheney (Wyo.), the No. 3 House Republican, have offered full-throated condemnations of QAnon candidates. House Minority Whip Steve Scalise (R-La.) threw his support behind Greene's opponent.
A bipartisan resolution to condemn QAnon was introduced Tuesday, spearheaded by Reps. Tom Malinowski (D-N.J.) and Denver Riggleman (R-Va.). It is a largely symbolic piece of legislation that would force Republicans to go on the record about the conspiracy.
Still, Scalise declined Wednesday during a Washington Post livestream to outright condemn QAnon candidates. As other Republicans have, including Trump, Scalise said he was unaware of the conspiracy until a few weeks ago.
"If somebody says something inflammatory, somebody says something racist, if somebody says something bigoted, the anti-Semitic views you see up here, those are the times I speak out on both sides," Scalise said. "I think everybody ought to speak out, but in general, if somebody's got a different philosophy than you, I try to respect people's differences."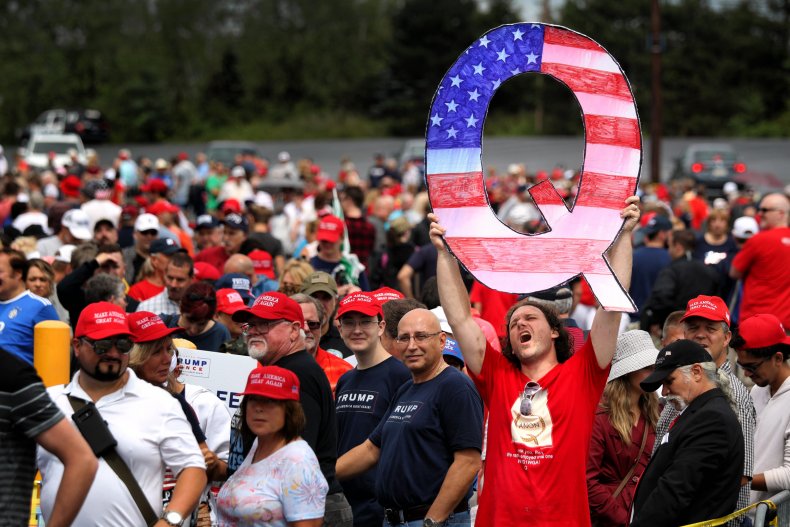 Greene has expressed Islamophobic and anti-Semitic sentiments, appeared in photos with former Ku Klux Klan members, said "Q is a patriot" and is "something worth listening to," posed for a campaign poster carrying an assault rifle and promoted a 9/11 conspiracy theory that a plane never crashed into the Pentagon.
Boebert has said she hopes QAnon is "real because it only means that America is getting stronger and better, and people are returning to conservative values," and last week pushed a QAnon conspiracy about actor Tom Hanks.
QAnon has also clouded the RNC in controversy.
Mary Ann Mendoza was removed from Tuesday night's speaking lineup after she pushed an anti-Semitic QAnon conspiracy on Twitter. The RNC rebuffed calls from a former Utah Republican to cancel the speech of GOP candidate Burgess Owens for appearing on a YouTube show connected to QAnon. And North Carolina GOP candidate Madison Cawthorn also spoke, despite pushing a debunked child sex-trafficking theory aligned with QAnon.
QAnon is best known for "Pizzagate" from the 2016 election, when a QAnon supporter fired an assault rifle inside a Washington, D.C., pizza shop that year because he wanted to investigate the baseless and debunked theory that, with the help of the Clintons and Democrats, the restaurant was operating a child sex-trafficking operation from its basement. The restaurant does not have a basement. The man was sentenced to four years in prison.
The group is been tied to several other violent events in recent years.
A lawyer said last year that his 24-year-old defendant killed a mob boss in New York because his defendant was a QAnon supporter who believed the mob boss was part of the deep-state and that Trump backed the murder.
A mother in Colorado allegedly wanted help from QAnon supporters to kidnap a child last
year.
A Seattle man last year who believed in QAnon was charged with killing his brother with a sword because "God told me he was a lizard."
And earlier this month, police said a Texas woman chased down two cars and crashed into one because she thought she was saving a kidnapped girl from trafficking.