House Minority Leader Kevin McCarthy (R-Calif.) falsely claimed that Democrats had been successful in a quest to "outlaw Dr. Seuss" on Tuesday.
McCarthy made the remarks from the House floor while speaking against H.R. 1, the For the People Act, a voting rights bill introduced by Democrats. The company that owns the rights to works by Theodor Seuss Geisel, better known as Dr. Seuss, had announced on the same day that six of the children's books would not be republished due to racist images, but the books were not outlawed and Democrats were not involved in the decision.
"H.R. 1 rewrites election law and imposes one-size-fits-all partisan rules from Washington," McCarthy said. "Under the Constitution, we generally defer to states and counties to run elections. Democrats want to change that. First they outlaw Dr. Seuss, and now they want to tell us what to say."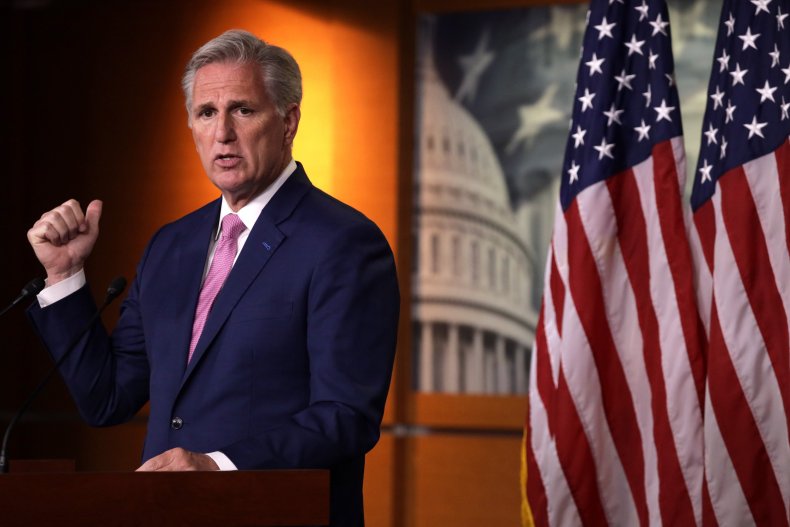 McCarthy insisted that the bill would threaten free speech, likely due to provisions centered on disclosing political donors and spending, while also imperiling "election integrity." He asserted that "everyone" had a personal experience of themselves or someone they knew receiving a ballot in error while highlighting distrust in the election process.
"Everyone has a personal story: Your friend, your family, your neighbor receiving a ballot they shouldn't have," said McCarthy. "Every one of those stories erodes the trust in election integrity. Yet, under H.R. 1, future voters could be dead, or illegal immigrants, or maybe even registered two or three times. I guess Democrats just don't care as long as they get reelected."
H.R. 1 would not legalize voters registering more than once or casting multiple ballots, nor would it allow votes from non-citizens or dead people. Former President Donald Trump and some of his allies have claimed similar methods were used in an unsubstantiated claim of widespread voter fraud that allegedly resulted in President Joe Biden winning the 2020 election.
Neither Democrats nor the government had any role in the decision to drop the Dr. Seuss books. Dr. Seuss Enterprises, owner of the books, issued a statement on Tuesday announcing that it had made the decision to cease printing six out of over 60 books last year, based on "hurtful and wrong" portrayals of people in the books.
"Dr. Seuss Enterprises, working with a panel of experts, including educators, reviewed our catalog of titles and made the decision last year to cease publication and licensing of the following titles: And to Think That I Saw It on Mulberry Street, If I Ran the Zoo, McElligot's Pool, On Beyond Zebra!, Scrambled Eggs Super!, and The Cat's Quizzer," the statement reads. "These books portray people in ways that are hurtful and wrong."
"Ceasing sales of these books is only part of our commitment and our broader plan to ensure Dr. Seuss Enterprises's catalog represents and supports all communities and families," it adds.
Newsweek reached out to McCarthy's office for comment.