Kevin McCarthy Told Bernie Sanders That Senator Is 'More Conservative' Than Joe Biden
Republican House Minority Leader Kevin McCarthy of California said that after Democratic President Joe Biden's congressional address, McCarthy remarked to Independent Vermont Senator Bernie Sanders that Sanders is "more conservative" than Biden.
Sanders is known as one of the most progressive Senators on the Democratic caucus' left wing.
"There was Bernie Sanders," McCarthy told Sean Hannity on the Wednesday night installment of the Fox News host program. "And I asked the senator, 'Did you ever think you would be more conservative than the president?'"
When Hannity asked McCarthy about Sanders' reaction, McCarthy responded, "He looked at me and laughed. But he understood what I was saying to him."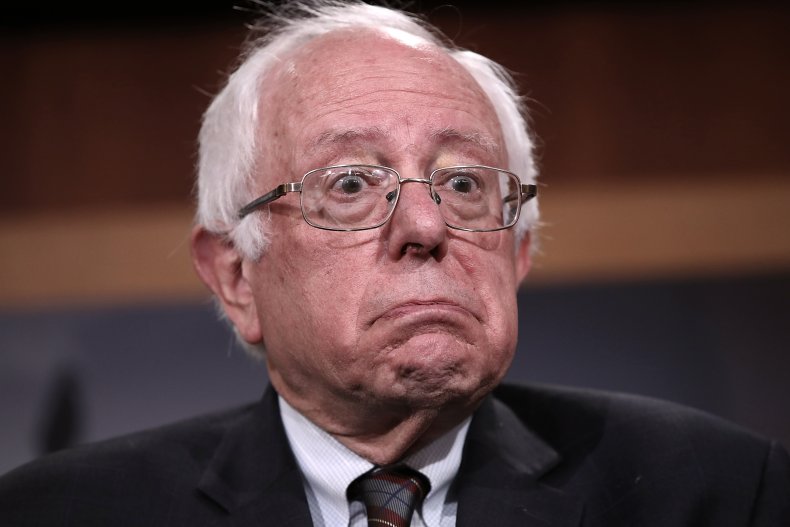 McCarthy then said that Biden's speech showed "just how far" the Democrats have come. "They demonize work so Americans will become dependent on government," McCarthy said.
Despite McCarthy's comparison, Sanders differed substantially from Biden in the policy proposals that each one presented when they ran as Democratic presidential candidates.
Sanders favored a "Medicare for All" healthcare plan that would cover citizens through the federal government rather than private insurers. However, Biden promoted a more modest expansion of the 2009 Affordable Care Act.
Sanders wanted to cancel all $1.4 trillion of U.S. student loan debts. Biden has only suggested canceling $10,000 of individual student loan debt.
Sanders has also remained a full-throated supporter of the Green New Deal (GND). The GND is a proposed package of laws focused on creating new jobs to meet all the nation's energy needs and virtually eliminate U.S. greenhouse gas pollution by 2030.
Biden said that the GND formed the structure of his climate change and infrastructure plan, but he hasn't endorsed the GND as its own legislative package. In this, Biden differs from Sanders and Democratic New York Representative Alexandria Ocasio-Cortez, the co-author of the 2019 GND proposal.
"President Biden has definitely exceeded the expectations that progressives had,"Ocasio-Cortez said in a town hall last week. "I think a lot of us expected a much more conservative administration."
However, she said that she and other progressives worry that Biden's legislative proposals aren't well-funded enough to meet their ambitious aims.
For instance, while $213 billion of Biden's $2.25 trillion infrastructure plan would go towards building and renovating two million homes and living units nationwide, Ocasio-Cortez has said this isn't enough. In a late March interview, she said the New York City public housing system alone would need $40 billion just to get its dwellings up to code.
Instead, Ocasio-Cortez said that Biden should really propose a $10 trillion infrastructure plan if he really wanted to "shore up our health care, our infrastructure, our housing, and doing it in a way that draws down our carbon emissions."
Newsweek contacted Sanders' office for comment.