Kevin McCarthy Won't Support Capitol Riot Commission, Says Pelosi Didn't Negotiate 'In Good Faith'
House Minority Leader Kevin McCarthy will not support a bipartisan deal to create a commission to investigate the riot at the U.S. Capitol on Jan. 6.
The California Republican's office said in a statement Tuesday that one of the reasons behind the opposition was House Speaker Nancy Pelosi's refusal to "negotiate in good faith on basic parameters" for the committee.
"To be clear, Republican requests for fair representation and an unbiased premise from which to begin such an investigation were always understood to be the starting point for bipartisan negotiations, not the end result," McCarthy added.
The formation of the Jan. 6 commission—to be modeled off the investigation that took place after the 9/11 attacks—has been delayed for months. Some Republican lawmakers, McCarthy included, wanted the committee to investigate far-left forms of political violence.
House negotiators, led by Republican John Katko and Democrat Bennie Thompson, finally reached an agreement last week on the scope of the probe.
The bill would establish a 10-person committee, five commissioners would be appointed by Democrats and five commissioners appointed by Republicans. It would also mandate that both sides sign-off on any subpoenas during the investigation.
According to the House Homeland Security Committee, the commission will be charged with studying the facts and circumstances of the U.S. Capitol attack as well as the influencing factors that may have provoked it.
A mob of pro-Donald Trump supporters breached the Capitol building as lawmakers and then-Vice President Pence were certifying Joe Biden's electoral victory in the 2020 election. Five people died during or shortly after the riot, including one Capitol Police officer. Two officers who helped fight back the mob also later died by suicide.
The legislation is still expected to pass the House, where a vote will take place sometime this week. But the commission faces an uphill battle in the Senate. It would need the backing of 10 Republicans to pass the 50-50 split upper chamber.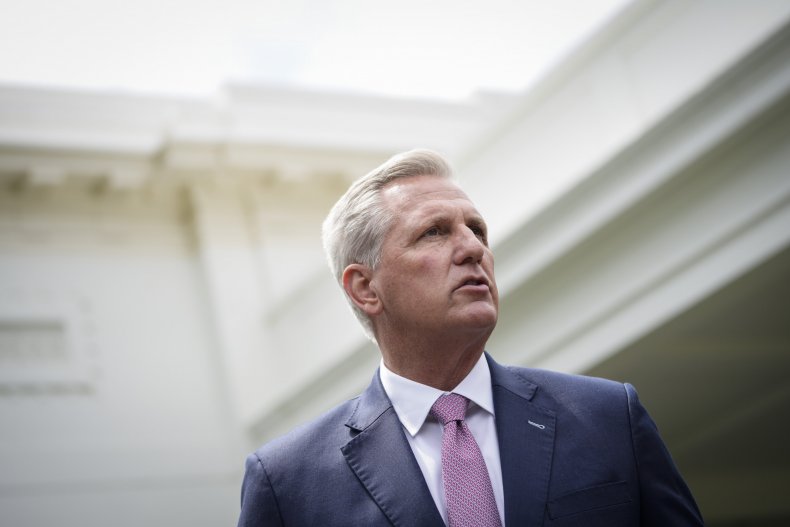 McCarthy, in his statement opposing the commission, argued other House committees are already investigating the events of Jan. 6 and that the commission could "interfere and ultimately undermine" ongoing efforts by the Department of Justice to prosecute those involved in the violence.
"Finally, the renewed focus by Democrats to now stand up an additional commission that ignores the political violence that has struck American cities, a Republican Congressional baseball practice, and, most recently, the deadly attack on Capitol Police on April 2, 2021," McCarthy said.
He added, "The presence of this political violence in American society cannot be tolerated and it cannot be overlooked. I have communicated this to our Democratic colleagues for months and its omission is deeply concerning."
Newsweek reached out to Pelosi's office for comment on McCarthy's statement but didn't receive a response before publication.