Conservative Radio Host Peddles Conspiracy Theory That Kamala Harris is Jussie Smollett's Aunt, Later Deletes Tweet
A right-wing radio host in New York City, Kevin McCullough, was ridiculed by pundits across the political spectrum after floating the conspiracy theory that California Democratic Sen. Kamala Harris is the aunt of disgraced Empire actor Jussie Smollett.
McCullough made the provably false claim on Friday in a now-deleted tweet pulled from the dregs of the Q-Anon online conspiracy circles, "So there's this...Turns out...@KamalaHarris is @JussieSmollett's aunt. As in his mother's sister. Which in her several photo-ops on the story to date she has yet to reveal. @KMCRadio @am970TheAnswer."
The conspiracy, or outright "lie" as some are labeling the claim, is rooted in Jussie Smollett's mother's maiden name being "Harris." As Bloomberg News' Sahil Kapur noted, "Harris has one sister, Maya, and she's not his mom."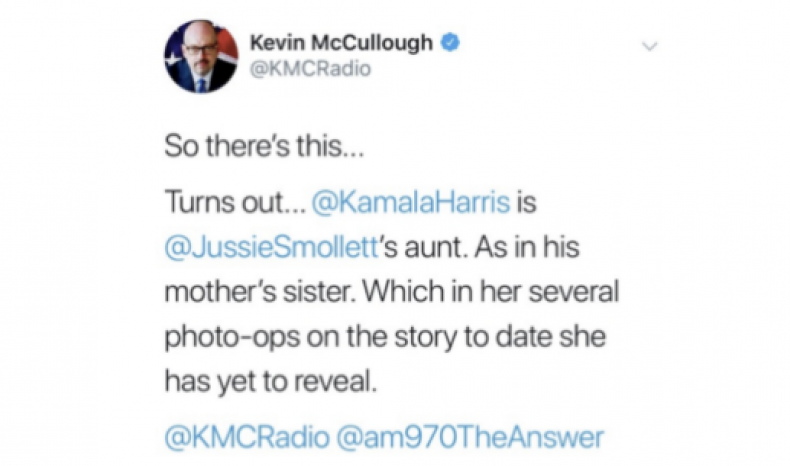 Mccullough is a nationally syndicated conservative radio host and author of books with such modest titles as, No He Can't: How Barack Obama Is Dismantling Hope and Change and The Kind of Man Every Man Should Be. Several journalists and political pundits pounced on the bizarre conspiratorial claim which tried to connect the actor's alleged fake attack in Chicago last month to the 2020 Democratic contender. McCullough deleted the tweet, but then offered an even more odd rebuttal.
"I wonder if @KamalaHarris claiming @JussieSmollett's 'attackers' were a 'modern day lynching' has anything to do with why @BernieSanders is kicking her backside in #NewHampshire polling? (44% to 8% with Mellinials), [sic]" McCullough tweeted twice Saturday.
"It's meant — to openly demonstrate the left's entirely one-sided worldview. Harris leaves up an inflammatory tweet for 23 days that effects crime, public safety, millions of $$$ in police costs, etc. Her supports [sic] have complete meltdowns over rumors that are up for two hours," he added, referencing Harris' initial defense of Smollett against the fake "MAGA" attack on January 20.
Responses ridiculed McCullough for floating a seethingly fake family factoid just to "inflame" his right-wing audience's most vitriolic and hateful rhetoric.
"Is this meant to defend your provably false allegations?" Cornhill University Senior Fellow Brent Whittington replied Saturday. "None of which satisfies the assertion of any direct relationship you've alleged. Try to stay on topic. All you've done is demonstrate another RW conspiracy created to inflame fools with lies that make them feel good. You've muddled your point unless it was to fool fools."
A sarcastic Twitter response to McCullough's deleted Harris tweet read, "Honest mistake. Republicans just assume all black people know each other. Just some friendly Midwest racism. It's like a compliment really."
Many people responding to McCullough's claim noted the racist undertones similar to the "birther" conspiracy about former President Barack Obama's family and Hawaiian birth records.
"2020 is going to be a dumpster fire of this stuff," Joy Reid tweeted Saturday.