Who Is Kevin Moore? August Ames's Husband Says Porn Star Was the 'Kindest Person'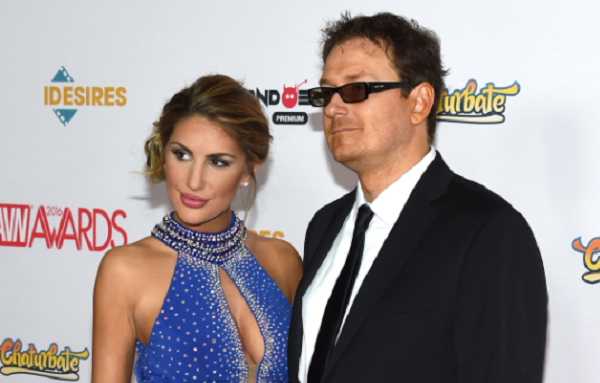 Following porn star August Ames's death on Tuesday, her husband, adult filmmaker Kevin Moore, asked for his family's privacy.
The pornographic director and producer, whose marriage to 23-year-old Ames was kept relatively private, issued a statement to Adult Video News, a website focused on the adult entertainment industry.
Ames was "the kindest person I ever knew and she meant the world to me," he said. "Please leave this as a private family matter in this difficult time."
Ames was found dead in California by suicide by hanging, according to the Ventura County Medical Examiner's Office. She faced mass criticism online two days before her death for comments she made about working with men who appeared in gay porn.
Her friends noted she had dealt with mental health issues. And Ames had opened up about her battle with bipolar depression and multiple personality disorder during a September podcast interview with photographer Holly Randal.
"Some days I'll be fine and if I'm not doing anything I'll get these awful flashbacks of my childhood and I get very depressed and I can't get out of bed and cancel my scenes for like a week or two," Ames revealed. She added that her mother suffered from bipolar disorder, too.
It was unclear when Ames and 43-year-old Moore tied the knot. However, she wished her "sexy husband" a happy birthday on Twitter two years ago. Ames rarely put her personal life on social media, and this was one of the only times she featured Moore.
They were photographed on the red carpet at the Adult Video News Awards in 2015 and 2016.
Moore, who became interested in the world of adult entertainment when he was 18 years old, is a producer for Evil Angel, a porn production company that filmed a number of Ames's 270-plus film credits. After working as a freelance photographer and camera operator for the company, Moore became a full-time director in 2000.
The University of Massachusetts alum also appeared on camera in porn films.