Brazilian funk singer, Kevin Nascimento Bueno, better known as MC Kevin, has died after falling from a hotel window on Sunday in Rio de Janeiro. He was 23 years old.
Local authorities have confirmed that the musician fell from the balcony of the 11th floor of a hotel located in Barra da Tijuca, in Rio's West Zone.
He suffered serious injuries and was taken to the Miguel Couto hospital, in Gávea, where he was pronounced dead.
"Unfortunately, patient Kevin Bueno did not resist and died," reads a statement from authorities published in local news outlet, Real 92.3.
Nascimento had married Deolane Bezerra just weeks ago.
Bezerra confirmed the news of her husband's death on Instagram.
"You are and always will be the love of my life," she said (in Portuguese, translated to English) on Instagram. "The most beautiful love I have ever had, the man who loved and admired me the most. Go with God, my boy! I will always love you."
MC Kevin had almost 9 million followers on Instagram and was known for such hits as "Dentro do Carro" and "Foda-Se a Ex."
Bezerra shared a photo of Nascimento and her along with a long caption paying tribute to her late husband.
"And on that day you spoke in my ear 'Life is now until death separates us,'" she wrote (translated from Portuguese).
"I woke up, don't leave me, wait 33 years to be happy and you abandon me? It is not fair you will leave like this! It is not! It is not! My love."
She also spoke about how they "laughed at the criticism" of their reportedly tumultuous relationship.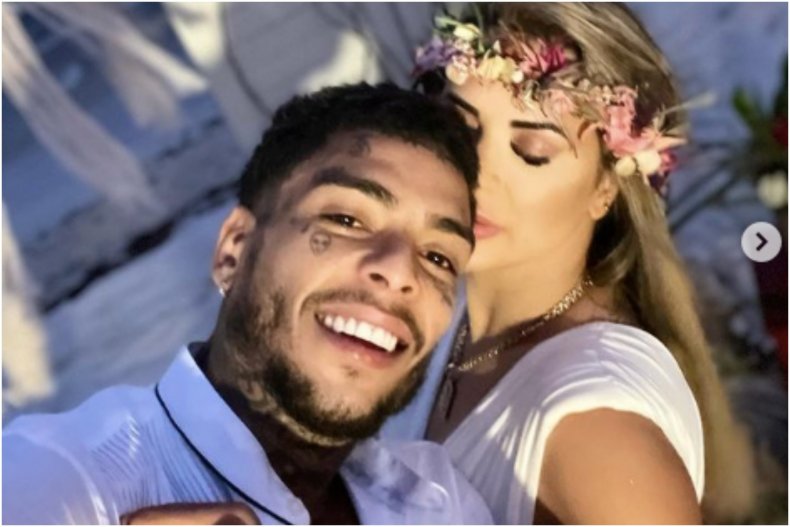 Tributes are pouring in from fans of the late musician on social media.
"RIP #mckevin my favorite Brazilian artist! I'm heartbroken," reads one tweet. "You're the GOAT forever."
While another added: "RIP Pleading face #mckevin May his soul Rest In peace. One of the best Brazilian singers."
On Instagram, fellow performer Mc Ozis posted a photo of himself with Nascimento, expressing disbelief at his passing.
"I'm not believing bro, I'm in prayer for you, you're going to get out of this, sending good vibes to you and your family, force you are a good guy who knows you knows that well," he said, (translated from Portuguese).
While musician Preta Ferreira also offered her condolences to Bezerra, writing: "God bless and comfort you. Go ahead, I pay God to give you the go ahead. I'm sorry, I'm really sorry. God protect you."