Kevin O'Brien, Priest Who Presided Over Biden's Inaugural Mass, Resigns From Post Over Alleged Misconduct
Father Kevin O'Brien, the priest who presided over then-President-elect Joe Biden's inaugural mass, has resigned from his post as the president of Santa Clara University in California amid alleged misconduct.
Two months after being placed on leave, O'Brien notified the university's board of trustees of his resignation on May 9, which was accepted the next day.
"The Board of Trustees will immediately establish a process to conduct a search for its next President and Lisa Kloppenberg will continue to serve as Acting President of Santa Clara University until the next President is identified," university officials said in a statement.
O'Brien allegedly "engaged in behaviors, consisting primarily of conversations, during a series of informal dinners with Jesuit graduate students that were inconsistent with established Jesuit protocols and boundaries," according to a Wednesday statement made by board chairman John Sobrato.
Sobrato did not specify the allegations against O'Brien, but said the board "support[s] those who came forward to share their accounts."
In an email to faculty and students, O'Brien said concerns were raised surrounding his behavior in certain social settings that "did not meet the highest standards of decorum expected of me as a Jesuit."
An independent investigation conducted for Jesuit USA West Province also concluded that alcohol was involved. O'Brien said in his email that he was entering a "therapeutic program" to address his personal issues, including alcohol use and stress management.
The father said that his extended absence from campus "does not serve the university well," and that "after much prayer and thought and out of deep love for Santa Clara, I have concluded that the best service I can offer to our beloved university is to step aside now."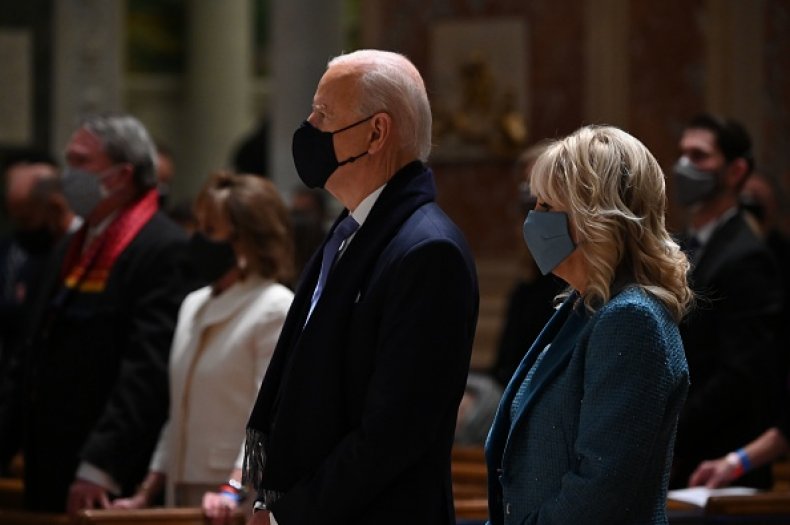 O'Brien officiated Biden's inaugural mass at the Cathedral of St. Matthew the Apostle in Washington D.C. the day before the presidential inauguration, and has been a family friend of the Bidens for more than a decade.
The father was named president of Santa Clara University, a Jesuit institution, in early 2019, and started the position in July of that year. According to the university, O'Brien joined the Society of Jesus in 1996 and was ordained to the priesthood in 2006.
The private university has an annual undergraduate enrolment of roughly 5,500 students and has been ranked in the top 25 for undergraduate teaching nationwide. The school counts California Governors Gavin Newsom and Jerry Brown among its alumni.
Newsweek reached out to the White House for comment, but did not hear back before publication.