Kevin Owens Teasing Return to NXT? Tweet Sparks Speculation After Shane McMahon "Fires" Superstar
The go-home SmackDown Live before Clash of Champions at Madison Square Garden ended with Shane McMahon firing Kevin Owens, but it seems the prize fighter is looking towards NXT as his next possible landing spot.
The former Universal Champion took to Twitter following the latest episode of SmackDown to give fans a cryptic message regarding his possible future in the WWE.
Check out Kevin Owens' tweet below.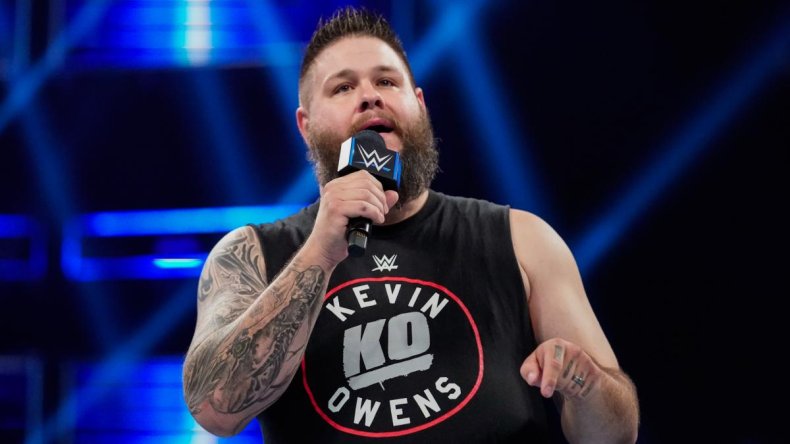 Many fans have interrupted the tweet to spell out NXT, the brand that introduced Owens to the WWE Universe in 2014. The letters N, X, and T are the 14th, 24th and 20th letters in the English alphabet.
This year alone, NXT has seen Sasha Banks and Bayley pop up on the show with their Women's Tag Team Championships, Drew Gulak of 205 Live challenge Matt Riddle and Kushida, Apollo Crews and Tyler Breeze in matches.
In the case of Breeze, he returned full time on NXT after challenging Velveteen Dream for the North American Championship at Takeover 25. His longtime tag partner, Fandango, has become an official member of the NXT roster.
Finn Balor and Cesaro also appeared on NXT UK during their own Takeovers this year.
The freedom for talent to move between brands seems to becoming more commonplace. Paul "Triple H" Levesque, WWE Executive Vice President of Talent, Live Events and Creative told Newsweek that the ability for talent to move between the three brands will be easier with the move to USA.
"I think you'll see that RAW will become very much distinctly its own brand as well as SmackDown on Fox. And NXT will be its own," Levesque said. "The ability, as time moves on, for people to move from RAW to SmackDown, and NXT to RAW or SmackDown, but also RAW or SmackDown to NXT."
Owens and McMahon have been embroiled in their own feud that stems from Shane using his power as General Manager of the blue brand to give himself opportunities while hogging screen time that could be used for other talent.
Shane tried to force Owens to quit at SummerSlam, but KO would defeat the GM to stay on the roster despiteShane making it difficult for him at every turn. On Tuesday, Shane enlisted KO to be the special guest referee in his King of the Ring match against Chad Gable.
After a fast count that gave Gable the pinfall against Shane, Owens tried to help Shane win the two-out-of-three falls match, but the General Manager would eventually submit to Gable's Ankle Lock. An incensed Shane would attack Owens and fire him.
Whether or not Shane would have a problem with Owens arriving on NXT - a brand under WWE - is anyone's guess. Fans will have to wait until the NXT premiere episode of USA to find out what's next for KO.
The premiere episode of NXT on USA Network airs live Wednesday, September 18 at 8 p.m.
What do you think of the prospect that Kevin Owens can go to NXT? Let us know your thoughts in the comments section below.