Kevin Owens Won't Go to WWE Super Showdown in Saudi Arabia: Report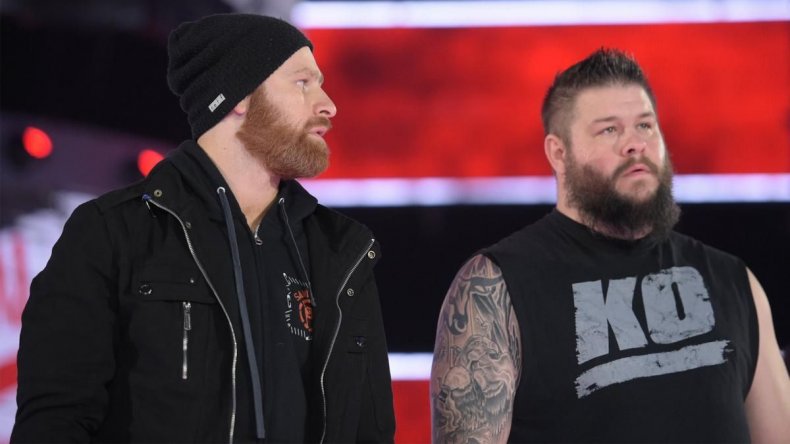 Ahead of the WWE's next Saudi Arabia show, Kevin Owens has reportedly told the promotion he will not make the trip for Super Showdown in June.
Boxing and wrestling news outlet Fightful reports Owens told WWE officials he didn't want to work Super Showdown. While Fightful did not specify a reason, Owens' friendly relationship with Sami Zayn is a likely cause.
Zayn has not taken part in any of WWE's Saudi Arabia shows because of his Syrian descent. Saudi Arabia and Syria have had a strained relationship for years, and WWE released a statement on Zayn's absence from the shows, which said, " WWE is committed to embracing individuals from all backgrounds while respecting local customs and cultural differences around the world."
Owens did take part in The Greatest Royal Rumble show, the first event the WWE hosten in Saudi Arabia, as part of its 10-year partnership with the country. KO was injured when the second show, Crown Jewel, took place in November.
Kevin Owens isn't the first WWE superstar to pull out of one of the Saudi Arabia shows. John Cena and Daniel Bryan pulled out of Crown Jewel after the death of Washington Post journalist Jamal Khashoggi. Roman Reigns also reportedly didn't want to participate in Crown Jewel, but his battle with leukemia precluded him from working the show anyway.
On the Wrestling Observer Radio show, Dave Meltzer confirmed that Dolph Ziggler's return on Tuesday's SmackDown Live to challenge WWE Champion Kofi Kingston at Super Showdown is a direct result of Kevin Owens pulling out of the Saudi Arabia show.
"So the Kofi Kingston thing, the story on that is that Kevin Owens is not going to Saudi Arabia. Because of that, they needed to do something," Meltzer explained.
Ziggler has been off WWE television ince January, and returned Tuesday to take out Kingston after the champion defeated Zayn in a highly-contested match. Ziggler said he attacked Kofi because he felt all the opportunities Kingston received on his way to the WWE Championship should have been given to him. Kingston accepted Ziggler's challenge, and the two are set to square off in Saudi Arabia.
Super Showdown is set to stream live on the WWE Network, Friday, June 7.
What do you think of Kevin Owens reportedly not want to go to Saudi Arabia? Do you think Dolph Ziggler is a good replacement for Kofi? Let us know in the comments section below.