Kevin Seefried, Man Who Carried Confederate Flag During Capitol Riot, Arrested
Kevin Seefried, the man allegedly seen in photos carrying a Confederate battle flag through the Capitol during the January 6 deadly riot, has been arrested.
Seefried turned himself into the U.S. Marshall Service in Wilmington, Delaware, Joy Jiaras, a public affairs specialist with the Baltimore FBI office, confirmed to Newsweek, He has an initial appearance in federal court in Washington, D.C., scheduled for Thursday.
Seefried was identified as the man photographed holding a Confederate flag in front of a portrait of Charles Sumner, an abolitionist senator from Massachusetts, outside the Senate chamber.
Under public pressure to hold those who entered the Capitol accountable, federal law enforcement agencies arrested and charged more than a dozen people within five days. However, many others have so far evaded law enforcement. Ahead of Seefried's arrest, they put out a plea to the public for information about him.
At least five people, including a police officer, died as a result of the violence at the Capitol when a pro-Trump mob breached security and entered legislators' offices and the Senate and House floors. The violence was met with widespread condemnation from legislators on both sides of the political aisle. Republican Senator Lindsey Graham said he would spend the next six years of his term ensuring the Department of Justice pursued charges against the "domestic terrorists."
"They could have blown the building up. They could have killed us. They could have destroyed the government. They should have been challenged. Warning shots should have been fired and lethal force should have been used," Graham told reporters on January 7. "Those backpacks could have had bombs, chemical agents, weapons. We dodged a major bullet yesterday. If this is not a wake-up call I do not know what is. "
Larry Rendell Brock and Eric Gavelek Munchel, two men who were allegedly seen in photos wearing tactical gear and holding plastic zip ties, were taken into custody on Sunday. Brock's ex-wife called the FBI on January 8 after she recognized photos of him, according to an affidavit.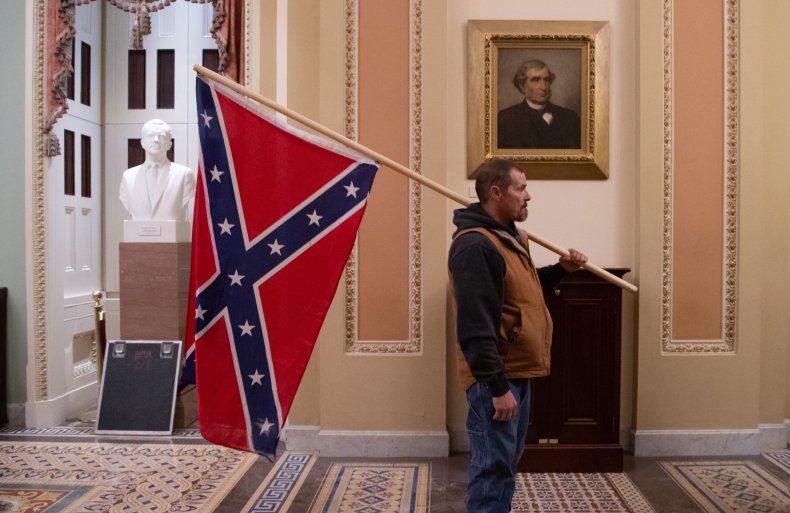 On Saturday, Jake Angeli, who has been nicknamed the "QAnon Shaman" and was allegedly seen in photos bare-chested and wearing a fur hat with horns, was arrested. Adam Johnson, who was photographed carrying House Speaker Nancy Pelosi's lectern, and Richard Barnett, who was photographed sitting at Pelosi's desk, were also arrested.
Graham posted on Twitter that he was "very pleased with the zeal and determination" federal law enforcement agencies were showing in holding people accountable. He added that he was "confident" Congress would provide the resources necessary to bring everyone to justice, a move that he considered critical to the nation's healing.
A staunch ally of the president, Graham joined the growing chorus of voices who criticized President Donald Trump for fueling the anger of the mob. He stopped short of calling for Trump to be removed from office, a move Democrats were actively pursuing at the time.
On Monday, House Democrats attempted to pass a resolution calling for Vice President Mike Pence to invoke the 25th Amendment and mobilize the Cabinet to remove Trump from his position. However, Republicans blocked the unanimous consent request.
When the 25th Amendment plan didn't play out, the Democrats moved forward with impeaching Trump for "inciting an insurrection." Representatives introduced the article of impeachment on Monday, which accused Trump of encouraging "lawless action" at the Capitol during a rally on January 6 when he told attendees: "If you don't fight like hell, you're not going to have a country anymore."
On Wednesday, House Democrats successfully impeached Trump, with 10 Republicans joining the effort and voting in favor of impeachment. That made Trump the first president in U.S. history to be impeached twice.